Nostalgia over Jiang Zemin's legacy a 'barbed critic' of China under Xi Jinping: Observers
The Jiang Zemin era was the peak of contemporary China embracing the world, say observers.
SINGAPORE: The Chinese people's response to the death of former leader Jiang Zemin is a projection towards the country's current political circumstances, with the Jiang era seen as one that was freer, analysts said. 
Younger Chinese, in particular, look at the years of Jiang's leadership as a sign of what things could be, including the fostering of more open relations with countries in the West, observers told CNA's Asia Now on Tuesday (Dec 6). 
China recently saw a wave of protests with people taking to the streets and universities, frustrated with COVID-19 pandemic restrictions and controls – some of the strictest in the world – put in place by President Xi Jinping's government.
Jiang, who died at the age of 96 on Nov 30, came to power in the aftermath of the Tiananmen Square incident and led the world's most populous nation into the new millennium, towards its emergence as a global powerhouse.
ENDURING LEGACY
The former Chinese leader is "ironically" remembered "by contrast with the recent period" under President Xi, said Dr John Delury, professor of Chinese Studies at the Yonsei University Graduate School of International Studies.
"It actually seemed like a much looser, less restrictive and a much more open China in the Jiang period," said Dr Delury, referring to the period from the 1990s to the early 2000s.
He called the period "a peak of contemporary China really embracing the world", with its joining of the World Trade Organisation, and winning the hosting rights to global sporting events like the Olympics.
"I think there's a broader sort of cultural moment," said Dr Delury. "It's a period of Chinese history where maybe, under the party leadership, there's the most momentum in terms of China joining the world."
Jiang had also continued his predecessor Deng Xiaoping's plan of opening China up to the world, bringing in unprecedented levels of foreign direct investment, said Associate Professor John Donaldson from the Singapore Management University's School of Social Sciences.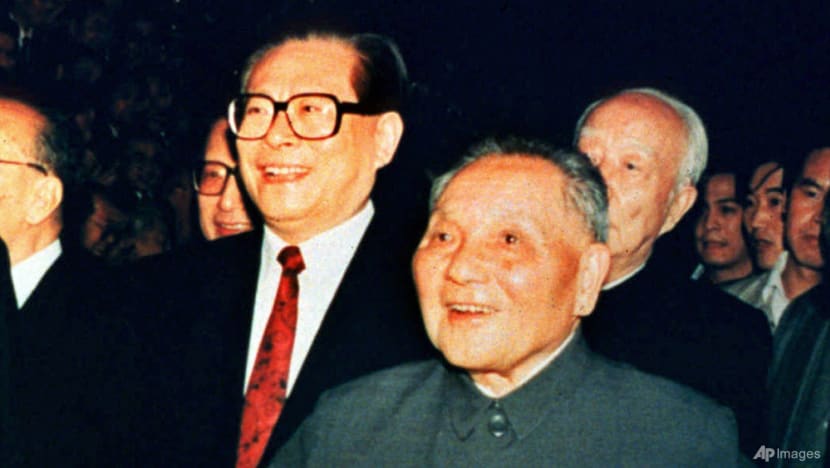 He opened up more cities beyond the designated special economic zones, spurring some of the engines of China's growth. One such city was Shanghai, which Jiang himself managed when he was a local leader.
Beyond the "explosive" growth that China experienced in the Jiang era, the late leader has also left his mark on the country in a darker way, 
"At the same time, there was great inequality that increased between the coast and the inland areas, between urban and rural, during Jiang's time," said Dr Donaldson.
"While many prospered, there were many people who were left behind. In rural areas, there was an erosion of the education system, of the healthcare system, even as the urban areas developed rapidly."
POLITICAL NOSTALGIA
"Nostalgia can almost be a barbed critique of the present," said Dr Delury.
He said some of the current nostalgia felt towards Jiang is not actually a lived experience, but young people in China who are frustrated and feel cooped up and trapped under the Xi regime.
"They look back on what they know of or hear of the Jiang Zemin era, as a time when you could get out, you could travel the world, you could come back and there was a lot more contact between China and the West," he explained.
These younger Chinese circulate memes and jokes about Jiang on the Internet, as he is seen as a less threatening and less overbearing figure than the current leader.
"So I think in that nostalgia, there's a good bit of projection of maybe younger, more cosmopolitan Chinese folks who miss something that they feel has been lost," said Dr Delury.
HONG KONG AND TAIWAN
While Jiang Zemin came into power in the wake of the Tiananmen Square turmoil, he also oversaw the Hong Kong handover in 1997, a major event which turned out to be very stable compared to what many feared, said Dr Donaldson.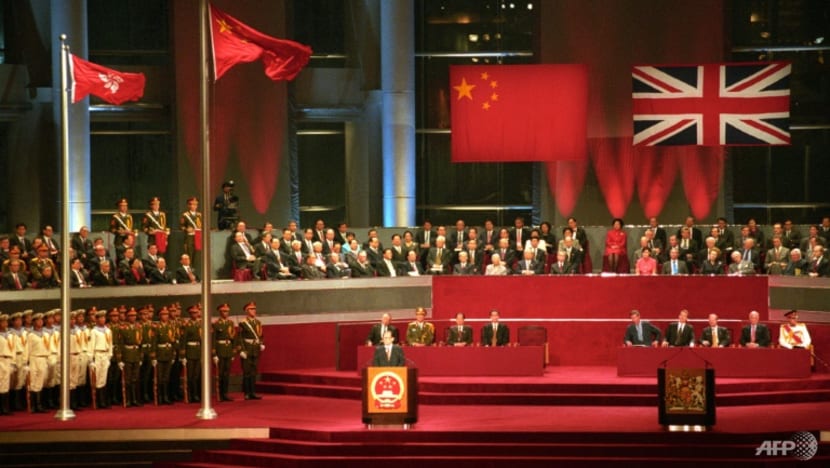 It inspired hope among the people that the political and economic system of Hong Kong would indeed remain unchanged, and that the city would be a driver of further reform, said Dr Donaldson. 
"But those hopes in those days post-handover, in many ways, have been dashed and more recently suppressed, as China has taken an increasingly heavier hand on Hong Kong," he said.
Dr Delury said Jiang gave the people of Hong Kong a sense that "there was some value to the autonomy of this city, and that it wasn't supposed to be like any other Chinese city".
"And I think that is where a lot of the sentiment among people in Hong Kong has now turned against the leadership in Beijing, where they feel like now they're being forced against their will to conform to a set of rules and norms that really doesn't fit their history and their aspirations."
He added that this was seen especially in the mass anti-government demonstrations from 2019 to 2020, with many, particularly younger people, articulating their concerns about the way in which their city was losing the autonomy that had been promised to them.
Taiwan, which observers describe as one of China's biggest foreign policy issues, is another issue on which the Jiang and Xi regimes differ.
Dr Donaldson explained that the manner in which Jiang negotiated the issue with former US president Bill Clinton back then "led to a great deal of stability", especially during a time when things "could have gotten out of hand".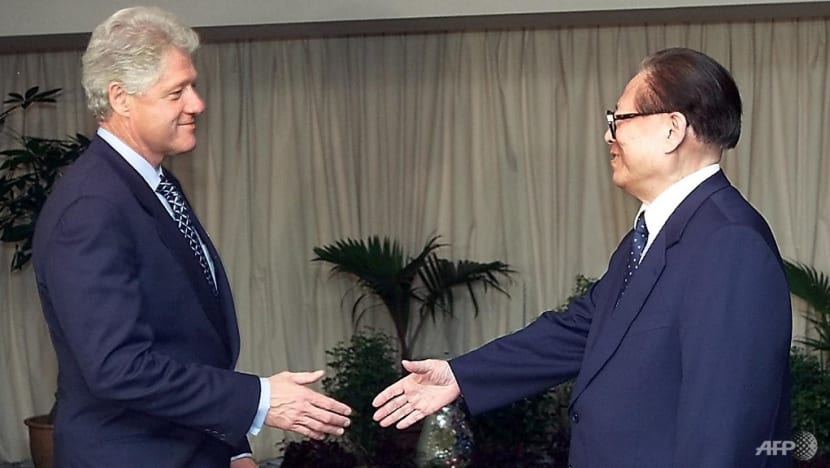 At that time, the democracy movement was picking up pace in Taiwan, as opposition and pro-independence leaders like Lee Teng-Hui were elected, said Dr Donaldson.
"China made its opinion clear. It said very clearly that independence for Taiwan was not acceptable. But it stopped short of the kind of sabre rattling that you're hearing increasingly today," he said.
Tensions between the US and China have increased in recent months, especially after US House Speaker Nancy Pelosi's visit to the island in August this year.
PAST AND PRESENT, XI AND JIANG
One major aspect in which current President Xi and the late Jiang differ is their "attitude toward the rest of the world", said Dr Donaldson.
"Xi looks much more focused on the party internally and China and its growth and its rise, and the world needs to sort of accept it on his terms, which is a different sort of attitude than what Jiang Zemin projected in the 1990s and early 21st century," he said.
Dr Donaldson highlighted Jiang's willingness to engage, noting the "extraordinary moments" when Jiang sat down with the American media, spoke at length to answer their questions and showed that he understood and could speak the English language.
"A desire to engage was part of the Jiang Zemin package, part of his personality, and I think we see a very different face from Xi Jinping," Dr Donaldson.
However, at the core, both leaders still have a similarity, which is their loyalty to the Chinese Community Party, and their loyalty to the interests and values of the organisation, said Dr Delury.
He noted that Jiang was brought into national leadership in the aftermath of the 1989 Tiananmen Square crisis, which was his "great test of loyalty to the party", and he proved himself.
"I think if there's some real core to Xi Jinping, it is still his loyalty to the party, so I think that's where you find them cut from the same cloth," said Dr Delury.