Delays in furniture deliveries from Johor to Singapore as COVID-19 curbs jam production lines
Industry players are hopeful that the supply chain will be restored fully as Johor ramps up vaccination efforts.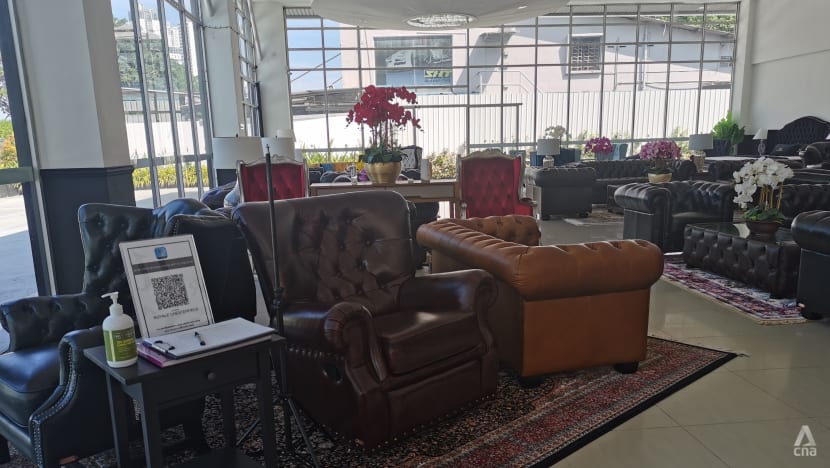 JOHOR BAHRU: Before the COVID-19 pandemic, Johor-based company Mi Kuang furniture would make around five delivery trips to Singapore every week.
There would be a long list of orders from customers and furniture partner companies in Singapore, recalled firm manager Philip Fong.
"We had a stable number of requests for interior design and carpentry work, in particular for customised sofas, bed frames and wardrobes," he said.
"But all that seems a long time ago now."
These days, the company is able to only sustain one delivery trip per week across the Causeway, with its overall business dipping by between 60 per cent and 70 per cent.
Many retail and furniture manufacturers based in Johor, like Mi Kuang, are focused on servicing the Singapore market.
However, over the last few months, COVID-19 has disrupted their production lines, as factories were barred from operating due to the Movement Control Order (MCO) and total lockdown imposed by the federal government.  
This has led to companies being unable to fulfil orders from customers and partners in Singapore.
While many in the industry have been allowed to resume operations, the presence of numerous active clusters in workplaces and possibility of further lockdowns mean that there is no guarantee when output will go back to the same level as before.  
For Mi Kuang, it has a furniture manufacturing factory located in Pekan Nenas, near Pontian.
The factory was asked to shut due to the total lockdown imposed by the government on Jun 1, which barred non-essential economic sectors from operating, including furniture sectors.
"The closure of factories, shortage of raw materials and labour disruptions due to COVID-19 are among the major issues every furniture manufacturer in Johor is facing," said Fong.
Mi Kuang's factory has resumed operations fully as of early September, and Fong is optimistic that the backlog in orders can be cleared soon. 
Albert Ng, chairman for the Johor Bahru Furniture Association, noted that the furniture businesses there, whether they are retail outlets or factories, mostly supply to Singapore.
He said that the "endless" total lockdown had halted production and that businesses are "at a standstill".
"Delays in our production for orders to Singapore are inevitable because MCO has halted factories from operating," Ng said.
He noted that the nationwide lockdown imposed from Jun 1 meant that furniture production facilities as well as retail outlets, were not allowed to open.
He said that this was different from the previous lockdowns implemented in May (MCO 3.0) and March (MCO 2.0) when factories were allowed to proceed.
"When they announced the total lockdown, it became challenging because companies in JB could not give any clear end-date to when they can resume their operations," he added.
Ng added that firms also faced issues with manpower shortages, due to COVID-19 clusters impacting industrial areas in the southern state.
The state's health and environment committee chairman R Vidyanathan said in late August that industrial clusters formed 72 per cent of all active clusters in Johor.
According to statistics released by the Health Ministry, areas affected included Tampoi, Jalan Parit Bakar, Ulu Tiram and Kulai. Furniture factories as well as adjoining worker dormitories are listed in these locations.  
Ng of the furniture association said that companies in the furniture sector are located within some of these clusters, although he did not specify which companies were affected.
"As a result of all this uncertainty, many firms have been unable to fulfil orders from Singapore in a timely manner. Some Singapore customers or companies have cancelled their orders and have begun to look elsewhere," he added.
FURNITURE RETAILERS STRUGGLE TO MEET ORDERS   
Besides furniture factories, retail outlets in Johor have also struggled to deliver products across the Causeway in a timely manner.
Some furniture retailers based in Johor Bahru accept online orders from Singapore. These retailers typically manufacture the furniture in other states or neighbouring countries, before transporting them across the Causeway via third-party logistic companies.
One example is Boo Furniture, which specialises in wood customised furniture like dining tables and chairs. The firm manufactures furniture in Indonesia before transferring them over to its warehouse in Johor Bahru. The furniture is then sent to Singapore via the Causeway.
Chong Yen Yen, who is the manager for the outlet's branch in Taman Pelangi in Johor Bahru, told CNA that the firm has experienced "some delays" in delivering the products by agreed deadlines.
She recalled that one shipment from Indonesia got delayed for more than three weeks after a crew member on board the cargo ship tested positive for COVID-19.
"It was bad because the orders were already late and we had to explain that there would now be further delays," Chong added.
"In one way or another, COVID-19 has definitely impacted our business," she said.
Chong added that the firm has also suffered from prolonged border closures between Singapore and Malaysia, which means that no customers from Singapore could visit the outlets physically to pick and choose the style, texture and colour of furniture they wanted.
"Around 60 per cent to 70 per cent of our customer base is from Singapore, and business has suffered because they are unable to come down and pick furniture themselves," Chong added.
Winnie Wong, branch manager for Fella Design outlet in Jalan Tebrau, told CNA that the firm has also been unable to meet the demands of orders from Singapore as many of its factories located in Selangor and Kuala Lumpur were mostly shut over the last three months.
"Factory closure means manufacturing is zero," said Wong.
"There have been cancellations and we have been forced to absorb costs," she added.
FRUSTRATION FOR THOSE IN SINGAPORE
Meanwhile, partner firms and customers in Singapore have also expressed frustration at the delays in shipments.
Singapore furniture retailer Attic Living, which works with manufacturing firms in Malaysia, told CNA their production partners have attempted to appeal for an earlier resumption of their operations, but to no avail.
The retailer said that its signature specialty tables and imported furniture pieces from Spain have not been affected by Malaysia's MCO. However, customised options such as sofas and marble tables, which are made-to-order, have been affected by the halt in production in Malaysia.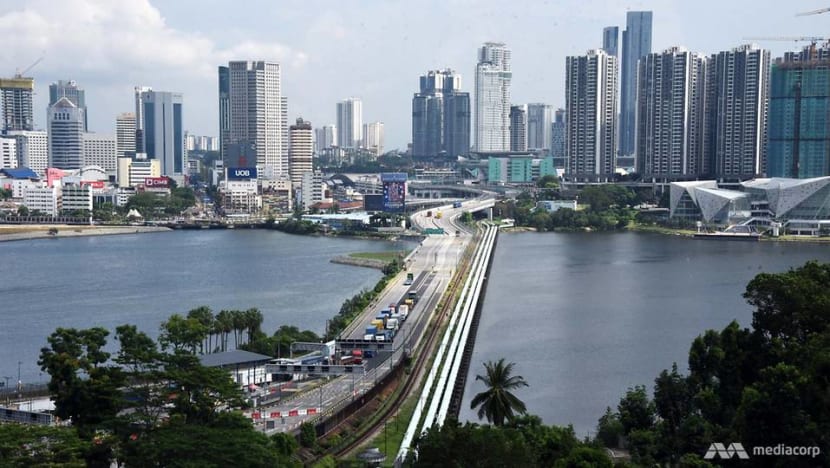 Attic Living's manager Jo Chong told CNA: "We have chosen to have most of our production completed in Malaysia … it allows for accessible quality checks on a regular basis and cuts down on the overall lead time as the furniture is shipped in regularly to our local warehouse."
She added that as temporary measures for customers, the firm has offered to loan their furniture pieces. Customers also have the option of changing the items to another if there is available stock, with no top-up fees.
A Singaporean customer, who only wanted to be known only as Sue, told CNA that she purchased a coffee table from a retailer in May but has yet to receive it. 
"They informed me it would be delivered in June but then received updates that there was a delay due to factories closure in Malaysia," said Sue. 
"I have considered cancelling my order and asking for a refund because I have been kept waiting. I've given them until the end of this month (September) to deliver it," she added.
OPTIMISM AS VACCINATION RATES INCREASE
In spite of the issues, there appears to be some light at the end of the tunnel.
A month ago, the federal government announced that economic sectors, including furniture production, could resume with the operating capacities dependent on the vaccination rate of the workers in these facilities.
For workplaces where 80 per cent to 100 per cent of workers are fully vaccinated, operations are allowed to resume fully.
Operations are allowed to resume at 80 per cent capacity for workplaces where 60 per cent to 79 per cent of workers are inoculated. As for sectors where 40 per cent to 59 per cent of workers are fully vaccinated, operations are only allowed to resume at 60 per cent capacity. 
Moreover, furniture retail shops were among the 11 types of economic activities allowed to resume operations. But business owners must ensure that customers show proof that they have been fully vaccinated before entering the stores.
There is optimism that the furniture business would resume to its original levels in the coming months, as more retailers and factories are able to ensure that their employees are fully vaccinated.
According to Ng of the furniture association, around 80 per cent of factories and 50 per cent of retailers have resumed work as of mid-September.
"Companies are allowed to resume while adhering to the prevailing SOPs and this number is expected to increase in the future with vaccination rates increasing. Hopefully soon, orders between Singapore and Johor will be able to resume without delays," said Ng.
Mi Kuang furniture's Fong said he is also confident his firm can ramp up deliveries to Singapore soon, as the vaccination rate in Johor has increased recently.
Currently, more than 60 per cent of the adult population in Johor have received both doses of the COVID-19 vaccine. The state government is aiming to have 100 per cent of its adult population fully vaccinated by the end of October.
"We have seen how businesses have improved in areas with high vaccination rates, like Selangor recently. I'm hopeful that Johor will follow suit," said Fong.
However, Ng maintained that in spite of this, some companies continue to face uncertainties and that production processes will still not return to pre-COVID-19 levels.
"Let's say a factory resumes operations, but one worker, despite being vaccinated, tests positive for COVID-19. The entire factory will likely have to shut and the firm will not be able to meet its deadlines," said Ng.
"This is the reality of operating during COVID-19," he added.