JOHOR BAHRU: Barisan Nasional (BN) on Saturday (Mar 12) cruised to victory in the Johor state election and achieved its target of a two-thirds majority in the state assembly. 
At 12.10am, results on the Election Commission (EC) website showed that BN won 40 seats out of 56 in the state legislature. Pakatan Harapan (PH) and the Malaysian United Democratic Alliance (MUDA) won 13 seats, while Perikatan Nasional (PN) won three seats. 
Earlier, EC chairman Abdul Ghani Salleh said in a press conference: "As of 11.05pm, BN has won 29 seats out of 56 seats. With this, (it) has clinched a simple majority of more than 50 per cent."
BN comprises the United Malays National Organisation (UMNO), Malaysian Chinese Association (MCA) and Malaysian Indian Congress (MIC). They contested 37, 15, and four seats respectively. 
Caretaker chief minister Hasni Mohammad retained the Benut seat, getting 10,896 votes while his nearest challenger Mr Isa Abd Hamid from PN won 5,037 votes.
Speaking at a press conference after the victory was announced officially, BN chairman Ahmad Zahid Hamidi said the results were "beyond BN's expectations".
"We feel that this victory is a present for all Johoreans who have placed their confidence in BN again," said Ahmad Zahid.
The UMNO president added that BN will nominate Mr Hasni as chief minister of Johor again. 
Ahmad Zahid also paid special tribute to former prime minister Najib Razak for helping with the coalition's campaigning efforts. "This victory is also a present for Bossku," said Ahmad Zahid, in reference to Najib's nickname among his supporters.
Mr Hasni said during the press conference: "Today, Johor has made its voice loud and clear. Today, Johor chose stability over emotions, chose pragmatism over idealism (and) chose strength over anger."
"For all the ups and downs of this campaign, you helped remind everyone that politics isn't a game," he added.
Mr Hasni also pledged that his government would work hard to implement the pledges in the election manifesto.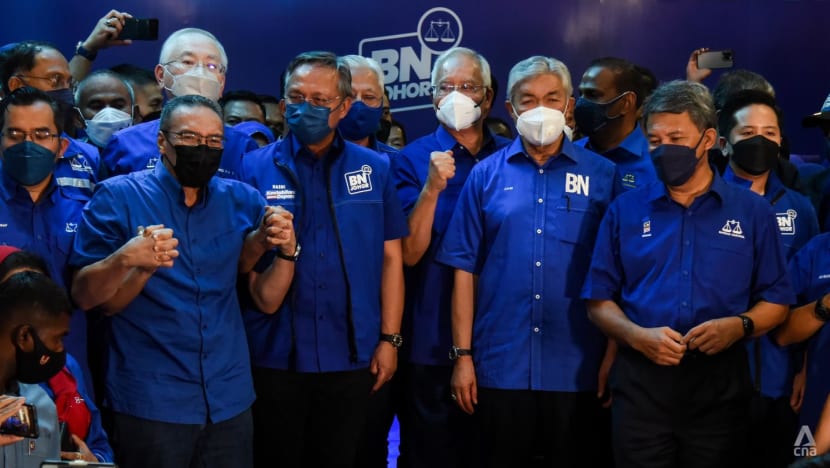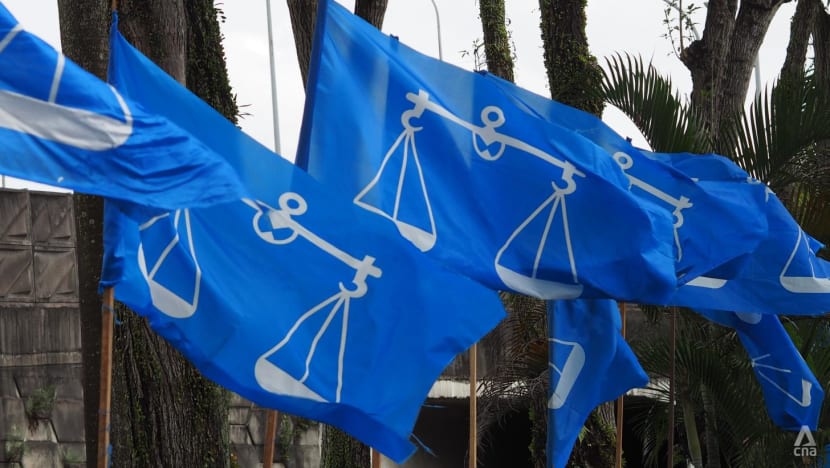 "WE WILL KEEP ON FIGHTING": PH
Johor PH chairman Aminul Huda Hasan said in a press conference that the results were not something that the coalition could be proud of. He said that PH would conduct a post-mortem on its weaknesses, shortcomings and mistakes during the campaign.
"We admit that with the situation and mood now, it is a result that we accept although this has to be improved in the future.
"We have been the government before and are used to our role as opposition. We will keep on fighting to get back the people's mandate," said Mr Aminul who failed to retain his Parit Yaani seat.   
He added: "We will continue our role to be the people's voice and play our role as a check and balance in the Johor assembly and other assemblies in the country."
Meanwhile, PN's chairman Muhyiddin Yassin said in a press conference that he was prepared to resign from his post in the coalition which comprises Parti Pribumi Bersatu Malaysia (Bersatu), Parti Islam Se-Malaysia (PAS) and Parti Gerakan Rakyat Malaysia (Gerakan).
"I am ready anytime if party members make a decision about my position. I will accept it. We practise democracy," said the former prime minister.
Former Johor chief minister Sahruddin Jamal of PN retained the Bukit Kepong seat with a majority of 710 votes. 
Former education minister Maszlee Malik of Parti Keadilan Rakyat (PKR), meanwhile lost the Layang-Layang seat against BN's Mr Abd Mutalip Abd Rahim, with the latter winning the seat by a majority of 2,815 votes.
A total of 239 candidates had contested the election that saw seven three-cornered fights, 35 four-cornered fights, eight five-cornered fights, four six-cornered fights, and two seven-cornered fights.
More than 2.59 million people were eligible to cast their ballots. Voter turnout was at 54.92 per cent.
During the campaign, BN's Ahmad Zahid said that the coalition was looking to win at least a two-thirds majority in the Johor polls. He noted that such an outcome would result in a stable state government.
Johor's state assembly was dissolved by Sultan Ibrahim Iskandar on Jan 22. The sultan gave his consent for the dissolution after meeting with Mr Hasni.
In the 14th state election that was held simultaneously with the federal elections in May 2018, PH won 36 seats and BN won 19 seats, while PAS took one seat. 
It was the first time in Malaysia's history that Johor, considered a BN stronghold and bastion of UMNO, fell to the opposition.
Following the results in 2018, PH presided over the Johor state government. However, following a political maneuver known as the "Sheraton Move" in February 2020 that saw Bersatu leave PH, the coalition was ousted from the federal government.
The PH Johor state government also fell, and a new government, made up of BN and PN coalitions, took over.
BN's Mr Hasni then served as chief minister before the state assembly was dissolved on Jan 22.
Prior to the dissolution, Mr Hasni justified that his state government needed a fresh mandate as it only held a slim majority following the death of former chief minister Osman Sapian in December last year.
Mr Hasni said that the election was necessary as the stability of the Johor state government was a prerequisite for investors and businesses to expand their operations in the state.