Johor polls: Politicians on campaign trail trade barbs over Putrajaya border reopening announcement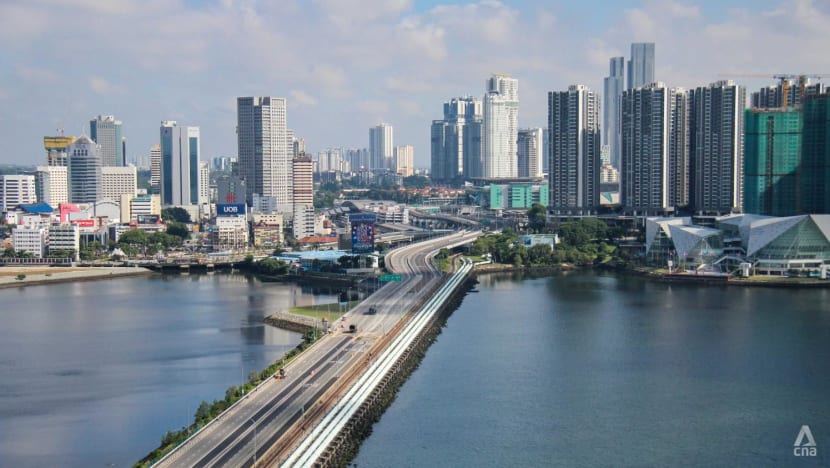 This week, Malaysian prime minister Ismail Sabri Yaakob announced that borders will fully reopen on Apr 1
The opposition has criticised the timing of the announcement as "political calculations" to block Johor voters from returning to cast their ballots this Saturday 
UMNO said that PH's claims are "cynical", while maintaining that the reopening decision is based on science and data
JOHOR BAHRU: As campaigning for the Johor state elections enters the final stretch, politicians are debating the timing of the announcement by Prime Minister Ismail Sabri Yaakob for the country to fully reopen its borders. 
On Tuesday (Mar 8), Mr Ismail Sabri said that all Malaysia's international borders, including the land crossings between Johor and Singapore will reopen on Apr 1, as the country begins to transition to the COVID-19 endemic phase. 
Border reopening has been a hot-button issue for the Johor state elections, which will be held this Saturday.
Prior to the federal announcement, various coalitions and political parties, including Perikatan Nasional (PN), Pakatan Harapan (PH) and the Malaysian United Democratic Alliance (MUDA) have called for a full reopening of the Johor-Singapore borders while they campaigned in the southern state.
On Wednesday, opposition leader Anwar Ibrahim claimed that the decision not to reopen earlier in time for polling day was a sign that the prime minister and the Barisan Nasional (BN) coalition were not confident of prevailing in the Johor state elections. 
"If he is truly confident (of winning the Johor polls), what's the difference if the borders are open two weeks earlier? He's not confident then," the PH chairman told reporters after a rally in Gambir.
"If the prime minister is truly confident that BN is in a position of strength, he should have opened the borders before Apr 1 to let the people make their choice. But he is perhaps sure that the hundreds of thousands (of Johoreans who are working in Singapore) will not vote for BN. That's why he is blocking them," added the Parti Keadilan Rakyat (PKR) president.  
In a statement last Saturday, Mr Ismail Sabri said BN must achieve a "big win" in Johor to ensure stability in the state government, targeting two-thirds or 38 out of the 56 seats in the state assembly. 
"God willing, based on the hard work and strong willpower from the Barisan Nasional grassroots, the coalition will win the Johor state elections. We only have one choice, to win big! The word defeat is not in our battle dictionary," he added. 
REOPENING DECISION INVOLVED "POLITICAL CALCULATIONS": DAP
Mr Liew Chin Tong, Johor chief for PH component party Democratic Action Party (DAP), told CNA on Wednesday that he supported the decision by the federal government to reopen borders. However, he questioned why there was a gap of more than three weeks between the announcement and the implementation. 
Like Mr Anwar, Mr Liew also claimed that only implementing the border reopening after the elections could be an attempt to prevent voters from travelling home in big numbers to cast their ballots. 
"Why is the timing like this? Why announce now but only implement it on Apr 1? This is because of the Johor election. It is because this is the number one issue that voters in Southern Johor care about," Mr Liew noted.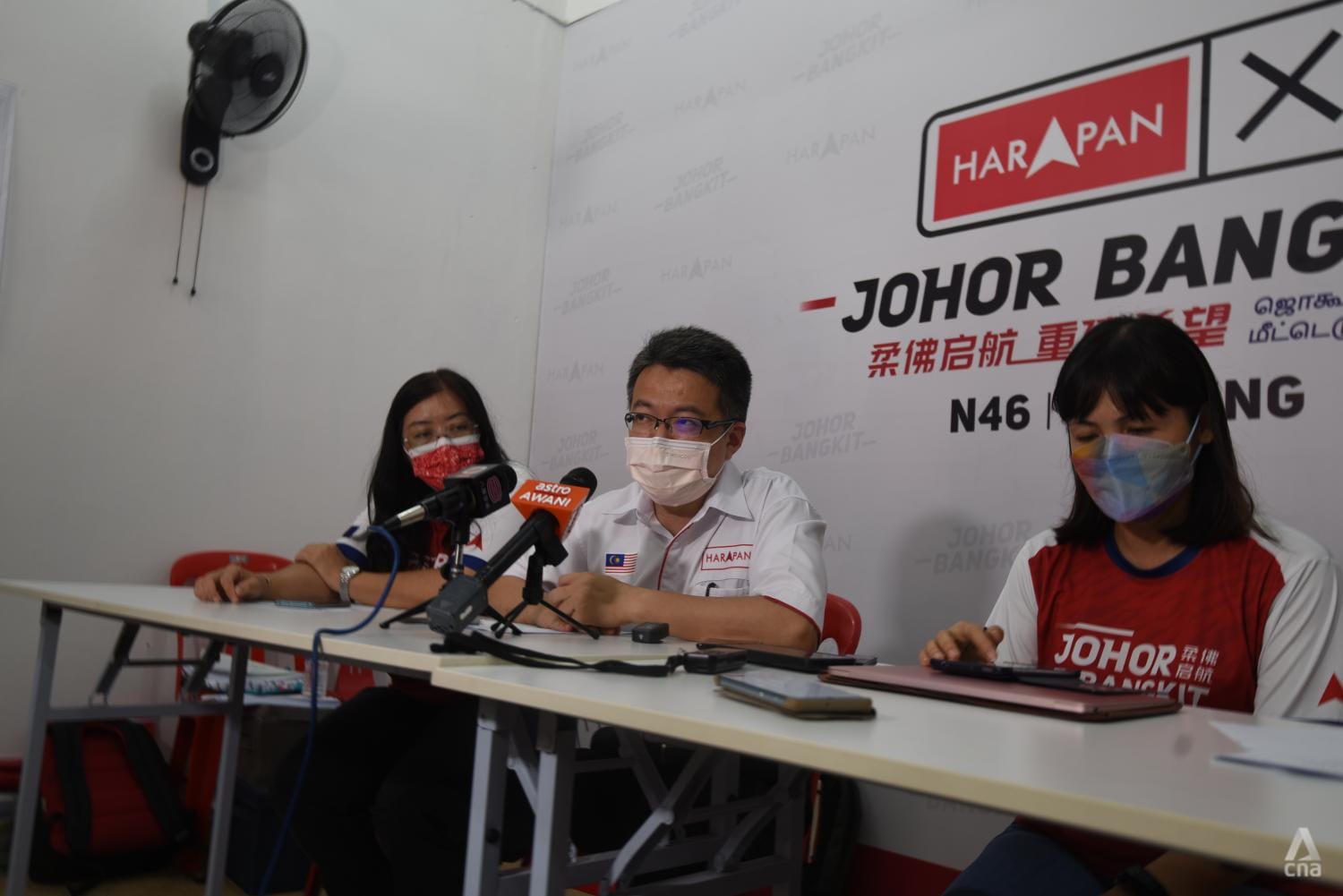 "I think the government wants to take this issue out of the election equation, and yet do not want to allow Malaysians to come back to vote on Mar 12." 
He added: "We will welcome the reopening of borders but we think that there are too many political calculations there." 
Votes from Johoreans based in Singapore could be decisive for the state election. 
PH leaders have posited that the incumbent BN coalition pushed for the election to be held on Mar 12 partly because many of the Johorean workers based in Singapore would find it difficult to come back to vote given the pandemic situation.
Observers have said that a lower voter turnout for these polls could benefit BN. 
Besides allowing these workers to travel to and fro and see their families more often, the reopening of borders has also been seen as an opportunity to boost economic activity in Johor. Many businesses in Johor have suffered from the lack of tourism dollars from Singapore visitors over the last two years.  
Last month, Malaysia's National Recovery Council (NRC), led by Mr Muhyiddin Yassin, recommended that the country should fully open its borders by March to support economic recovery from the pandemic.
Mr Muhyiddin has been leading PN's campaign in Johor. BN, PH and PN are contesting against each other in all 56 state seats. 
ANNOUNCEMENT BASED ON SCIENCE AND DATA: UMNO
The United Malays National Organisation (UMNO), which is the biggest party in BN, has rejected PH's claims of a political ploy.
In an interview with CNA, the party's information chief Shahril Hamdan said that PH leaders like Mr Liew are "cynical" and "grasping at straws".
"The fact of the matter is the decision to reopen borders is not an easy and light one to make. It is based on science, data and countless other considerations. Discussions must be held across agencies, ministries and between federal and state governments," said Mr Shahril, who is also an economic director in the Prime Minister's Office.
"It is pretty normal for an announcement to be made, only to be enacted a number of weeks later. BN doesn't have time when it comes to reopening borders as well as saving and reviving our economy (to engage in) petty politics like this," he stated. 
On Wednesday, health minister Khairy Jamaluddin said that the federal government is in discussions with states that have international borders as well as neighbouring countries on the details of the border reopening. 
As such, details on international land travel will only be announced next week, the minister added, as the protocols have to distinguish between travellers entering for tourism and periodic commuters. 
Mr Shahril, who has been campaigning in Johor on behalf of BN candidates, also highlighted how the government has facilitated Johoreans based overseas to cast their ballots. 
The Election Commission (EC) has said that this is the first time that postal voting is an option for Johoreans based in Singapore. 
In previous elections, Malaysians based in neighbouring regions like Southern Thailand (Narathiwat, Pattani, Yala, Songkhla and Satun), Singapore, Brunei, as well as Kalimantan in Indonesia were not eligible for postal voting.
However, in a statement last Friday, the EC said that it has issued 7,814 postal ballot papers for overseas Malaysians to cast their votes in the Johor election. This is a small fraction of around 200,000 Johoreans who work in Singapore. 
Mr Shahril added that both the Johor state government and Malaysian federal government have played a key role in implementing the air and land vaccinated travel lane (VTL) arrangements with Singapore. The VTL scheme allows quarantine-free travel for those who are fully vaccinated.
These arrangements could also give voters an option to return home to cast their ballots in person, Mr Shahril noted.
VOTERS UNLIKELY TO BE SWAYED BY PROMISES: ANALYST 
How are voters likely to respond to Putrajaya's announcement?
Dr Serina Rahman, an analyst for Malaysia politics who is also a visiting fellow at the ISEAS-Yusof Ishak Institute, noted that while the border reopening could be potentially big news for the state's economy, the initial announcement is still scant on details. 
"In Johor, the main assumption is that once the border reopens, things will go back to 'how it was before' because the economy was hit hardest by the lack of visitors and foreign investment. It is like the magic wand solution," she told CNA. 
"It is great news but we need to be cautious because we don't know how many people they will allow across the land border - will it be another version of the VTL?" 
She added that other important details such as procedures and quotas for foreigners coming into Malaysia as well as the use of private vehicles have not been outlined. She also noted that Singapore has not announced if it too will reopen borders on Apr 1.  
Dr Serina, who is based in Johor, opined that voters are not likely to be swayed by promises of border reopening with no concrete details on how it will be executed. 
"The announcement to reopen borders will of course affect perceptions of politicians. But I think the voters are also not as gullible as before in terms of believing politicians' promises."
She added: "I think Johor needs the news just for mental relief, but whether it then pushes voting decision-making is a whole different matter."