For the first time, postal voting an option for Johoreans in Singapore but some are uncertain
Non-governmental groups are expecting a low turnout for postal voting, with Bersih forecasting only 5,000 registrations out of an estimated 100,000 Johoreans who are based in Singapore.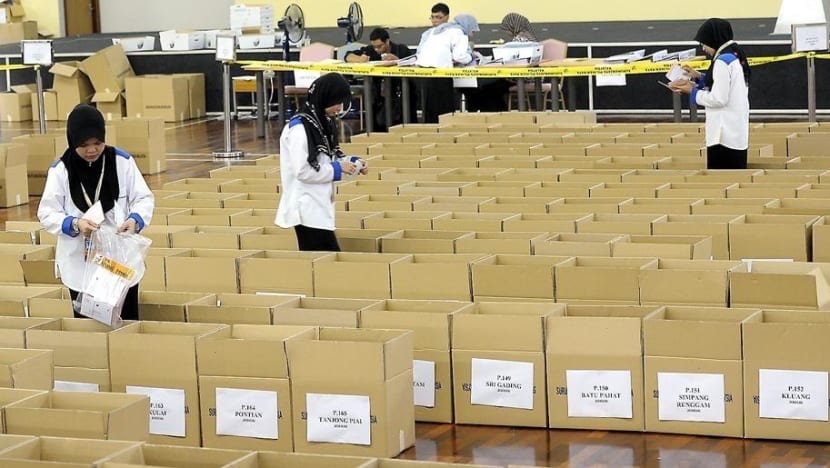 JOHOR BAHRU: Healthcare worker Tan Tse Ling is earning her keep in Singapore, away from her home and parents in Kluang, Johor. 
Prolonged border closures between Malaysia and Singapore has also made it difficult for Ms Tan to travel home frequently. 
Yet, the 34-year-old is determined to cast her ballot for the upcoming Johor state election. 
"I see it as my duty to my state and country to exercise my right as a citizen. My vote may not be significant and my voice may not be heard, but I will do my best to get my voice across," she told CNA. 
Ms Tan is one of the Johoreans based in Singapore who have successfully registered for postal voting. 
Postal voting is a new option for Johoreans who are working in Singapore. 
This option for Malaysians to cast their vote from neighbouring countries is one of several electoral reforms which will be implemented with the Johor election, according to the Election Commission (EC). 
In previous elections, Malaysians based in neighbouring regions like Southern Thailand (Narathiwat, Pattani, Yala, Songkhla and Satun), Singapore, Brunei, as well as Kalimantan in Indonesia were not eligible for postal voting. 
Local media have estimated that between 100,000 and 200,000 Johoreans are working in neighbouring Singapore, forming a sizable portion of the electorate. 
There are 2.57 million eligible voters for the upcoming polls. The Johor state assembly was earlier dissolved as the ruling coalition, which was holding a one-seat majority, wanted to seek a fresh mandate. 
Ms Tan said the electoral reforms are timely because prolonged border closures due to COVID-19 has made it difficult for Malaysians to come home to vote. 
She added that even with the land vaccinated travel lane (VTL) in place between Singapore and Johor, which allows quarantine-free travel for those who are fully vaccinated, postal voting is preferable. 
"To be honest, even with VTL, it's still very uncertain and worrying while waiting for the date I actually travel back to Malaysia, like what if the government decided to suspend the VTL, what if I tested COVID-19 positive on my pre-departure ART (antigen rapid test) etc," said Ms Tan, who will be voting in Mengkibol constituency. 
Another voter who has successfully registered was Ms Nancy Lee, who works in the service industry in Singapore. 
Ms Lee, who will be voting in the Stulang state seat, told CNA that she would have preferred to travel home to vote but she was unable to get bus tickets for the land VTL. 
"It would have been better to go back, and vote together with my family," said the 23-year-old. 
"But at least we have postal voting as an option now," she added. 
CONCERNS OVER REGISTRATION PROCESS AND BALLOT SECRECY
Postal voting registration for the upcoming Johor state polls ends on Friday (Feb 18). Polling has been set for Mar 12, two weeks after nomination day on Feb 26. 
Upon successful registration, ballot papers will be mailed to the applicants' addresses after nomination day. The voters will then mark the ballot papers in secret and post them to a listed address. 
Some Johoreans who have successfully registered as postal voters said the registration process was "tedious", while some were worried about the confidentiality of their postal votes. 
Ms Tan, the healthcare worker, said the registration process was slightly cumbersome but mostly straightforward. 
She told CNA that she had to apply to activate her account 10 times due to a glitch in the system, but eventually managed to do so. 
"I wouldn't say it's complicated, just a bit tedious with taking photos and selfies … and because we're uploading photos of our IC (identity card), there's some doubt about data privacy," said Ms Tan.
Mr Hazwan Mohammad Amini told CNA that the whole process was "slightly cumbersome" but he managed to submit his application and received the confirmation email within four days. 
"What's important is that I exercise my right as a voting citizen," said Mr Hazwan. 
There are voters who decided not to do postal voting over concerns that their ballots might not be kept secret. 
An example is logistics executive Muhammad Ameen Rosli, who told CNA that he was not confident that the votes would be transported safely. 
"I don't feel sure that someone along the way won't open the envelope to check," he said. 
Mr Muhammad Ameen said he considered using VTL to head home to vote but he could not get bus tickets. 
"I will not be voting then this time. I have to remain (in Singapore) to work and support my family," he added. 
Another Johorean based in Singapore, who wanted to be known only as Mr Tan, also told CNA that he was concerned about the secrecy of his postal vote.
"Perhaps the government can arrange for bus services on polling day to transport voters over the cast ballots. If so, I will consider voting," he said.
EFFORTS TO ENCOURAGE SINGAPORE-BASED JOHOREANS TO VOTE
Votes from Johoreans based in Singapore could be decisive for the Johor polls. 
During a televised dialogue last month, an opposition politician, Parti Amanah Negara organising secretary Suhaizan Kayat, posited that the incumbent Barisan Nasional (BN) coalition pushed for the election to be held at this time partly because many of the Johorean workers based in Singapore would find it difficult to come back to vote given the pandemic situation.
Even with the VTL arrangements in place between Singapore and Malaysia, Mr Suhaizan noted that many would find it difficult to travel home to cast their ballots due to travel quota restrictions.
"These workers are predominantly Chinese and many will not be able to vote … with current COVID-19 measures in place," said Mr Suhaizan. 
Johor's caretaker chief minister Hasni Mohammad, who will be leading BN's charge in the upcoming polls, replied during the dialogue that the issues hindering residents from voting will impact all parties. 
"All the parties contesting are affected. If we look at the Malaysians who are working in Singapore, not all of them support the opposition. There are many who support the government," he said.
Non-governmental groups and members of the public have since launched efforts to encourage Singapore-based Johoreans to cast their votes. 
The Coalition for Clean and Fair Elections, which is better known as Bersih, has been publishing step-by-step instructions to inform voters on how to register for postal voting. 
Bersih's chairman Thomas Fann told CNA that the lack of awareness and trust in the process could mean that the number of postal votes would be relatively small. 
It would be an achievement if 5,000 out of the estimated 100,000 Johoreans based in Singapore were to register for postal voting, he added. 
"In the last general election (in 2018), less than 8,000 registered as postal voters (across the different countries)," said Mr Fann. 
"For the Johor election, if we manage to hit 5,000 to 10,000 out of a potential 100,000 eligible Johorean voters, that itself will be amazing," he added. 
Bersih said it will be working alongside election advocacy group Undi Johor, which spearheads the coordination of postal votes collection in Singapore before transporting them over to Malaysia. 
Ms Tan, the Johorean working as a healthcare worker in Singapore, said it helps that there are chat groups for like-minded Malaysians to discuss if they face any issues. She is part of the Telegram group MWIS-Johor, with more than 250 other members. 
"The administrator for the group is very helpful. Even set up a voluntary group to help consolidate and collect all the voting slips after we cast our vote in Singapore and send them back to Johor so that each individual doesn't need to spend money to mail the voting slips back," she said. 
Bersih's Mr Fann expressed hope that the EC could give more assurance that the process for postal voting is valid and that the votes of these citizens do matter. 
"Voting is an integral part of being a citizen. If we don't vote, we are letting others decide our future. So if there's a facility to vote overseas, we should take the opportunity," said Mr Fann.
BALLOT SECRECY SAFEGUARDED BY TWO-ENVELOPE SYSTEM: EC 
EC's deputy chairman Azmi Sharom told CNA that he was "very confident" that ballot secrecy for postal voters is safeguarded as the voting slips are sealed until they are placed inside the ballot boxes. 
Dr Azmi explained that each postal voter will be given two envelopes - one smaller envelope in which the voting slip will be sealed and a bigger envelope which will contain the smaller envelope.
Voters are also required to fill up a form with their particulars.
He added that these envelopes will be given to the returning officer, who will examine the forms.  
"I am very confident that ballot secrecy is safeguarded because there are two separate envelopes. Once the form has been verified and the voter is considered legitimate, the second envelope is placed inside a ballot box. The vote remains a secret," said Dr Azmi. 
"So when the vote is counted, there is no way to know where it came from," he added.