'The last thing we need now is an election': Johor voters wary of state polls amid Omicron wave
JOHOR BAHRU: As the number of COVID-19 cases in Malaysia rises due to the Omicron variant, voters in Johor are wary of the upcoming state polls.
Many of them believe that the last thing needed at this point of time is an election.
Mr Daniel Cheh, 37, who resides in Kulai, said many businesses in Johor are struggling to stay afloat due to COVID-19, especially since borders with Singapore are still closed.
"The last thing we need now is an election. It is very unnecessary and really just a waste of time and money," he told CNA.
Mr Cheh said he did not know if he would cast his vote during the polls, and would look at the COVID-19 situation first. 
"If it is too risky, I won't vote," said Mr Cheh, who is working in the tourism sector.
Malaysia's Election Commission (EC) had announced that polling day for the Johor state election will be on Mar 12, with nominations to take place on Feb 26.
Johor's state assembly, which has 56 seats, was dissolved by Johor Sultan Ibrahim Iskandar on Jan 22.
Prior to the dissolution, Chief Minister Hasni Mohammad justified that his state government needed a fresh mandate as it only held a slim majority following the death of former chief minister Osman Sapian in December last year.
Mr Hasni said that the election was necessary as the stability of the Johor state government was a prerequisite for investors and businesses to expand their operations in the state.
Mr Cheh, however, said that Johor was one of the few states where the government and opposition worked together.
"I don't agree that the previous government was unstable. The budget was passed and Pakatan never really created trouble. Now with this Omicron wave, it doesn't make sense to risk our health," he said. Pakatan refers to Pakatan Harapan (PH), the opposition coalition. 
In the 2018 elections, Barisan Nasional (BN) lost Johor, considered to be United Malays National Organisation's (UMNO) bastion for the first time in their history.
Parti Pribumi Bersatu Malaysia (Bersatu), however, pulled out of PH and worked with UMNO to topple the PH federal administration in a political manoeuvre known as "Sheraton Move" in February 2020. 
The chief minister's post in Johor went from Bersatu to UMNO following the Sheraton Move. 
While BN and Perikatan Nasional (PN, which comprises Bersatu and Parti Islam Se-Malaysia) have an understanding at the federal level, they contested against each other during the Melaka polls, and will be heading into the Johor polls as rivals as well. 
BN, especially certain politicians from UMNO, was the loudest to call for elections in Johor. 
All the other parties including Bersatu were against elections being held.
While the main players are BN, PN and PH, others such as Malaysian United Democratic Alliance, Parti Pejuang Tanah Air and even Sabah-based Parti Warisan have indicated interest to contest the election. 
"JOHOR DIDN'T REALLY NEED TO HOLD AN ELECTION" 
Even though the Omicron variant is said to be less harmful than the other variants, Johor voters whom CNA spoke to said they do not want to take things lightly. 
After the Sabah state election in September 2020, Malaysia experienced new waves of infection that led to various lockdowns in the country.
With the Omicron wave, Malaysia's daily caseload has again crossed the 20,000 mark. Health Minister Khairy Jamaluddin had said the Omicron wave was expected to peak in the second half of March. 
A voter who only wanted to be known as Muhammad Farhan, 41, said he might not head back to his hometown in Kluang this time from Kuala Lumpur, where he currently resides.
"This is the first time in my life that I am contemplating not voting. I haven't decided yet. 
"Voting is important, but for me health comes first, especially that of my family," said the engineer who is also unhappy with the political games playing out in the past few years. 
Mr Maheswaran Muthiah, 48, who lives in Johor Bahru, said that there was no need to be hasty and hold the election prematurely when the economic and COVID-19 problems were bigger worries. 
"I was hoping the government would focus on these issues, but some people have decided to play politics. Unlike Melaka, Johor didn't really need to hold an election," he said.
The Melaka elections were called after four state lawmakers, including two from United Malays National Organisation (UMNO), withdrew their support for Chief Minister Sulaiman Md Ali. 
Mr Maheswaran said that the Johor election should have been held simultaneously with the general elections that have to be called by September next year. 
This is the first time that the Johor polls are not held simultaneously with the general elections.
Ms Anisah Ali, 20, who is a university student, agreed this is not the best time to have the polls because of the Omicron threat.
"I think there is a fear that having polls could trigger Omicron cases to spread in Johor, so hopefully the SOPs (standard operating procedures) announced will prevent this," she said.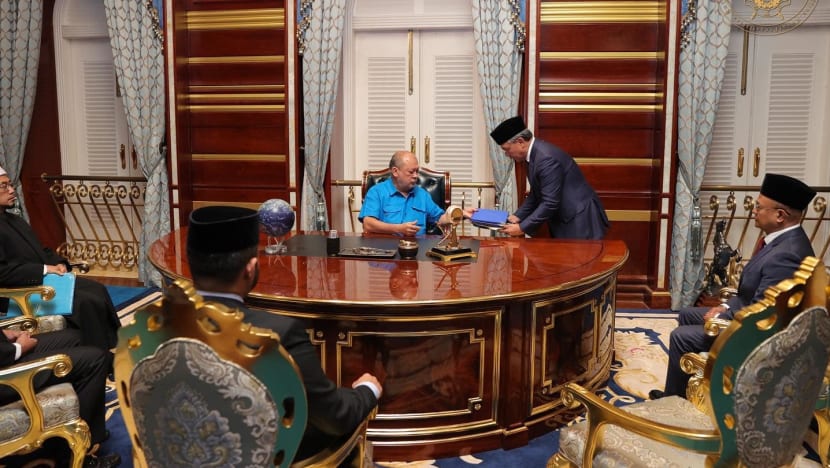 VOTERS WILL EXERCISE CAUTION 
Nonetheless, with the polls happening soon, the voters said they would fulfil their responsibility but with caution. 
Mr Maheswaran said he would vote but would head out early to avoid long queues and big crowds.
"As for which party, let's see. There may be many candidates to choose from this time round," he said.
Ms Anisah said she would not be attending any physical rallies because she lives with her parents and grandmother.
She said that although all of them have received their booster jabs, she does not want to take a risk by being in a crowd of people and exposing herself to the virus.
The university student said they would all vote but would take necessary precautions such as double masking, wearing gloves and going out early.
"We are wary (of getting COVID-19) but we will still want to vote," she said.
Ms Anisah added that she is excited to cast her ballot as this will be the first time that the Undi18 initiative, which lowers voting age from 21 to 18, is being implemented.
Another first-time voter Mohd Hafiz Rahman said he would watch the campaign speeches online before deciding who to vote for. 
The 19-year-old said the election cannot be avoided as Sabah, Melaka and Sarawak also held elections during the pandemic. 
"So we can do it too. I will cast my vote. This will be my first time voting and I'm looking forward to it a little. I hope the new Johor government will pay more attention to the economy and help gig economy workers like myself," said the delivery driver who lives in Pasir Gudang.
More than 2.59 million voters are eligible to cast their ballot in this state election, with EC targeting a 70 per cent voter turnout. 
Political analyst Dr Sivamurugan Pandian from Universiti Sains Malaysia, however, was anticipating a low voter turnout.
"I won't be surprised that it is less than 65 per cent. Today (Feb 9), there were more than 17,000 cases reported. It may increase, so voters will be afraid and choose not to come out," he said. 
He said that the turnout for the Melaka polls was about 65 per cent, even when cases were not as high.
Dr Sivamurugan also said that it would be unlikely for voters residing in other states to come back to vote as they had recently returned for a long break during the Chinese New Year. 
However, those loyal to the parties would come out to vote, he said.
"The party that has good logistics, manpower and machinery will be able to carry their voters," he said, adding that BN is likely to have an advantage when voter turnout is low.