'Key question' is whether ASEAN envoy can gain access to all political stakeholders in Myanmar: Vivian Balakrishnan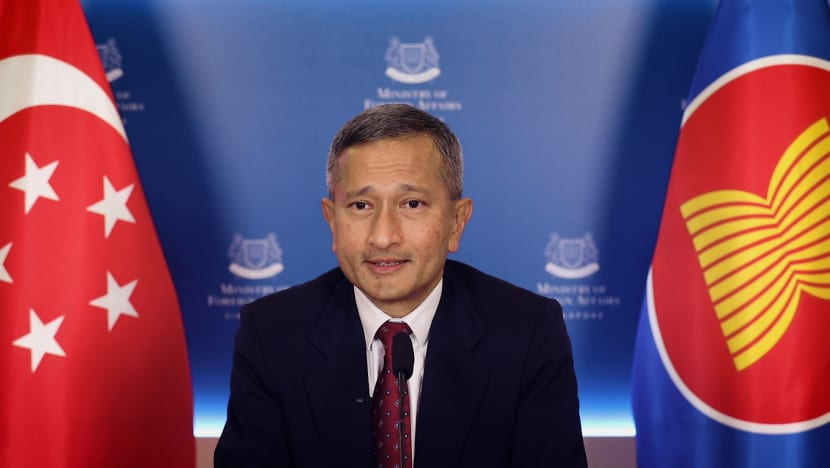 SINGAPORE: Singapore Foreign Affairs Minister Vivian Balakrishnan said on Friday (Aug 6) that a key question following the recent appointment of Association of Southeast Nations' (ASEAN) special envoy to Myanmar is if he will be able to gain access to all political stakeholders in the country.
"I think the key question is the level of access that he will be given," said Dr Balakrishnan. "The real imperative behind appointing an envoy is that he should be able to engage all stakeholders across the political spectrum."
Dr Balakrishnan was speaking to the media after the 54th ASEAN Foreign Ministers' Meeting and Related Meetings. 
Foreign ministers of ASEAN's member states on Wednesday picked Brunei Second Foreign Minister Erywan Yusof as their special envoy to Myanmar, in a breakthrough after months of delay for regional mediation to help end the country's deepening crisis.
Mr Erywan has been tasked with ending violence in Myanmar, opening dialogue between the military rulers and their opponents in the crisis-torn country, according to a communique released after meetings on Monday and Wednesday by foreign ministers of ASEAN.
Mr Erywan will begin his work in Myanmar to "build trust and confidence with full access to all parties concerned", according to a joint statement.
However, Dr Balakrishnan said the "paramount test" is whether Mr Erywan will be able to gain access to all the stakeholders in the Myanmar political system and entity.
"And to the extent that he can act as an honest broker and hopefully encourage, facilitate (and) enable, ultimately, direct, constructive and hopefully positive negotiations and dialogue within Myanmar," he added.
Dr Balakrishnan had described the appointment of a special envoy as a "critical first step" for ASEAN's implementation of the five-point consensus agreed in April, and urged Myanmar's military authorities to arrange Mr Erywan's visit expeditiously.
On Sunday, Myanmar's military ruler Min Aung Hlaing again promised new multi-party elections and said his government is ready to work with any special envoy named by ASEAN.
He also said a state of emergency would be lifted by August 2023, extending the military's initial timeline given when it ousted Aung San Suu Kyi on Feb 1.
The US on Monday dismissed the junta's election plan, saying that the military was playing for time with a two-year election timeframe.
Reuters also reported on Wednesday that US' Deputy Secretary of State Wendy Sherman had spoken with a representative of Myanmar's government in exile, the first announced contact between a senior US official and the rival administration.
When asked on Friday if Singapore had engaged Mynamar's shadow government, the National Unity Government, Dr Balakrishnan said he was not in a position at this point to reveal details on "exactly whom we have spoken to".
"What I can say is that we have engaged across the political spectrum in Myanmar," he said.
"Singapore, as you know, believes very firmly that there should be no external interference in a country. A country's ultimate destiny is in the hands of its people."
Still, Dr Balakrishnan said the violence in Myanmar has not stopped, with no release of political detainees or dialogue between all the stakeholders in the country.
"And on top of the political turmoil, the economic standstill, and then to make things worse, the very dire COVID-19 situation, you've really got a perfect storm, unfortunately, in Myanmar right now," he said.
Reuters reported that Mr Erywan will oversee a humanitarian aid package for Myanmar, although no details of the assistance were announced.
Dr Balakrishnan said ASEAN will send help through its humanitarian assistance centre. Singapore is also doing the same through the Myanmar Red Cross, he said, and hopes to "do more" through the ASEAN centre.
"We hope that the assistance provided to Myanmar will reach the people on the ground with urgent and dire needs because of COVID-19. So this remains our focus right now," he said.
Dr Balakrishnan said Myanmar and its people have done very well, and that the country "actually deserves so much more".
"The point I'm making is that, in fact, for more than seven decades, Myanmar has been lagging behind in fulfilling its true potential," he added.
"But I say that so that you understand that political solutions, whilst essential, are difficult, and will take, in my view, prolonged negotiations, discussions. And therefore, I would avoid trying to put unrealistic timelines."