Malaysia holds its largest international arms exhibition yet as it looks to update old defence systems
About US$4 billion worth of deals and pledges are expected during the five-day exhibition.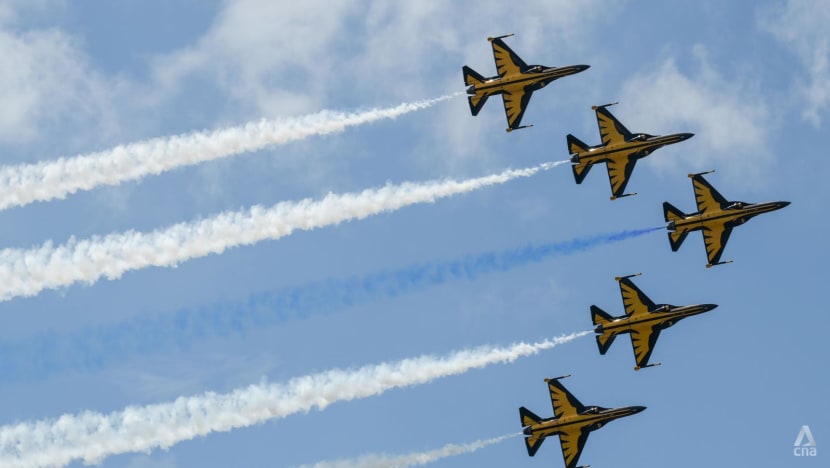 LANGKAWI: With rising geopolitical tensions around the world, the latest international arms exhibition in Malaysia has generated huge interest.
This year's Langkawi International Maritime and Aerospace (LIMA) exhibition is by far the country's largest, with over 500 companies from about 30 countries showcasing their latest technologies in both hardware and software. 
The event, which returned after a four-year hiatus, attracted defence chiefs from across the region as they look to boost their arms spending. 
About US$4 billion worth of deals and pledges are expected during the five-day exhibition that will end on May 27. At the opening speech at the event, Malaysian Prime Minister Anwar Ibrahim said that the success of LIMA 2023 will "reinforce Malaysia as a regional hub for the aerospace and maritime industries".
UPDATING MALAYSIA'S CIVIL AND MILITARY DEFENCE
Malaysia, which has traditionally kept its defence spending to no more than 1 per cent of its gross domestic product (GDP), increased its budget by 10 per cent this year. 
This comes as its military and civil defence are in desperate need of a system upgrade, with current assets said to be old and outdated. 
It has placed an order for 18 FA50 fighter jets from South Korea. 
"We can make the first delivery in 42 months. And so the first delivery will be made to Malaysia in 2026," said CEO of Korean Aerospace Industries Kang Goo-Young. 
Indonesia, the Philippines and Thailand have made similar purchases from the South Korean aerospace firm, as defence spending rises amid global geopolitical tensions. 
Closer to home, Malaysia continues to make efforts to keep its borders safe as scars of the Sulu incursion in the East Malaysian state of Sabah remain. The incursion of Lahad Datu in 2013 by followers of the last sultan of the remote Philippine region of Sulu left at least 70 dead, including 10 Malaysian security personnel.
The Philippines and Malaysia have a decades-old territorial dispute over Sabah. 
"What's happening in eastern Sabah is still a concern. Sulu Sea is still not a completely secure area. There still needs to be a credible defence and security presence over there," said Mr Thomas Daniel, senior fellow at the Institute of Strategic and International Studies Malaysia. 
"You've obviously got issues and tensions happening in the South China Sea. You've got both reported and unreported cases of incursions by foreign navy vessels and foreign coast guard vessels into Malaysia." 
OVERLAPPING CLAIMS IN SOUTH CHINA SEA
Malaysia has overlapping claims with Brunei, Indonesia, Vietnam and the Philippines in resource-rich South China Sea, which China has claimed is mostly theirs. 
The disputed waterway, where over a quarter of the world's trade passes through, has become the centre of rising geopolitical tensions between Beijing and Washington. 
"The Pacific is in fact the locus of economic development. It's the centre of gravity of the security of the world," Admiral Samuel Paparo, commander of the US Pacific Fleet told CNA. 
Navigating the tricky waters is no mean feat. While the Association of Southeast Asian Nations (ASEAN) has restarted consultation with China on a code of conduct to regulate behaviour in the South China Sea, the risks of the regional dispute becoming further entangled in the US-China rivalry are higher than ever.