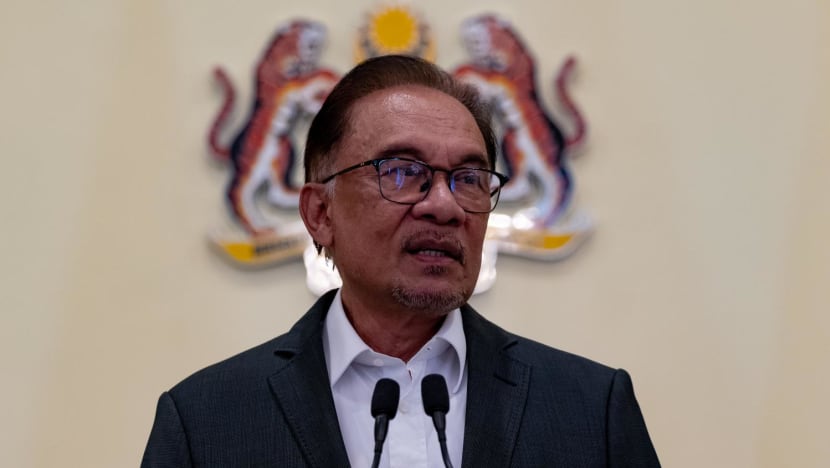 KUALA LUMPUR: Malaysian Prime Minister Anwar Ibrahim has urged US investment bank Goldman Sachs Group to honour its settlement amount to the government over its role in the 1Malaysia Development Berhad (1MDB) scandal. 
In an interview with Bloomberg Television on Monday (Jan 30), Mr Anwar also said that the Wall Street firm should not use its financial strength to dictate terms and dismiss its "moral and financial responsibilities" in settling the matter with Malaysia.
"My only appeal is for them to settle this deal with Malaysia because 1MDB is known throughout the world. 
"It is there in the books and I think that Goldman Sachs should come out clean and deal with Malaysia," he said.  
"If we are entering into negotiations, I would suggest, be reasonable with us, pay what's due, and negotiate the terms," added Mr Anwar.  
It was previously reported that Goldman claimed that Malaysia had "undervalued" the assets already retrieved, as part of its recovery from the scandal.
Under a settlement announced in October 2020, Goldman was to pay US$2.5 billion (RM10.7 billion) while guaranteeing the return of US$1.4 billion of 1MDB assets seized by authorities around the world. 
According to Bloomberg, the settlement was in exchange for Malaysia to drop charges against Goldman Sachs. 
The bank was also to make a one-time interim payment of US$250 million if Malaysia has not received at least US$500 million in assets and proceeds by August 2022. 
However, Bloomberg reported that Goldman, in its filing to the United States' Securities and Exchange Commission (SEC), had accused Malaysia of having "unilaterally reduced" the value of one asset by US$80 million. 
Malaysia was also reportedly declined to include substantial additional assets in accounting of assets and proceeds recovered. 
In the Bloomberg interview, Mr Anwar said that Malaysia is supposed to be paid much more than the amount stated in the settlement. 
"Given a fair deal, we are supposed to be paid much more than that, which I intend to deal with them, if these things are not settled amicably," he said in response to Goldman's claims. 
"It's not my intention – I'm just new in the game. I just want to settle old scores, in the sense of old commitments that we have made. We have to move on."
Mr Anwar said the 1MDB crisis was made possible due to the "complicity" from international financial institutions, adding that the scandal was a "crime" that was committed to all Malaysians. 
He told Bloomberg that the recovery of assets linked to 1MDB is "still in process" and the government is reopening files linked to the scandal as it tries to unearth the full depth of the case.
"How much we can get, I frankly can't say for now, but it's much more than we should be able to do," he said, adding that governments around the world should act more "responsibly" to assist the asset recovery.
According to The Star, the Malaysian government in 2018 turned its attention to Goldman Sachs for raising US$6.5 billion in 2012 and 2013 for 1MDB. 
A huge chunk of the funds - earmarked for development - was, however, diverted to pay bribes to government officials, according to US federal prosecutors. 
In October 2020, Goldman agreed to pay US$2.9 billion and the bank also agreed for its Malaysia subsidiary to plead guilty in a US federal court. 
Under terms of the deal, Goldman agreed to pay a US$2.3 billion fine for breaking anti-bribery laws and to pay back US$600 million of ill-gotten gains as part of a deferred prosecution agreement.
The deal also requires Goldman to improve its compliance controls.