Political situation is 'calm' in Sabah, says PM Anwar amid rumours of move to oust chief minister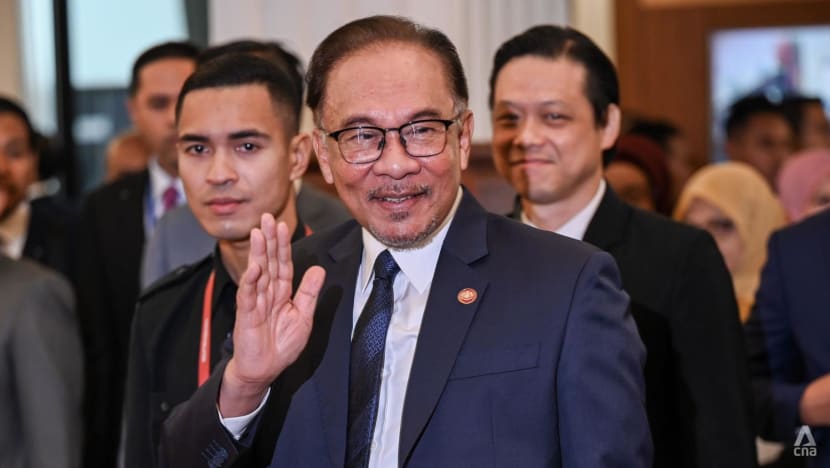 PUTRAJAYA: Amid rumours of a move to oust Sabah chief minister Hajiji Noor, Malaysian Prime Minister Anwar Ibrahim has described the political situation in the state as "calm". 
On Friday (Jan 6), Mr Anwar said he was informed that there were some issues involved but did not see any further developments. However, he did not elaborate on what were the issues as well as the political development that were rumoured to have taken place in the Borneo state. 
Speaking to reporters after attending Friday prayers in Putrajaya, Mr Anwar only said that the situation in Sabah now looks "calm" and he does not see any turmoil there. 
"I don't see any (new) developments. I was just informed that there were some issues, and I asked the chief minister (Mr Hajiji) to discuss it with (our) friends in Sabah," said the Pakatan Harapan (PH) chairman as quoted as saying by Free Malaysia Today. 
Mr Anwar added that the matter has been discussed with deputy prime minister Ahmad Zahid Hamidi, Mr Hajiji, Sabah United Malays National Organisation (UMNO) chief Bung Moktar Radin, Parti Warisan (Warisan) president Shafie Apdal and Democratic Action Party (DAP) secretary-general Anthony Loke.
On Thursday, Mr Hajiji Noor, who is also Gabungan Rakyat Sabah (GRS) chairman, signalled solidarity in the state assembly after rumours of a move to topple him as the state leader. 
In a Facebook post after meeting with seven Sabah UMNO assemblymen, Mr Hajiji said the meeting was meant to discuss the efforts and plans to bring the state to a better level this year. 
"God willing, everything will be achieved with the cooperation, stability, unity and agreement of all of us," he said.
Meanwhile, Mr Bung Mokhtar dismissed rumours that UMNO was pulling out the support from the GRS-Barisan Nasional (BN) state government. 
He also said that a Sabah UMNO meeting convened on Thursday was "a normal meeting" about the party's direction. 
"We only discussed the future of the party," he was quoted as saying by the Star. 
According to Malaysian media reports, rumours of a change in state government was rife on Thursday, as local media reported that Mr Shafie of Warisan had called for a press conference in the afternoon, only for the event to be cancelled several hours later.
On Wednesday, GRS secretary-general Masidi Manjun said the coalition is prepared to prove the legitimacy of support from Sabah state assemblymen for Mr Hajiji as the chief minister.
Mr Masidi said this was because certain quarters claimed to have secured the support of more than half of the state legislators to enable this group to form a new state government. 
"We are prepared to prove the legitimacy of this support to the appropriate parties if and when required.
"The political environment and situation in Sabah remain stable for business and investment purposes," he said, according to Bernama. 
Citing sources, Berita Harian, reported that 11 assemblymen from UMNO/BN had refused to support Warisan and maintained their backing for the current chief minister.
In the 79-seat state assembly, GRS has 29 seats, while Warisan has 19 seats and BN has 17 seats. PH holds seven seats.
Mr Hajiji is backed by GRS, BN, PH as well as other smaller parties and an independent.
He was one of the 16 Sabah Bersatu state assemblymen who decided to leave the party led by former prime minister and chairman of Parti Pribumi Bersatu Malaysia (Bersatu), Muhyiddin Yassin. 
The move followed the formation of the unity government at the federal level by Mr Anwar last year. 
The federal unity government comprises PH, BN, Gabungan Parti Sarawak (GPS), GRS and Warisan.