Sabah bloc to join Malaysia unity government, size of Cabinet will be reduced: PM Anwar
Muhyiddin Yassin said that Perikatan Nasional will serve as check and balance in parliament.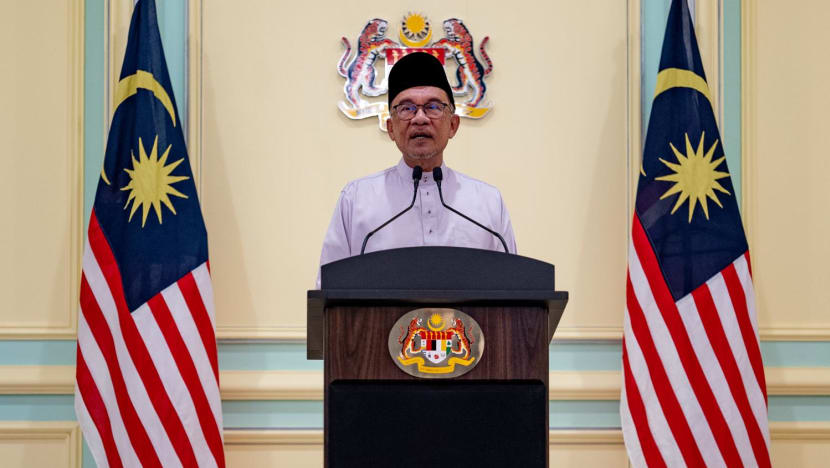 KUALA LUMPUR: Gabungan Rakyat Sabah (GRS) has agreed to join the Malaysian unity government, Prime Minister Anwar Ibrahim said during a press conference on Friday (Nov 25). 
"Hajiji (Noor), the chief minister of Sabah, has announced that GRS will officially join the unity government," he said after beginning his official duties at the prime minister's office complex. 
Mr Anwar said this meant that his government will have a two-thirds majority in the Lower House.
The new prime minister added that the Cabinet will be downsized. He said that Cabinet members have been asked to agree with his proposal to reduce their salaries.
"But this is still in the process of discussion and preparation," he said. Mr Anwar has yet to announce his Cabinet line-up. 
He also told reporters that the immediate priority of his new government is to tackle the rising cost of living.
"I insist that the priority should be on the cost of living – the price of items that threaten and burden people's lives. So I have asked for a more detailed discussion and immediate action to ease this burden," he said. 
He added that he has asked for a special meeting with the relevant agencies by Monday at the latest to discuss the matter.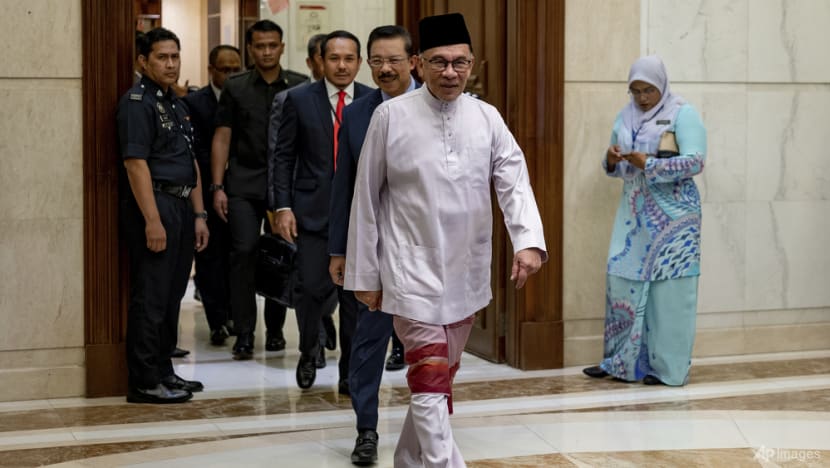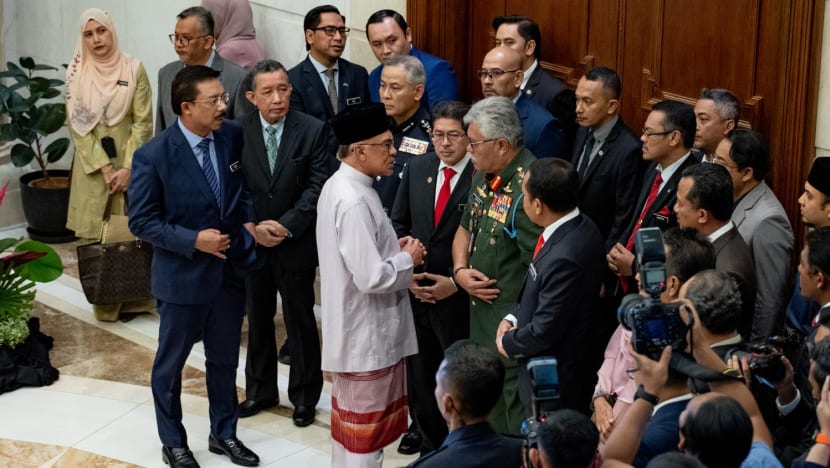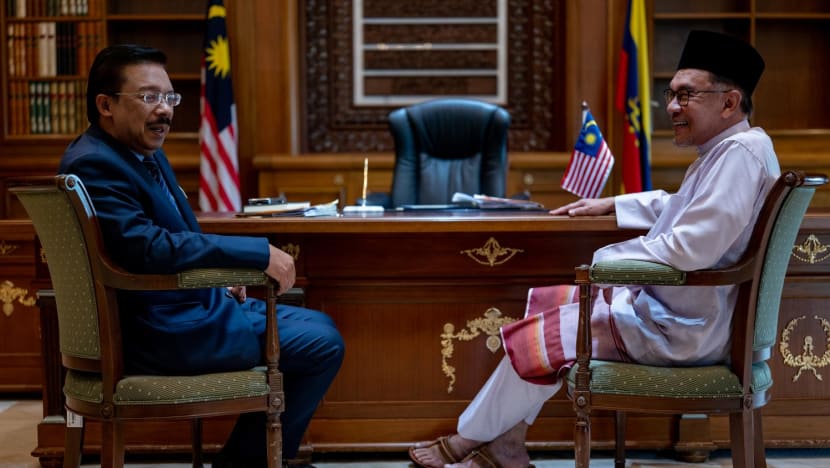 On Friday, Mr Anwar arrived at the prime minister's office complex, or Perdana Putra at around 9.55am, reported Bernama.
He was received by the Chief Secretary to the Government Mohd Zuki Ali. Also present were Public Service Department Director-general Mohd Shafiq Abdullah, Attorney-General Idrus Harun, Inspector-General of Police Acryl Sani Abdullah Sani and Army Chief General Zamrose Mohd Zain.
The new prime minister later joined a prayer led by the Prime Minister's Department integrity officer Muhd Redza Ahmad before signing a welcome book, according to Bernama.
The Nov 19 election produced no clear winner, with neither Mr Anwar's Pakatan Harapan (PH) nor Mr Muhyiddin Yassin's Perikatan Nasional (PN) able to secure a simple majority in the 222-seat Lower House.
PH won 81 seats while PN managed 73, putting both in a position to form the next government. A coalition needs to be backed by at least 112 lawmakers to form the next government. Both coalitions scrambled to gather support from Barisan Nasional (BN), Gabungan Parti Sarawak (GPS) and GRS. 
BN, which finished a distant third, managed to win 30 seats. GPS won 23 seats while GRS emerged victorious in six seats.
The king had asked PH and PN to form a unity government, but the latter turned down the suggestion.
Following a meeting of the Malay rulers on Thursday regarding the political impasse, Istana Negara announced that Mr Anwar will be the next prime minister.
After his swearing-in on Thursday, Mr Anwar told reporters that the unity government comprises PH, BN and GPS. The government also included Parti Warisan Sabah, Malaysian United Democratic Alliance and other independent lawmakers. 
Mr Anwar stated that he is willing to work with all coalitions, including PN.
The new prime minister said that the next parliamentary session will take place on Dec 19.
He added that a vote of confidence in his leadership will be the first item on the agenda during the parliamentary session. 
In a statement issued on Friday, Mr Muhyiddin congratulated Mr Anwar and said PN will play a check-and-balance role in the parliament. 
"Moving forward, PN will continue the struggle for the well-being of the people and the prosperity of the country guided by the principles of Caring, Clean and Stable," he said.