Vegetable prices likely to go up in Malaysia as prolonged heavy rain affects crop yields, say farmers
Continuous heavy rain in September is considered unusual.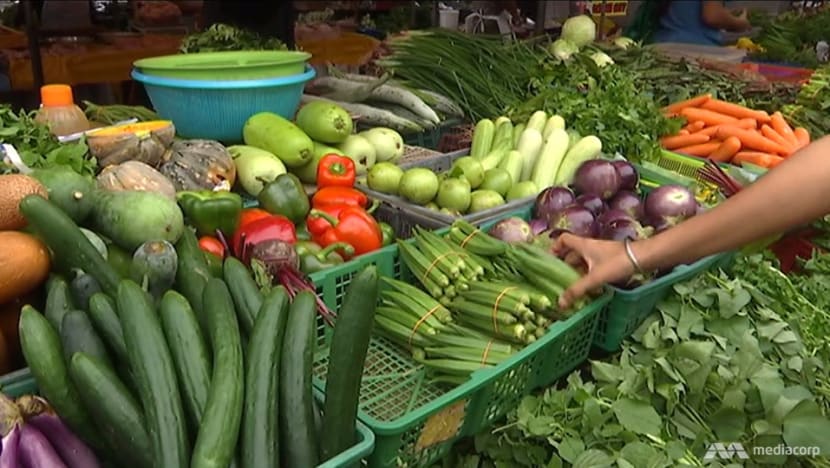 JOHOR BAHRU: Continuous heavy rainfall in Malaysia over the last few weeks has depleted the crop yield for vegetables across the country, said farmers who spoke to CNA. 
The dip in the supply of vegetables by around 20 to 30 per cent would inevitably result in price hikes for vegetables such as spinach, okra, long bean and chilli, they added. 
The president of the Malaysian wholesaler vegetable association, Mr Steven Lee, told CNA that the prolonged rain has impacted crop producing areas in Melaka and Cameron Highlands and vegetable markets such as in Kuala Lumpur.  
"Overall, the non-stop rain has depleted supply. It seems like supply overall has dipped between 20 and 30 per cent, especially for farms that are unsheltered and out in the open. This means that output for vegetables such as spinach, bok choy, long beans and okra will be hit," said Mr Lee, who operates a farm in Melaka.
He added that the weather this year has been "unpredictable", with the overall rainfall seemingly higher than usual recently. He noted that there had been torrential downpour almost daily over the last couple of weeks. 
"Typically, during the third quarter of the year, between July and October, the weather will be good and there will be a supply rebalancing. Farmers will get good crop yield and prices will fall," said Mr Lee. 
"But this year, we have not seen this at all and prices are increasing, and likely to continue to rise," he added. 
Mr Cheng Tai Hoe, chairman of the Yong Peng vegetable farmers' association, echoed those sentiments, noting that crop yields for farmers in northern Johor have dipped by around 20 per cent over the last month. 
"If it rains heavily for a day in a week, that's fine, we can cope. But it has been prolonged (rain) continuously for many days," said Mr Cheng, adding that the drop in supply will lead to price increases. 
Mr Cheng attributed this to simple market forces: "For example, there has been an order for 10kg of cucumber for my farm but we have only been able to supply 5kg. Eventually, those willing to pay more will be able to buy." 
He said that this will impact the local vegetable market, as well as vegetable exports to Singapore. 
Farmer Naviin Thiagarajan, who plants okra, long beans and chilli on his farm in Kota Tinggi, Johor, told CNA that there have been "increasing amounts of rainy days" this year and crop yields have been impacted.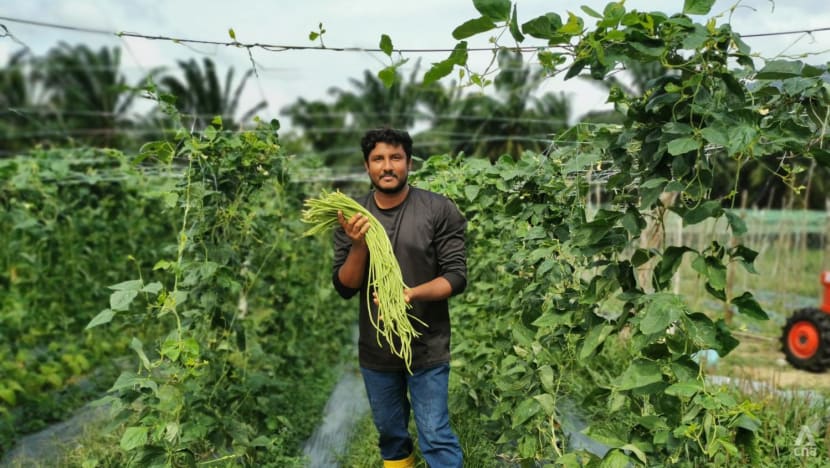 "When there's prolonged heavy rain, the high humidity and moisture in the atmosphere will lead to fungus infecting the crops. And if the rain continues to be heavy, farmers don't have the opportunity to treat these fungal infections and the trees will just die," said Mr Naviin. 
He noted that the crop yield for the okra plant, for example, has been badly hit by fungal infections over the last few days. 
HEAVY RAINFALL EXPECTED UNTIL FEBRUARY 2023: MET MALAYSIA 
According to the Malaysian meteorological department (Met Malaysia), wet weather is expected to continue over the next few months, due to the imminent northeast monsoon. 
In a statement issued on Tuesday (Sep 6), Met Malaysia noted that typically, most parts of the country would experience lower rainfall in the weeks leading up to mid-September, but the situation in 2022 has been different due to what's know as the squall line phenomena.
This refers to a line of thunderstorms that are formed as a result of a concentration of winds, and the storms typically last several hours, said Met Malaysia.
"Typically, during this period, strong winds will blow consistently in the southwest direction, with lower humidity and more stable atmospheric conditions, hence reducing the formation of rain clouds," it said.
"However, (this year there has been) heavy rain along with strong winds and thunder due to the squall line phenomena which has hit the west coast of Peninsular Malaysia and west Sabah in the mornings," it added.
The department also said that wet weather is likely to continue in many parts of the country until February 2023, due to the annual northeast monsoon which usually takes place from October until March.
It said that during the monsoon season, strong winds can be expected from the east coast, at speeds of between 10 and 20 kilometres per hour. 
Some areas will experience prolonged heavy rain, especially along the east coast of Peninsular Malaysia and the west of Sarawak.  
GREENHOUSES FOR CONSISTENT CROP YIELD: FARMERS 
With wet weather likely to continue in the short term and overall weather patterns set to be more unpredictable in the long run due to climate change, farmers are turning to new methods to ensure that crop yields are more consistent.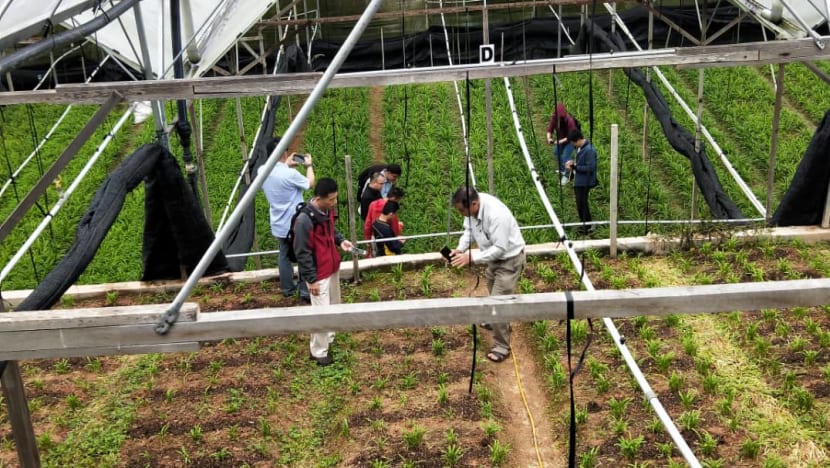 The wholesaler vegetable association's Mr Lee told CNA that more farmers are considering greenhouse facilities to house their produce. Greenhouses are structures made of transparent material which can house crops and they are equipped with facilities to control temperature and precipitation. 
"For farms with greenhouses, the impact of prolonged hot weather or rain is much less. The heavy rain does not impact these businesses as crop yield is more consistent," said Mr Lee.
"In fact, during periods when prices are high due to a drop in supply, farmers who use these greenhouses win because they are able to reap higher revenues," he added. 
Johor farmer Mr Naviin, who also runs farming courses through his company Sayur Kita Asia, told CNA that he has been slowly transitioning from traditional farming methods to greenhouse hydroponics.
The latter is done with nutrient solutions, without the use of soil. It is typically carried out inside greenhouse facilities. 
"Climate change is real and is going to affect everyone - farmers and those who consume the crops," said Mr Naviin.
"The best solution is to move towards hydroponics. If we continue with open traditional farming, we won't have control of produce and crop yield will be at the mercy of the weather," he added.