KUALA LUMPUR: Malaysia has banned with immediate effect several types of micromobility vehicles on public roads as they pose a danger to road users, said Transport Minister Wee Ka Siong.
Dr Wee said that these vehicles include mopeds, personal mobility devices (PMD) such as electric scooters and modified scooters, as well as personal mobility aids (PMA).
"Lately, the use of micromobility vehicles has become more frequent … The use of micromobility vehicles on the road not only endangers their users but other road users as well. 
"Just like the 'mat lajak' case that took eight lives, the use of micromobility in a traffic flow that involves other motor vehicles will only create the risk of similar tragedy," he said during a press conference on Tuesday (Apr 26).
"Mat lajak" refers to youths who participate in drag-racing using illegally-modified bicycles on public roads. 
A woman driver named Sam Ke Ting was sentenced to jail earlier this month for allegedly crashing into a group of teenagers on illegally modified bicycles at Jalan Lingkaran Dalam, Johor Bahru, at 3.20am on Feb 18, 2017.
Dr Wee said that the prohibition of micromobility vehicles has been gazetted under the Road Traffic Rules 2021 (Prohibition of Use of Certain Micromobility Vehicles) that came into effect on Dec 17 last year. 
The ministry explained in a graphic that micromobility vehicles were defined as those powered by electricity, internal combustion engine or human-powered, or a combination of any of the above. 
The vehicles have a maximum speed of 50 km/h. 
Dr Wee said that the Road Transport Department (JPJ) and the police would start enforcing the prohibition in the name of public safety, with an RM300 (US$68) compound to be meted out against those who failed to comply with the regulations.
He said that although the use of bicycles is not prohibited on roads, cyclists must abide by the regulations and road traffic rules. 
The minister added that only electrical bicycles that fulfil the "Malaysia Standard" specifics are allowed to be used on the road in compliance with the same regulations as other bicycles.
He explained that the main characteristic of electric bicycles that differentiates it from mopeds is the lack of throttle, with pedals that are permanently attached to the vehicle.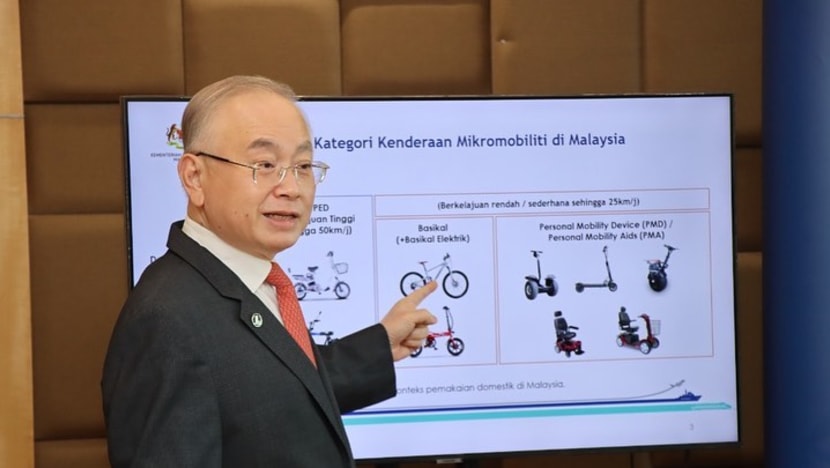 POLICE WILL NOT ACT AGAINST OFFENDERS YET 
Dr Wee said that all relevant authorities were urged to monitor the use of micromobility vehicles in their areas of jurisdiction.
He added that local authorities may construct road infrastructure that supports the safe use of micromobility vehicles, such as bicycle lanes that do not mix with existing traffic flow.
Dr Wee however said that the use of micromobility vehicles are allowed within compounds of private property such as resorts.
The police said that they would advise the public on the dangers of using micromobility vehicles and that they would not act against offenders in the early stages.
"As we all know the existing laws have been amended to ban the use of such vehicles on the road," Bukit Aman Traffic Investigation and Enforcement Department Director Comm Mat Kasim Karim was quoted as saying by the Star.
"Instead of acting against the offenders straightaway, we will be advising those using e-scooters on the dangers of using the vehicle on the road," he added.