Barisan Nasional issues letter of demand to Bersatu's leaders over allegations against Malaysia DPM Ahmad Zahid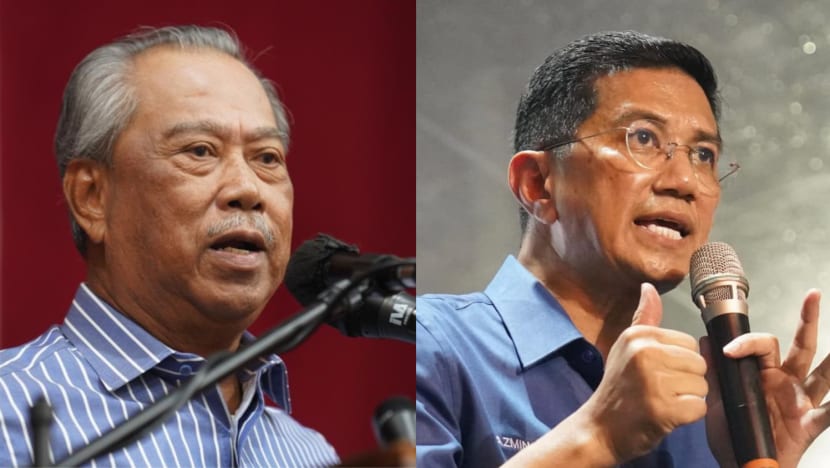 KUALA LUMPUR: Barisan Nasional (BN) has sent a letter of demand to Parti Pribumi Bersatu Malaysia's (Bersatu) leaders Muhyiddin Yassin and Azmin Ali for alleging that Deputy Prime Minister Ahmad Zahid Hamidi had orchestrated the court charges against Bersatu member Wan Saiful Wan Jan.
In a statement on Monday (Feb 27), BN Communications said that Mr Muhyiddin, who is the Bersatu president and Perikatan Nasional (PN) chairman, had called Ahmad Zahid a "mastermind" and "planner" of the accusations against Wan Saiful and the PN coalition.
"The allegation is a reckless and intentional slander to cover up the damage that is currently happening in Perikatan Nasional," said BN. 
The statement added that Mr Azmin, who is PN's information chief, had also alleged that the corruption charges against Bersatu and the coalition were "planned actions". 
Mr Muhyiddin and Mr Azmin were both asked to apologise and retract their allegations against Ahmad Zahid, who is also the BN chairman. 
"In the letter of demand sent (to Muhyiddin and Azmin), the two must retract their statements, apologise publicly and pay the compensation for the damages caused by their defamatory statements," said BN's communication division. 
"These wild accusations cannot be allowed to drag on to be used as material to deceive and escape from accusations against wrongdoings and crimes that have been committed." 
According to Sinar Harian, Mr Muhyiddin had claimed last Tuesday that the cluster of court cases involving Bersatu leaders were masterminded by Ahmad Zahid. 
This came after Wan Saiful, who is Bersatu's information chief, claimed trial and pleaded not guilty to accepting and soliciting bribes of almost RM7 million (US$1.6 million) in relation to the government's Jana Wibawa aid programme. 
According to local media, the Tasek Gelugor Member of Parliament (MP) was also charged with soliciting an unspecified amount for a road project worth RM232 million.
The Jana Wibawa aid programme was an economic generation project during Malaysia's COVID-19 movement control order. It was a stimulus aid package that was meant to help Bumiputera contractors.
Commenting on the charges against Wan Saiful, Mr Muhyiddin claimed last Tuesday that his party is the victim of "selective prosecution". 
"We actually expected that this would be done by the PH (Pakatan Harapan)-BN government to weaken Bersatu after seeing growing support for Perikatan Nasional," said Mr Muhyiddin at a press conference, according to Free Malaysia Today. 
The probe into Jana Wibawa began after Prime Minister Anwar Ibrahim found in his capacity as finance minister that high-expenditure projects such as Jana Wibawa did not go through a tender process. 
Other ongoing investigations into Bersatu include a probe into Mr Muhyiddin over allegations that a government contract, worth over a billion ringgit, was awarded to a relative during his tenure as prime minister.