Frozen bank accounts: Bersatu to cooperate with Malaysia's anti-graft agency to end 'slander' against party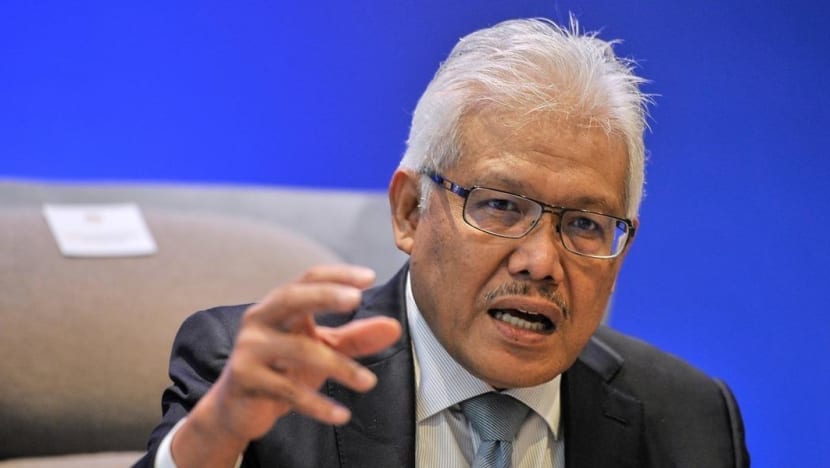 KUALA LUMPUR: Following the freezing of its bank accounts, Parti Pribumi Bersatu Malaysia (Bersatu) said it will cooperate in investigations by the authorities to end the "slander" against the party.
In a press statement on Wednesday (Feb 1), Bersatu's secretary-general Hamzah Zainudin said the party accepts that the freezing of its bank accounts by the Malaysian Anti-Corruption Commission (MACC) is part of the agency's investigation processes. 
"Bersatu will continue to cooperate in this investigation so that the slander against the party can be stopped immediately," he said. 
He added that Bersatu leaders and party officials who were summoned by the MACC have been reminded to give their full cooperation to the authorities. 
Mr Hamzah, who is also Leader of the Opposition, said that his party is disappointed that the Pakatan Harapan (PH) and Barisan Nasional (BN) government is using the MACC to achieve its aim to "kill" Bersatu and Perikatan Nasional's (PN) credibility.
"Bersatu expresses its regret at the move by the PH-BN government to use a government agency as a tool to achieve its political goals by killing off the credibility of Bersatu and PN," Mr Hamzah said. 
The unity government led by Prime Minister Anwar Ibrahim comprises PH, BN, Gabungan Rakyat Sabah as well as other smaller parties. 
Mr Hamzah on Wednesday added: "We are confident that the people will be aware of PH-BN's despicable strategy that seeks to divert the people's attention from the weaknesses, failures and practices of nepotism in their government." 
At a press conference on Thursday, Bersatu president Muhyiddin Yassin said that the party will be asking the MACC to unfreeze its bank accounts as the funds are from "legitimate sources". 
"Therefore, we will send a letter today to the MACC to request for the freeze on Bersatu's accounts to be cancelled," Mr Muhyiddin was quoted as saying by The Star. 
He added that party operations have been affected and that Bersatu will need access to its accounts to campaign for state elections set to be held within the next few months. 
"If they want to freeze our accounts for three months, it will be hard. My officers will have no salaries, offices cannot be maintained and rent cannot be paid.
"Bersatu also needs funds to campaign during state elections which will be held soon," Mr Muhyiddin reportedly said. 
According to a Bernama report, MACC chief commissioner Azam Baki had earlier confirmed that the commission had frozen several Bersatu bank accounts as part of its investigations.
On Dec 6, Mr Azam said that an investigation paper was opened regarding the alleged embezzlement of RM600 billion (US$142 billion) in funds used by the previous PN-led government during the COVID-19 pandemic from 2020 to 2022.
Calls for an official investigation into the stimulus spending during the pandemic grew due to perceptions that PN had run a well-funded election campaign leading up to the 15th General Elections on Nov 19 last year.
Mr Muhyiddin, who is also the former prime minister and PN chairman, has since denied the allegations, calling it an attempt at silencing the opposition by the new unity government.