'Anwar isn't like Najib': Rafizi Ramli on potential abuse of government funds in Malaysia
'The grand coalition' in the unity government should be defended and maintained to make Malaysia great, said Deputy Prime Minister Ahmad Zahid Hamidi.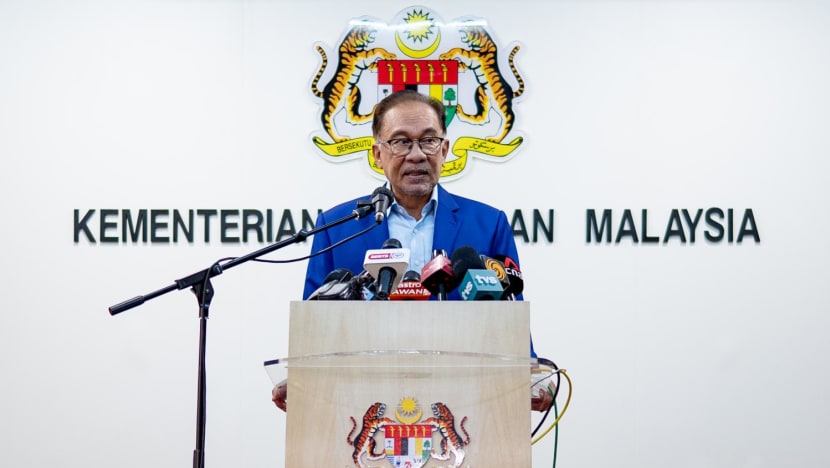 KULIM, Kedah: Malaysian Prime Minister Anwar Ibrahim will not become a finance minister like former prime minister Najib Razak, Parti Keadilan Rakyat (PKR) deputy president Rafizi Ramli said.
"I know him (Mr Anwar), he is not like Najib," he said, referencing Najib, who also concurrently held the finance portfolio from 2009 until 2018. 
Mr Rafizi, who is also the economic affairs minister, reportedly added on Monday (Dec 5) that it is now difficult for the prime minister and finance minister to potentially abuse large sums of government funds.
"The scrutiny is tighter, the space and opportunities for large-scale scandals like 1MDB are more difficult now than before," he was quoted as saying by Malay Mail at a mega rally in Kedah for the Padang Serai parliamentary seat in the 15th General Election (GE15). 
Mr Rafizi also reiterated that the situation now is different and the days where a prime minister, who concurrently holds a finance portfolio, can casually come up with a project and borrow RM40 billion (US$9.1 billion) are over.
"Don't forget, this is a unity government, there is no absolute power held by a single party," said the Pandan member of parliament. 
Najib was convicted for the misappropriation of RM42 million from SRC International, a former subsidiary of 1Malaysia Development Berhad (1MDB). Barisan Nasional (BN) was voted out in the 2018 polls amid public anger over the scandal.
In a press conference on Monday, Mr Rafizi earlier said the decision for Mr Anwar to hold the finance portfolio in addition to being prime minister, was made under "extraordinary circumstances" in the unity government. 
"In my opinion, it was a tough decision to make actually. Because it was likely that the various parties who form the government wanted the finance minister post to be on their side," he told reporters. 
However, Mr Rafizi reiterated his position that the prime minister post and the finance minister post should be kept separate. He also expressed hope that the current government would do this only as a temporary arrangement. 
Separately, Mr Anwar told a press conference at the prime minister's office on Monday that his Cabinet ministers have agreed to take a 20 per cent cut in their monthly salaries. 
"There are some people who say Anwar is not taking the prime minister's salary, he will take the salary of the finance minister. That's not right. There is only one salary," he said.
The Cabinet line-up, which comprises 28 ministers, was unveiled last Friday. The list of deputy ministers has yet to be announced.
MAINTAIN UNITY GOVT TO MAKE MALAYSIA GREAT: AHMAD ZAHID 
'The grand coalition' in the unity government should be defended and maintained for more than one term to make Malaysia great, said Deputy Prime Minister Ahmad Zahid Hamidi on Monday.
"God willing, this cooperation is not just for five years, for 10 years, for 15 years (but longer), based on our sincerity to work together as one team; 'the grand coalition'.
"The parties have come together to build a more glorious nation, and I am confident that if this trend can be defended and the union and unity preserved, Malaysia will be greater, God willing," he was quoted as saying by Bernama at the Padang Serai mega rally.
The election for the Padang Serai seat will be held on Wednesday, after it was postponed when Pakatan Harapan (PH) candidate M Karupaiya died on Nov 16. 
Meanwhile, the BN chairman said he believed that Malaysia's economy would become stronger under the unity government, which would help to overcome the cost of living problem and give foreign investors the confidence to invest in the country.
Ahmad Zahid said that if the vote of confidence on the Prime Minister was approved in parliament on Dec 19, the unity government supported by all races would become the strongest administration in the country's history.
"New politics is not about race or religion. New politics in Malaysia needs a new political landscape where (people of) all races, all religions and all cultures are united as Malaysians," he reportedly added.
Mr Rafizi also expressed his confidence that Mr Anwar will get the support required during the vote of confidence. 
He added that the unity of different parties and coalitions ensured check and balance within the government.
"If any of the parties were to notice something amiss, they could take action (or) even withdraw support and the government will dissolve, so this will not happen," he said.
Mr Rafizi also said the focus now is to build stability, adding that it would be the common policy that binds all the parties together in the unity government.
A vote of confidence will be held during Malaysia's 15th parliament session on Dec 19 to end the question of the legitimacy of the unity government led by Mr Anwar.