Malaysia says no decision yet on lifting chicken export ban despite minister's earlier comments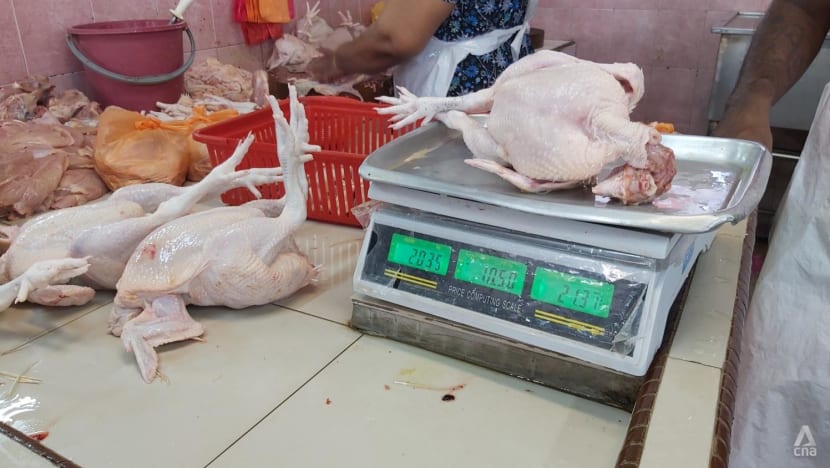 KUALA LUMPUR: Malaysia's Ministry of Agriculture and Food Industries on Thursday (Aug 4) clarified that the chicken export ban is still in force for the time being. 
This came after minister Ronald Kiandee said earlier in the day that the export ban on chickens is scheduled to end on Aug 31.
According to a statement issued by the ministry on Thursday, Dr Kiandee said during ministerial question time in parliament that the export ban is a temporary intervention until chicken prices and supply stabilise fully.  
"What is scheduled to end on Aug 31, 2022 is the issuance of subsidies for chickens and eggs to breeders, which is being carried out throughout the implementation period of the Malaysian Family Maximum Price Scheme from Feb 5 to Aug 31, 2022," said the statement. 
The ministry added that the government will continue to monitor and host engagement sessions with all stakeholders in the chicken supply chain, including at the farm level. 
This is to ensure that the supply and continuity of the country's chicken production is at an optimal and stable level, it said. 
"For the time being, the restrictions on the export of live broiler chickens (commercial broiler) are still in effect. 
"Any decisions to allow the re-export of live broilers (commercial broilers) will be decided by the government based on a study on the stock and production at the farm level," it said.
Earlier in the day, the minister said: "This intervention is temporary, and is scheduled to end on Aug 31 at this point." He was responding to a question raised by Kluang MP Wong Shu Qi.
He noted that similar protectionist steps had been taken by other countries which were facing shortages of food supplies.
"When conditions are stable all over the country - not just oversupply in a few locations, but all across the country - of course the government will decide to allow exports," he said.
The Malaysian government had earlier banned the export of up to 3.6 million chickens from Jun 1 in its efforts to tackle the supply and pricing issues for chicken in the country.
The ban was implemented following complaints of supply shortage and price increases of chicken, with some traders selling their chickens above the price ceiling to cover their costs.
Singapore, which imported about 34 per cent of its chicken supply from Malaysia, announced that it will buy chickens from other places including Indonesia and Thailand.
Malaysia's ban was partially lifted in mid-June to allow poultry importers in Singapore to resume bringing in live kampung and black chickens.
The minister had informed the MPs on Aug 1 that Malaysia is now in an oversupply situation and can export chickens to other countries.
Calling the decision to ban exports a wrong move, Ms Wong said in the Thursday sitting that the ban had caused Singapore to diversify its food sources and purchase chickens from other neighbouring countries.
"We have lost a market. So no matter whether we reopen or allow exports again, we have lost a customer," she said.
In his replies, Dr Kiandee, the minister, added that RM1.1 billion (US$247 million) has been set aside to aid chicken industry players since Feb 5, and 8,907 applications for subsidies totalling RM748 million have been approved as of Jul 29. The subsidy scheme is set to end on Aug 31.
"The ceiling price is also going until Aug 31, but no decision has been made. We are studying a few aspects, such as supply stability and the breeders' capacities," Dr Kiandee said.
The ceiling price for standard chicken is RM9.40 per kg since Jul 1, which is 50 sen higher than the previous ceiling. 
Editor's Note: This article has been amended after the Ministry of Agriculture and Food Industries issued a statement in response to the minister's comment in Parliament that the ban on exporting chickens was set to end on Aug 31.