Malaysian chicken industry players say export ban will hurt business; urge government to review price ceiling
KUALA LUMPUR: Farms that breed chickens for overseas buyers are worried that they might not be able to keep their operations afloat when the government halts exports from Jun 1. 
"I am very sure I am not the only one. A lot of small farms are wondering how to move their livestock, or whether to continue operations," Mr Caleb Rajah Selvarajah, a chicken breeder in Johor, told CNA.
Mr Caleb Rajah, who breeds about 4,000 kampung chickens for sale locally, had plans to export his birds to Singapore. 
He had already met a potential middleman to discuss supplying his birds to chicken rice outlets in Singapore, and had also started to double the capacity of his Kota Tinggi farm in anticipation of the exports.
The Singapore dollar's higher value could be converted to more ringgit, which would help keep his farm operations afloat, he said. 
But the government's Monday (May 23) announcement that Malaysia would halt the export of 3.6 million chickens per month from Jun 1 has thrown those plans into disarray.
Many small farms in Johor and up to Melaka breed chickens for exports to Singapore, Mr Caleb Rajah said. 
They supply their chickens via contracts to larger companies, which would then transport and sell the birds in Singapore, he explained.  
"Exporting helps keep the farms running, because the government's ceiling price at RM8.90 (US$2) keeps chicken prices low, but costs of chicken feed keep increasing month by month," Mr Caleb Rajah said. 
A bag of 50kg chicken feed, which cost RM118 a few months back, was now RM149, he said. 
Malaysia has imposed a local ceiling price of RM8.90 per kg for chickens since Feb 5. Breeders and sellers have complained that this had resulted in slim profit margins, if not losses, after factoring in their production costs. 
The price control will be in effect until Jun 5, and Domestic Trade and Consumer Affairs Minister Alexander Nanta Linggi was quoted by local media as saying that the government has yet to make a decision on whether to maintain the ceiling. 
A chicken shortage had been observed in local markets lately, and the Agriculture and Food Industries Ministry (MAFI) said rising production costs, disease infection and weather conditions were among the factors that have affected operations and supply. 
MAFI added that the government had set aside RM729.32 million as subsidy to help alleviate the burden on producers, but only RM50 million has been paid so far. It promised to speed up subsidy payments to the breeders.
The approved permit (AP) for chicken, an import quota approval system, had been abolished by the government earlier this month to ensure adequate food supply in Malaysia.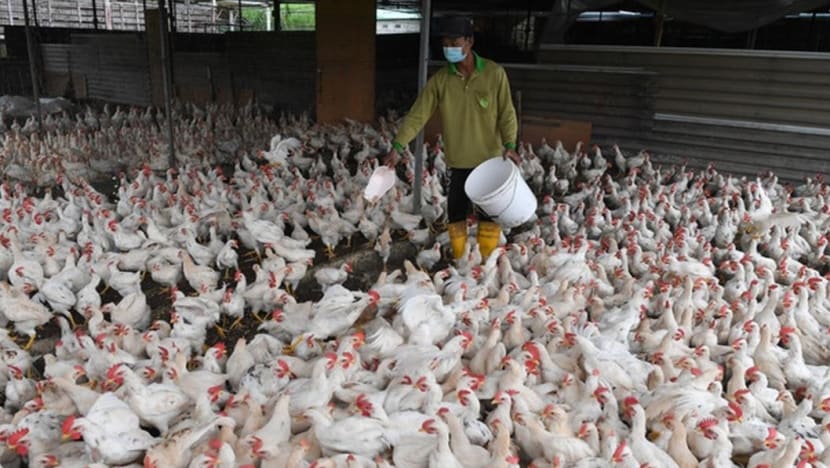 EXPORT BAN HURTS BREEDERS 
With the export ban due in five days, the worst case scenario Mr Caleb Rajah could imagine was the large companies postponing, or worse, cancelling the contracts of smallholders in Malaysia. 
"And the thing is, a lot of small farms do not market or set up their own sales lines here, because they are focused on fulfilling their orders for the larger companies," he said. 
Calculating the costs of continuing operations with the export ban, Mr Caleb Rajah said he feared they would suffer losses if they sold solely in Malaysia, with the current price ceiling in place. 
"If chicken feed prices continue to be costly and the government does not do something about the ceiling price, then I worry that a lot of small breeders are going to be in trouble, including myself," he said. 
It would make more financial sense not to continue operations rather than lose money rearing new birds, he said. 
Professor Dr M Nasir Shamsudin of Universiti Putra Malaysia's (UPM) Faculty of Agriculture said that the export restrictions should only be temporary because it would negatively affect the industry in the medium term. 
"In theory, curbing exports will ensure more supply locally and prices will decline but this will kill the industry.
"Malaysia is 114 per cent self-sufficient in the production of chicken, meaning that at least 14 per cent of the product is being exported. Export means the industry can grow," he told CNA.   
The Federation of Livestock Farmers' Association of Malaysia declined to comment when approached.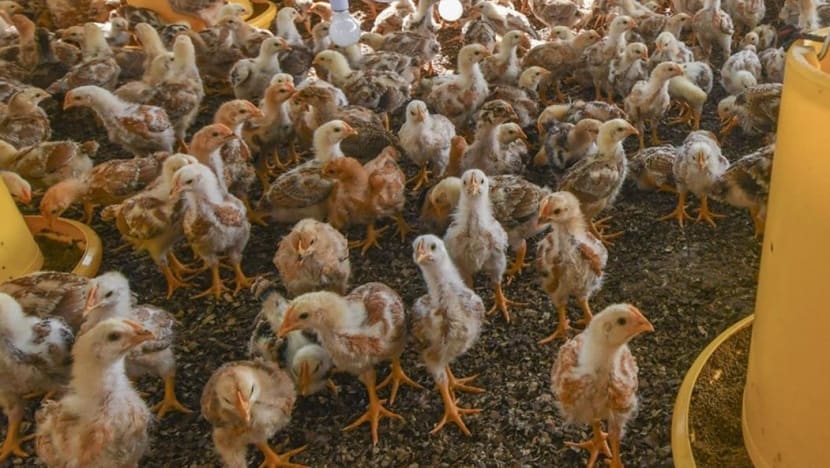 PRICE CEILING SHOULD BE LIFTED OR RAISED 
Mr Yani Hardinata Hairuddin of Safina Food Sdn Bhd said there should not be a price ceiling for chicken.
"I am getting it at RM9.40 per kg. How much should I sell it for? How am I supposed to subsidise the difference?  Let the market decide and let the natural course of supply and demand take place," he told CNA.
Safina Food produces and trades halal food, including poultry.
Mr Yani said that the current problem is not just limited to Malaysia, and that even the big players had difficulty obtaining chicken feed, most of which is imported.   
"It's not only a Malaysian problem. The whole world is facing problems. 
"Even KFC and Nandos in the UK have increased prices because of chicken shortage," he said, adding that the Ukraine-Russian conflict has caused big supply chain issues.
Dr M Nasir of UPM was of the opinion that the production subsidies for chickens and eggs should be abolished, and that prices should be floated based on supply and demand.
He said prices could be set weekly by a pricing mechanism committee consisting of representatives from producers, wholesalers and consumers.
"The prices can be set based on the imported price of corn and soybean," he said, adding that a ceiling price would kill producers if the production cost was very high.
He added that subsidies should be given to the hardcore poor in the form of food stamps.
Mr Caleb Rajah, the breeder in Johor, said another way was for the government to control the price of chicken feed, so that breeders could still purchase the item at reasonable prices and reduce overall costs. 
CONSUMERS SHOULD BOYCOTT CHICKEN: FOMCA
Meanwhile, the Federation of Consumers Association of Malaysia (FOMCA) said consumers could also play a role in bringing the price of chicken down by cutting down on their consumption of chicken.
"In other parts of the world, the consumers come together and boycott certain goods to bring prices down. If let's say you eat chicken three times a week, this could be reduced to one time," said FOMCA president Marimuthu Nadeson. 
He said the government's decision to ban exports was the correct one.   
"National interest is the most important thing now. Chicken is the cheapest source of protein in the market. We have to put our foot down. There is a food security crisis in the country," he said.   
He said the government could do away with the price ceiling once there was enough meat in the market.  
"For the time being it is better to maintain a ceiling price. Since the AP has been abolished, let the meat be brought into the country. Once the market's needs are fulfilled, the price controls can be abolished," he said.