'We have no choice': Some chicken retailers in Malaysia reduce orders from suppliers amid higher cost prices
KUALA LUMPUR: To cope with the rising cost price, traders at a morning market in Petaling Jaya said they decided to reduce the number of standard chickens they order from their suppliers.
A first glance at the row of chicken sellers at the SS2 morning market on Friday (May 27) suggested that there was adequate poultry supply. 
But upon closer look, the amount of standard chickens, which the trader called "white chicken" in Mandarin, were much fewer compared to the distinctively yellowish kampung chickens. 
"Right now, when the chickens reach us, they already cost about RM10 a kg. So do you think RM8.90 (US$2) is still feasible?" a trader, who only wished to be known as Mr Wong, said.
The Malaysian government has set RM8.90 per kg as the ceiling price for standard chicken. Effective since Feb 5, the control is set to last until Jun 5.
If the traders were to sell beyond the price, they risk losing their customers, Mr Wong added.
He said business was hit hard by the pressure faced by breeders. Imported chicken feed has become more expensive lately, according to poultry farmers.
"We have no choice, we are not chicken farms. If they raise prices, it makes it harder for us to do business with the current control price," Mr Wong said, while using two cleavers to pound chicken breasts into minced meat.
Gesturing at his table, he said: "As you can see, there are less than 10 white chickens. I brought in less than 20 birds today because of the costs."
Another trader, Mr Yau, said one way to beef up their stock was to bring in more kampung chickens. He also preferred not to reveal his full name.
These were more expensive to begin with, and could help reduce their standard chicken orders, he said.  
He added that he preferred to sell parts these days. "It is not profitable to sell just whole white chickens," he said.
Other traders at another morning market in Petaling Jaya also mentioned the same trend on reducing their standard chicken stocks and bringing in more kampung birds, but declined to go on record.
Kampung chickens are normally priced over RM20 per kilogramme.  ​​​​​​
SIZE OF CHICKENS GETTING SMALLER
Mr Wong and his fellow traders said they were not being compensated for the disparity between the high cost price of chicken and the fixed price they had to sell to consumers. 
He claimed "a number of places" even stop stocking chickens. "They might as well not sell because you do not just earn no profit, you lose money in fact," he added. 
On Monday, Prime Minister Ismail Sabri Yaakob said Malaysia would halt the export of 3.6 million chickens per month from Jun 1 until supply and prices stabilised locally.
Chicken breeders have pointed to rising chicken feed prices, disease infection and weather conditions as factors affecting their productions and supply. 
The government had promised to speed up subsidy payment to chicken breeders. 
Mr Yau also lamented that the chickens they received recently were getting smaller. 
"Last time they were bigger, the average was over 2kg. Now, the white chickens come in at around 1.8kg on average."
"But we cannot be picky. As long as we can still get birds, we can still do business even though it gets harder and harder," Mr Yau said.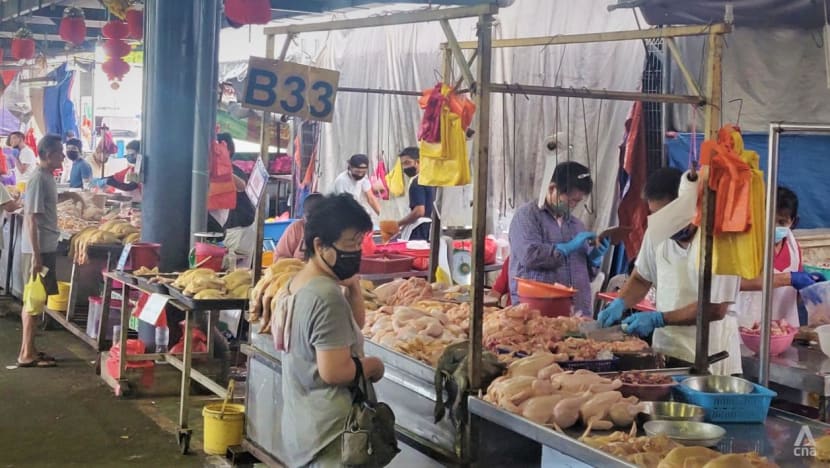 CHICKENS AVAILABLE, BUT STOCK LIMITED 
Elsewhere in Malaysia, chickens could be easily obtained in the markets even though stock was limited, according to national news agency Bernama on Thursday. 
A poultry farmer and supplier in Kedah, Ayam Bismi Empire Sdn Bhd director Mazlina Kamaruddin said the decline in supply was caused by excessive demand of chicken during Aidilfitri, and she had to ration sales. 
Mr Amran Shaari, a chicken seller at Pasar Besar Sena in Kedah, said he stopped rationing the sale of his chickens after supply improved several days ago. 
In Pahang, a trader at Pasar Besar Kuantan, Mr Mohd Radzi Zakaria, 30, said his chickens were sold out in a short time as he only received a supply of between 20 and 30 chickens a day, compared with 150 chickens a day previously. 
In Negeri Sembilan, chicken traders ran out of broiler chickens as early as 7.30am, and a trader, Mdm Aim Raid, 47, was quoted as saying that she had to limit her sale to regular customers. 
Chicken supply was available at several public markets and supermarkets in Batu Pahat, Johor, Bernama added.