Najib 'disappointed' with court's national embarrassment remark, says he created wealth for Malaysia as PM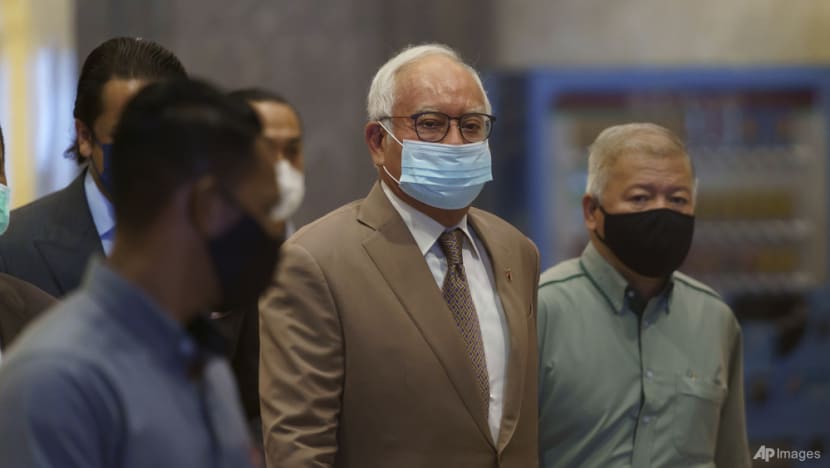 KUALA LUMPUR: Former Malaysian prime minister Najib Razak said he was "very, very disappointed" with the Court of Appeal's judgment labelling him a "national embarrassment" when upholding his corruption conviction. 
In an online press conference organised by his lawyer Muhammad Shafee Abdullah on Wednesday (Dec 8), Najib said he has created wealth for the country during his tenure as the prime minister.
"Of course I am very, very disappointed with that because throughout my career, I have always been focused on how to promote national interests," he said when asked to comment on Justice Abdul Karim Abdul Jalil's remarks. 
"And as you know during my tenure as prime minister, as just an example, the total assets of the country under my watch grew from RM800 million (US$189 million) to RM2 trillion. Therefore I created a lot of wealth for the country," he said. 
Najib highlighted "other scandalous issues" instead, which he said have caused the country greater financial losses.  
"There are other incidents, other scandalous issues, for example the scandal surrounding foreign exchange which led to the loss of about RM31 billion ringgit. 
"If you put that into context, isn't that a much more colossal loss?" he said, alluding to the foreign exchange trading losses incurred by Bank Negara Malaysia in the early 1990s when Dr Mahathir Mohamad was serving as Malaysia's fourth prime minister. 
Earlier, the appellate court dismissed his appeal against all seven corruption charges of  misappropriating RM42 million from SRC International, a subsidiary of 1Malaysia Development Berhad (1MDB).
The court upheld the High Court's ruling on Jul 28 last year, which saw Najib being sentenced to 12 years in jail and fined RM210 million after he was found guilty on three counts of criminal breach of trust, three counts of money laundering and one count of abuse of power by the High Court. 
In delivering the three-man bench's judgment on Wednesday, Justice  Abdul Karim rejected the defence's argument that some of Najib's actions were in the national interest.
"There is no national interest here, only national embarrassment," he told the court in the administrative capital Putrajaya, AFP reported.
The court later allowed Najib's application for a stay of execution of the sentence pending appeal to the Federal Court. 
In the online press conference via Zoom, Najib maintained his innocence. 
"The central issue with respect to the SRC case revolves around the RM42 million that was transferred to my personal account."
"As a Muslim, I have sworn in the name of Allah, that I did not know, nor did I ask for it, nor did I direct anyone for that amount to be transferred to my personal account," the former prime minister said.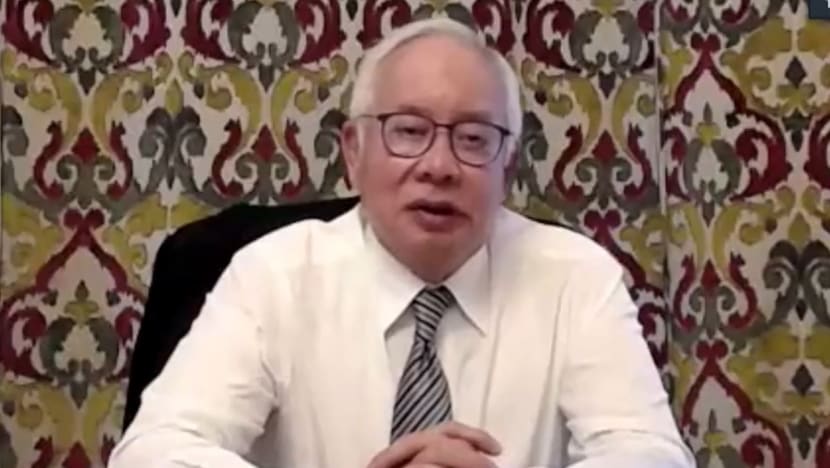 His lead counsel Muhammad Shafee also expressed his disappointment with the Court of Appeal's decision, adding that he found the "national embarrassment" remark unnecessary. 
The lawyer also said he was disappointed that the court had made a finding that Najib micromanaged SRC International. He said it was not possible as Najib, as then-prime minister and finance minister, had 85 companies under him. 
"How could he micromanage anyone? That is something that I thought was glaringly an obvious error," he said. "There are altogether 40 areas of concern that we will raise to the Federal Court," Muhammad Shafee said.
WILL NAJIB STAND IN THE NEXT GENERAL ELECTION?
When asked about how the appeal court's judgment would affect his election chances, the Member of Parliament for the Pahang constituency of Pekan said he would cross that bridge when he comes to it.
"FIrst of all, the GE (general election), we do not know when that is, and there are political and personal considerations to be made. So I will leave it (until) the time comes," he added. 
Muhammad Shafee expressed his confidence in a more positive outcome for his client's appeal in the Federal Court, claiming that there were many areas of law and fact where the High Court judge had erred. 
"I was extremely confident then, and I am extremely confident now, " he said, adding that there were many cases where guilty judgments found by the High Court and upheld by the Court of Appeal were reversed at the Federal Court.