Malaysia's appeal court upholds Najib's 1MDB-linked conviction, calls his actions a 'national embarrassment'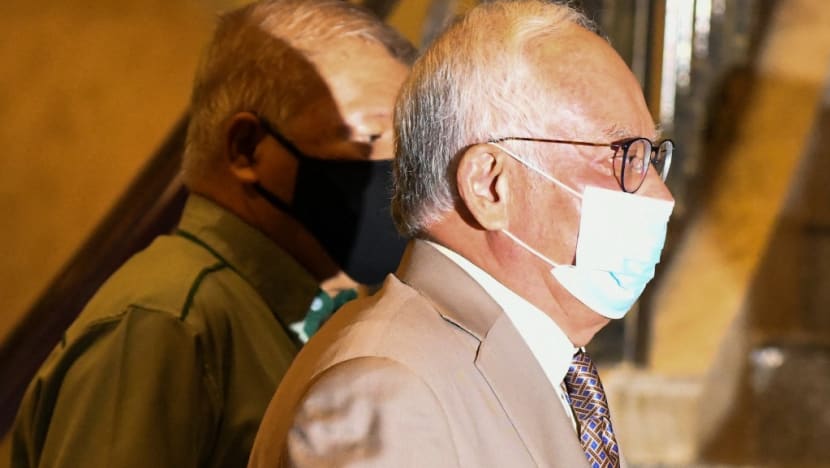 PUTRAJAYA: Malaysia's Court of Appeal has upheld former prime minister Najib Razak's guilty verdict in a corruption trial involving RM42 million (US$9.9 million) of 1Malaysia Development Berhad-linked funds.
Justice Abdul Karim Abdul Jalil, who headed a three-member panel, delivered the judgment on Wednesday (Dec 8).
"We dismiss the appeal on all seven charges and affirm the conviction," he was quoted as saying by the Star.
The judge condemned Najib's actions, calling them a "national embarrassment", according to AFP. He added that Najib had "knowledge of the RM42 million (sent) into his account and dishonestly misappropriated it". 
The court later allowed Najib's application for a stay of execution of the sentence pending appeal to the Federal Court. 
Najib attended the proceeding through Zoom as he and several lawyers in his defence team were casual contacts of a COVID-19 case.
On Jul 28 last year, the High Court sentenced Najib to 12 years in jail and fined him RM210 million, following a guilty verdict in his first corruption trial involving millions of ringgit from former 1MDB subsidiary SRC International Sdn Bhd. 
He was charged with three counts of criminal breach of trust, three counts of money laundering and one count of abuse of power.
For each count of criminal breach of trust, Najib was sentenced to 10 years' jail; for each count of money laundering, 10 years.
For abuse of power, the judge handed out a sentence of 12 years' jail and a RM210 million fine. If Najib fails to pay the fine, a five-year jail sentence will be served in lieu. 
All prison sentences would run concurrently.
Najib has denied wrongdoing and had appealed against the conviction.
Judges at the appellate court concluded the hearing on his appeal on May 18, and his attempt to adduce new evidence in his appeal was dismissed by the court on Tuesday. 
In 2018, after the Najib-led Barisan Nasional (BN) government was ousted in the 14th general election, Dr Mahathir Mohamad, the next prime minister on his second stint in office, called for investigations on the 1MDB scandal to be reopened. 
In the months that followed, Najib was barred from leaving the country and police had seized cash and other valuable items from premises linked to him. 
On Oct 18, the Court of Appeal granted a request from Najib to temporarily release his passport so he could attend the birth of his grandchild in Singapore.
He later sought to postpone his trip so that he could campaign for BN in the Melaka state election. 
On Nov 29, Najib's daughter Nooryana Najwa posted a photo on her Facebook showing him holding the newborn baby, with his wife Rosmah Mansor by his side.