Charity foundation's expenses borne by him, UMNO president Ahmad Zahid tells court in corruption trial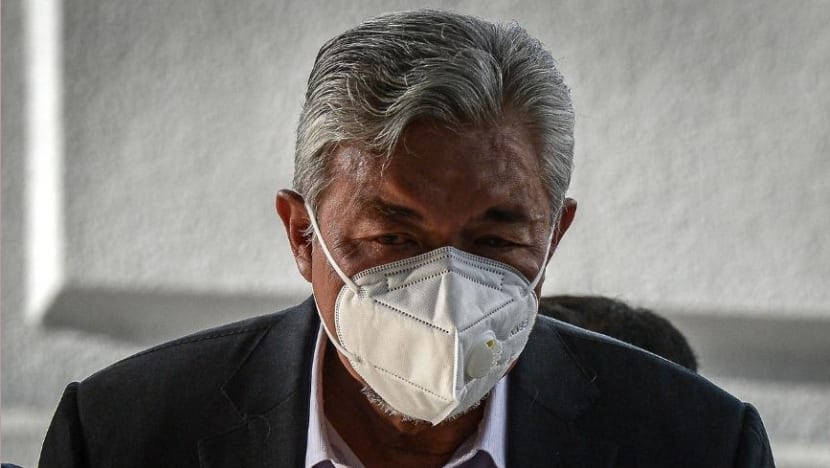 KUALA LUMPUR: United Malays National Organisation (UMNO) president Ahmad Zahid Hamidi took the stand at the High Court on Wednesday (Apr 13) as the first defence witness in his corruption, bribery and money laundering trial. 
He read a 27-page witness statement after taking his oath, Malaysian media reported. 
Ahmad Zahid, who is the former deputy prime minister, faces 12 charges of criminal breach of trust (CBT) in relation to charitable foundation Yayasan Akalbudi's funds, 27 counts of money laundering and eight counts of bribery charges.
The 69-year-old Bagan Datuk MP owns Yayasan Akalbudi.
He told the court that he never ordered anyone to use funds from his charitable foundation Yayasan Akalbudi for his personal matters. 
He said all expenses at the foundation since its inception in 1997 were borne through his personal incomes. 
"At the early stage of the foundation, most of the funds in Yayasan Akalbudi were from my own personal contributions, from my incomes, salaries and savings, with parts of them being gains from buying and selling of shares when I was active in the corporate world," said Ahmad Zahid as quoted by Bernama. 
"This is to ensure that Yayasan Akalbudi was able to execute its charity programmes, including providing aid to the needy and the building of mosques and maahad (religious schools)," he added. 
On his income in the government, Ahmad Zahid said that he received about RM50,000 (US$11,800) a month and his savings of about RM2 million were with a branch of Bank Islam in KL Sentral. 
As a politician and Cabinet minister, Ahmad Zahid said he was not allowed to engage in business activities and he was not involved as any board member in the private sector.
However, he was still allowed to hold shares of listed and unlisted companies held in trust by nominee companies appointed by him.
Ahmad Zahid's last position in the government was as deputy prime minister from Jul 29, 2015 to May 9, 2018, before the Barisan Nasional (BN) coalition suffered major defeat in the general election. 
High Court Judge Collin Lawrence Sequerah had ruled at closing of the prosecution stage of the trial on Jan 24 that the prosecution had established a prima facie case on all 47 charges against Ahmad Zahid.  
They included 12 CBT charges where Ahmad Zahid was accused of having used RM31.06 million (US$7.4 million) of the Yayasan Akalbudi charity funds to make six payments for his personal credit cards usage, insurance policy and licence for his personal vehicles, remittances to a law firm and contributions to the Malaysian police football association.
Under the eight bribery charges, Ahmad Zahid was accused of receiving bribes amounting to RM21.25 million from three firms in his capacity as home minister as an inducement for him to help the companies secure projects, including in the supply of passport chips and setting up of visa one-stop centres in Pakistan and Nepal.
As for the 27 money laundering charges, he was alleged to have engaged in direct transactions involving RM72 million as income from illegal activities between March 2016 and April 2018.
Ahmad Zahid had pleaded not guilty to all the charges and told the court that he would testify under oath on the witness stand, with the prosecution given the opportunity to question him during cross-examination.
Apart from the 47 charges, Ahmad Zahid is also facing an ongoing separate corruption trial in the Shah Alam High Court involving 40 charges linked to the overseas visa system (VLN).
According to media reports, in total, he faces 87 charges of CBT, corruption and money laundering. 
AHMAD ZAHID ALLOWED TO PERFORM UMRAH 
On Apr 8, Judge Sequerah granted Ahmad Zahid's application for the release of his passport so he could perform the minor pilgrimage of Umrah later this month.
The application was granted after lead prosecutor Raja Rozela Raja Toran said the prosecution had received instruction not to object to the application, reported Bernama.
Ahmad Zahid's lawyer had said his client would be away from April 21 to April 30 and pledged that the passport would be returned before May 5.
As the dates Ahmad Zahid needed to perform Umrah clashed with the trial dates of April 26 to April 28, the prosecutor requested that the affected days be replaced with new dates.
In October last year, the High Court also allowed a temporary return of Ahmad Zahid's passport to enable him to seek medical treatment in Munich, Germany for back and neck pain.
Last week, Ahmad Zahid filed a defamation suit against former prime minister Muhyiddin Yassin over the allegation that he had sought the latter's help to settle or postpone his court cases.
According to Bernama, Ahmad Zahid claimed in his suit that Mr Muhyiddin had made a defamatory statement with ill intention against him on Feb 13 during the Johor state election campaign trail.
Ahmad Zahid said Mr Muhyiddin's statement implied that he (Ahmad Zahid) had used a shortcut to settle and postpone his ongoing court cases.
He said that Mr Muhyiddin's statement implied that he had sought for the latter's help to intervene in the court cases and the judiciary system, and to order the dissolution of the Johor state assembly. 
It also implied that he was not a respectable and exemplary leader, he added.
Ahmad Zahid claimed that the allegations were false and aimed at tarnishing his good name and reputation, and that it was made by Mr Muhyiddin after the Election Commission's announcement on the Johor state election.
UMNO and BN had cruised to victory in the snap polls, regaining a strong hold on the southern state. 
Bernama reported that Ahmad Zahid is seeking general, aggravated and exemplary damages, as well as an order for Mr Muhyiddin to publish a public apology in newspapers, as well as other reliefs and costs deemed fit by the court.