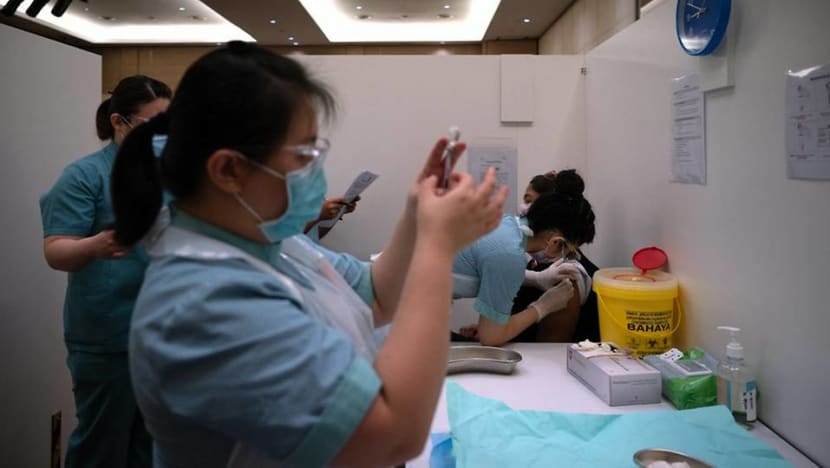 SINGAPORE: New COVID-19 cases in Malaysia crossed the 20,000 mark for the first time on Thursday (Aug 5), as the country set a record number of daily infections for a second consecutive day.
Malaysia reported 20,596 new infections on Thursday, according to data released by the health ministry. Apart from 34 imported cases, all were local infections.
There were also 164 more deaths, bringing the total number of COVID-19 fatalities in the country past the 10,000 mark.
Infections in the Klang Valley once again accounted for more than half of the daily caseload. Selangor reported the highest number of infections among states with 8,549 new cases, while Kuala Lumpur reported 2,163.
New infections exceeded 1,000 in four states - Kedah with 1,446, Johor with 1,300, Sabah with 1,062 and Penang with 1,022.
There were also 989 new cases in Negeri Sembilan, 916 in Perak, 772 in Kelantan, 759 in Sarawak, 622 in Melaka, 501 in Terengganu and 426 in Pahang.
Thirty-three new clusters were reported, bringing the number of active clusters in the country to 1,177.
The number of patients warded in the intensive care unit rose to a new high of 1,078, while 549 people required respiratory assistance.
Moderna's COVID-19 vaccine was on Thursday granted conditional approval for emergency use in Malaysia.
The health ministry will continue to evaluate the quality, safety and effectiveness of the vaccine to ensure its benefits outweigh the risks, said health director-general Noor Hisham Abdullah.
Malaysia has seen a surge in COVID-19 infections since July, breaking single-day records for new infections and deaths. New daily cases have not fallen below the 10,000 mark since Jul 12.
The country's total COVID-19 caseload now stands at 1,203,706 infections.