Timeline: How the COVID-19 pandemic has unfolded in Malaysia since January 2020
After more than 18 months since Malaysia saw its first coronavirus case, the caseload has stayed high in many areas while lockdowns have been extended repeatedly. CNA looks at some of the milestones.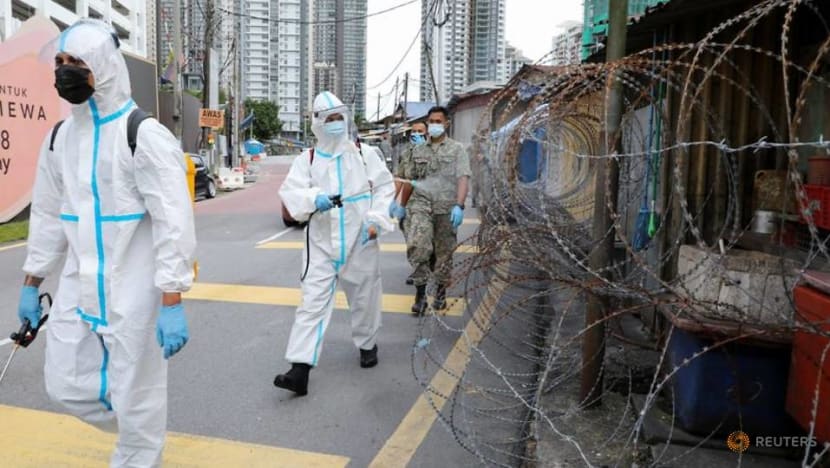 KUALA LUMPUR: Malaysia's COVID-19 cases crossed the 1 million mark on Jul 25. 
As cases rose, the country repeatedly reported single-day records of new infections and fatalities.  
Since the movement control order (MCO) was first imposed in March 2020, Malaysians have been through different phases of lockdown as the government grappled with the spread of COVID-19. 
Here's a recap of how the outbreak has evolved in the country so far:
2020: FIRST CASES EMERGE, MCO 1.0 CURBS TRANSMISSION
Malaysia detected its first three COVID-19 cases on Jan 25, 2020 - three Chinese nationals from Wuhan who entered the country from Singapore.
The first wave of infections in Malaysia, from Jan 25 to Feb 15 last year, encompassed 22 cases. It was dealt with fairly quickly, through immediate isolation of the patients and treatment.
A major challenge came in the form of a mass religious gathering which was held at the Sri Petaling mosque near Kuala Lumpur from Feb 27 to Mar 1.
The event, attended by 16,000 people, eventually triggered a wave of COVID-19 infections across the country and formed what was dubbed the tabligh cluster. The attendees who contracted the virus during the event brought it back home to their respective states, resulting in a spike in infections nationwide.
The Perikatan Nasional government, which had just taken over federal administration from Pakatan Harapan, then imposed a lockdown dubbed movement control order in mid-March, closing its borders and banning interstate travel.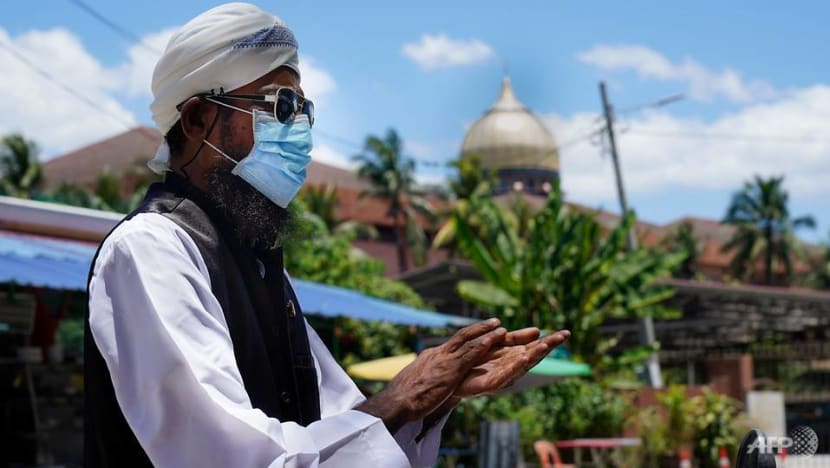 The move to act quickly and restrict people's movement with strict protocols were key in halting the spread of infections.
Daily number of cases sank to single-digit figures in July and August. On Jul 1, Malaysia recorded zero local transmission for the first time since March. By the end of August, Malaysia had less than 10,000 cumulative cases, one of the lowest in the region.
But the third wave started in September through the Sabah state election. After the state polls, cases spiked and eventually hovered at four-digit figures daily.
Prime Minister Muhyiddin Yassin acknowledged that in spite of strict health protocols set by the Election Commission, compliance was very weak.
He noted that the number of cumulative cases in Sabah, which was 808 on nomination day on Sept 12, jumped by 91.5 per cent to 1,547 cases on polling day on Sept 26.
One month later on Oct 24, Sabah's cumulative cases were 11,285. 
Over at the peninsula, clusters also started forming among workplaces and dormitories of foreign migrant workers in the Klang Valley. 
Glove maker Top Glove made global headlines after the Malaysian government announced that it opened 19 investigation papers into six subsidiaries of the company over offences involving workers' dormitories.
2021: STATE OF EMERGENCY, MCO 2.0
The spike in infections across the country led Mr Muhyiddin to seek a state of emergency to be imposed in the country. 
On Jan 12, with the national tally surpassing 138,000 and the healthcare system said to be at a breaking point, Malaysia's king proclaimed a state of emergency until Aug 1.
During the period, the parliament and state legislative assemblies would not sit until a time decided by the king. No elections were allowed to be held.
In a renewed effort to combat the alarming rise in COVID-19 cases, the government announced that all states, except for Sarawak, would be placed under MCO. 
Unlike the first MCO which was implemented in March 2020, the restrictions imposed under MCO 2.0 were seen as being more lenient.
MCO 2.0 saw more economic sectors allowed to continue functioning, such as the automotive sector and retailers like gold and jewellery shops. Residents could also dine in at restaurants and visit night markets.
VACCINATION DRIVE KICKS OFF
In February, Malaysia kicked off the national COVID-19 immunisation programme, with Mr Muhyiddin, Health Ministry director-general Noor Hisham Abdullah and other medical frontliners being the first to receive doses of the Pfizer-BioNTech vaccine.
Malaysia's COVID-19 immunisation programme was divided into three phrases, beginning with medical and non-medical frontliners from February to April.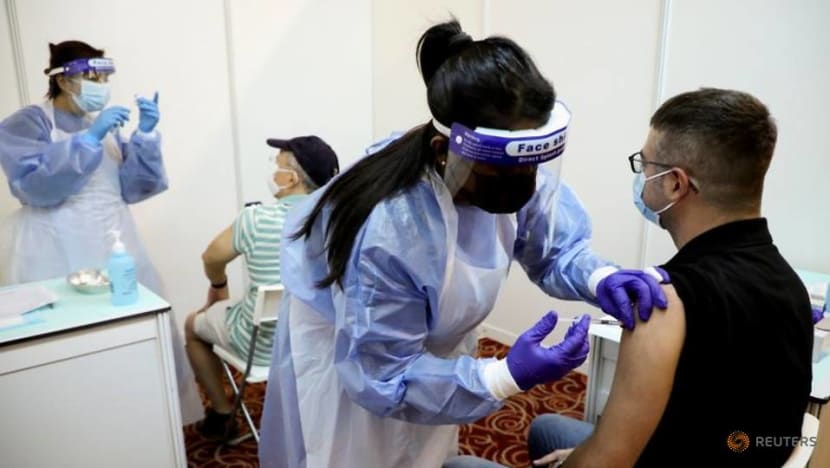 The government said Malaysia aimed to achieve herd immunity by having 80 per cent of its 32 million population vaccinated at the end of the year, or by February 2022 at the latest.
Even with MCO 2.0 in place, the number of cases continued to surge, reaching an all-time high of 5,728 daily on Jan 30. 
The daily number later dipped, and Malaysia recorded 2,176 cases on Feb 15, the lowest tally for more than a month.
Soon after, Malaysia announced that it would ease COVID-19 restrictions across the country. 
NATIONWIDE MCO AGAIN 
During the holy month of Ramadan, the government had initially allowed hotels, restaurants and eateries to hold buffets for the breaking of fast, with strict compliance to the standard operating procedures.
Ramadan bazaars were also allowed to operate in most areas of the country.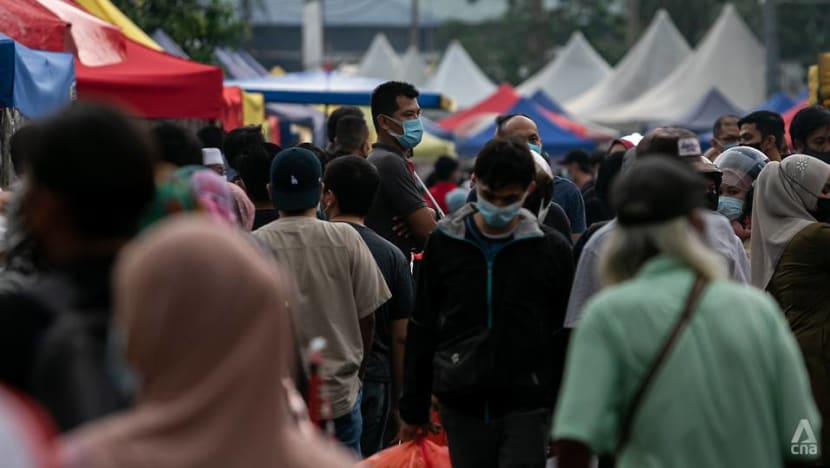 But when the number of daily cases increased rapidly, the government announced that six Selangor districts, Kuala Lumpur and three districts in Johor were placed under MCO again about a week leading up to Hari Raya Aidilfitri,
This meant that dining in were no longer allowed at restaurants, Ramadan bazaars were closed and interstate travel remained barred. 
On May 10, the government announced another nationwide MCO from May 12 until Jun 7, in what Mr Muhyiddin described as a "drastic move to prevent the country from slipping into a severe health catastrophe". 
The government had decided to take stricter steps to curb the spread of COVID-19 in the community and to prevent cases from rising sharply. 
"Data and science continued to show that assembly activities that made social distancing difficult and the presence of people in congested spaces are major causes of COVID-19 transmission," he said. 
Under MCO 3.0, all forms of social gatherings including weddings, house visits and banquets were prohibited. However, all economic sectors were allowed to operate during the period.
TOTAL LOCKDOWN
With the number of cases continuing to surge and pressure from opposition politicians as well as netizens to act, Mr Muhyiddin announced that a "total lockdown" would be implemented across the country, closing all economic and social sectors.
The first phase of the lockdown was scheduled to last from Jun 1 to Jun 14. Only essential economic and service sectors listed by the National Security Council would be allowed to operate during phase 1 of the lockdown.
He also unveiled a four-phase National Recovery Plan, charting Malaysia's journey out of the pandemic.  
He described the current lockdown as the first phase of the exit plan, and outlined that vaccination rate, daily cases and the public healthcare system's capacity are the key thresholds in determining the transition. 
However, as daily case numbers still exceeded 5,000, the lockdown was extended for two weeks from Jun 15 until Jun 28.
By end-June, Mr Muhyiddin confirmed that phase 1 would be further extended until daily cases fell below 4,000.
SITUATION WORSENS IN KLANG VALLEY
In early July, Mr Ismail Sabri Yaakob, who was then senior minister for defence, announced that five Malaysian states would transition into phase 2 of the national recovery plan. These states were Kelantan, Terengganu, Perak, Pahang and Perlis.
Finance minister Tengku Zakrul Tengku Abdul Aziz explained that parameters for transitioning into the various phases of the national-level recovery plan would now be applied at the state level.
This, he said, would allow individual states to transition earlier, as their local numbers had already shown great improvement, rather than wait for the national average to be attained, which might take longer.
Meanwhile, the situation in populous Klang Valley worsened. As nationwide infections persisted above 5,000 daily, more than half of these were frequently contributed by cases in Selangor and Kuala Lumpur.
This led the Malaysian government to implement an enhanced movement control order (EMCO) in many parts of Selangor and Kuala Lumpur for a period of 14 days from Jul 3 to Jul 16.
EMCO restrictions meant that residents living in these areas cannot leave home after 8pm, while only one person per household is allowed to run errands. 
Only residents who work in essential services, or part of official government duty with appropriate documentation, were allowed to travel to work.
Moreover, only factories manufacturing food and daily essential items, including rice, bread, sugar, oil, milk and medication were allowed to operate while all restaurants, food courts, shops and street vendors could only open from 8am to 8pm.
The government emphasised that these measures were necessary taking into account the population density of these areas and the fast spread of the Alpha, Beta and Delta variants. 
The EMCO curbs were later lifted ahead of schedule for Kuala Lumpur and as scheduled for Selangor, despite the fact that these areas remained the epicentre of the latest wave of infections.
Malaysia's 2021 key COVID-19 milestones at a glance
Jan 12: King proclaims state of emergency
Feb 24: National immunisation programme kicks off
Mar 29: Daily new infections fall below 1,000 for the first time in 2021 
May 10: Movement control order is announced for the whole country
May 22: Total COVID-19 cases breaches 500,000-mark
Jun 1: First phase of total lockdown begins
Jun 28: Total deaths crosses 5,000-mark
Jul 5: Kelantan, Terengganu, Perak, Pahang and Perlis enter phase two of national recovery plan
Jul 25: Total COVID-19 cases surpasses 1 million
Jul 26: Parliament meets for the first time in 2021
Aug 1: State of emergency ends
Aug 4: Perlis, Sarawak and Labuan enter phase three of national recovery plan
PARLIAMENT RECONVENES ON JUL 26
In spite of the measures in the Klang Valley, widespread testing has unveiled a high volume of COVID-19 cases. 
Daily caseload reached five figures for the first time on Jul 13 with 11,079 new infections, and more than half of the new cases were detected in the Klang Valley. 
Following the king's decree, the House of Representatives met for the first time in 2021. 
During the special parliamentary meeting from Jul 26, the prime minister and other ministers briefed the MPs on the country's COVID-19 response. 
In his presentation, Mr Muhyiddin said most Malaysian states are likely to move into phase four or the final phase of the country's COVID-19 exit strategy by October at the earliest. 
Mr Khairy Jamaluddin, coordinating minister for the immunisation programme, said 25.2 per cent of the adult population are fully vaccinated as of Jul 27. 
The meeting was supposed to last for five days, but was cut short to four days after COVID-19 cases were detected in the parliament.  
The state of emergency has ended on Aug 1 as scheduled. The motion to debate and annul the emergency ordinances would be tabled in the parliament in September, following different interpretations over the king's role in the process. 
On Aug 4, Malaysia hit another record high for new COVID-19 cases with 19,819 infections, taking the national total to 1,183,110. 
Daily fatalities also hit a new high at 257 on the same day. There have been more than 9,800 deaths so far. 
Daily infections continued to set new records for two more days. On Aug 6, Malaysia reported 20,889 new COVID-19 cases.