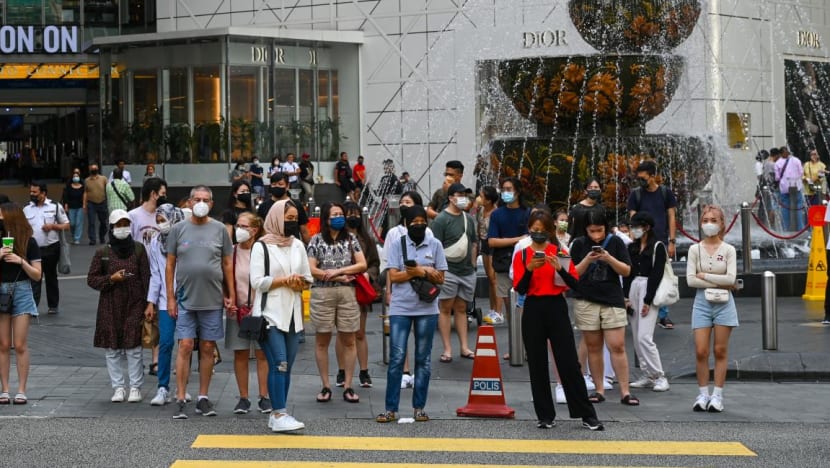 KUALA LUMPUR: Amid a spike in the COVID-19 caseload, public health experts in Malaysia are encouraging the public to mask up once again.
According to the latest data from the health ministry, the number of confirmed COVID-19 cases rose by 87.5 per cent in the 14 days leading up to Apr 8.
Meanwhile, hospital admissions during the same period rose by 30.5 per cent while deaths due to COVID-19 went up by 25 per cent. As of Apr 8, the number of active cases nationally was more than 13,000.
In a statement issued on Monday (Apr 17), the Association of Private Hospitals Malaysia encouraged people to wear face masks in crowded places and maintain social distancing, among other measures, to prevent the spread of the virus. 
"Even though healthcare systems - both public and private - are ready and competent to manage another increase of cases, this should not be a reason for the public to be careless with personal prevention of the disease," said the president of the association Dr Kuljit Singh. 
Last Thursday, Health Minister Zaliha Mustafa urged members of the public to wear a face mask in crowded spaces, ahead of Hari Raya celebrations in the country.
"In preparation for the coming festive season, the community is encouraged to wear a face mask when at crowded and confined public places where physical distancing is difficult to practice," the minister said in a statement. 
Currently, masks only need to be worn on public transport and in healthcare facilities as well as for those who have tested positive. 
Dr Zaliha said that the number of COVID-19 patients admitted to hospitals in early April rose by 17.6 per cent from the previous month. According to her, most COVID-19 patients admitted were those in the high-risk group, such as the elderly and individuals with comorbidities. 
Public Health Organisation Malaysia advisor Dr Zainal Ariffin Omar said that in addition to masking, other measures - such as avoiding crowded spaces, self-testing and self-quarantine - should also be practised, particularly for those in the high-risk group. 
When asked whether masking should be made mandatory again, Dr Zainal told CNA: "(Masking) is still optional but strongly encouraged. The (COVID-19) situation is not as bad as before, and the (rate of) masking is quite good in the population."
CAN THE HEALTHCARE SYSTEM COPE?
In her statement last Thursday, the health minister said that the rising trend in COVID-19 patient admissions will not burden health services and that hospitals will still operate as usual. 
According to the health ministry, 34.4 per cent of ventilators, 62 per cent of ICU beds, and 65.9 per cent of hospital beds were being utilised in the country as of Apr 8. 
Dr Sanjay Rampal, a Professor of Epidemiology at the University of Malaya told CNA: "We appear to have more than sufficient capacity to manage the burden associated with the current wave of COVID-19 infection.
"We should continue close surveillance of this disease and ensure that the public health services on the ground have enough resources and capacity to prevent and control COVID-19."
He added that based on current levels of community transmission of COVID-19, mass masking may not be a cost-effective public health intervention. Dr Rampal said that it is more important to monitor the healthcare utilisation of the more severe cases. 
Private hospitals are also prepared to face a COVID-19 wave in the event that it occurs, said Dr Singh in his Monday statement, though he warned that ramping up the capacity could be a challenge.
"Currently our private hospitals are full of other types of medical conditions and with the ongoing shortage of nurses, the possibility of increasing capacity is a challenge. 
"Our hope is to have a solution from the government which is yet to materialise," he said. 
Read this story in Bahasa Melayu here.
You may also be interested in: