IN FOCUS: Johor's Iskandar region languished during COVID-19. Could it flourish again?
With the reopening of borders and positive signals from both the state and federal governments, Iskandar Malaysia is poised to pick up where it left off. CNA looks at how the property sector, transport infrastructure and foreign investments are key to this effort.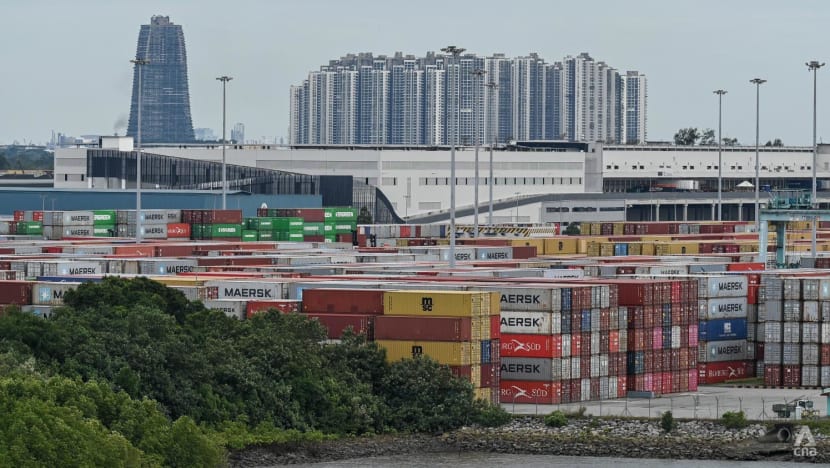 JOHOR BAHRU: Mr Johari Jaffar stood outside his cafe in Danga Bay and pointed to the thousands of condominium units looming over the Johor Bahru skyline.
"All these used to be empty just a year ago - the whole place was deserted," the 52-year-old told CNA.
"Barely anyone was around. But look at it now, around seven in 10 are occupied," Mr Johari estimated. 
Back in 2020 and 2021, the Country Garden Danga Bay condominium development in downtown Johor Bahru was like a "ghost town", Mr Johari recounted. He said that the homes were mostly boarded up and vacant while storefronts were shuttered during the COVID-19 pandemic.
Since April 2022, however, many areas in southern Johor have become livelier as the prolonged curbs ended.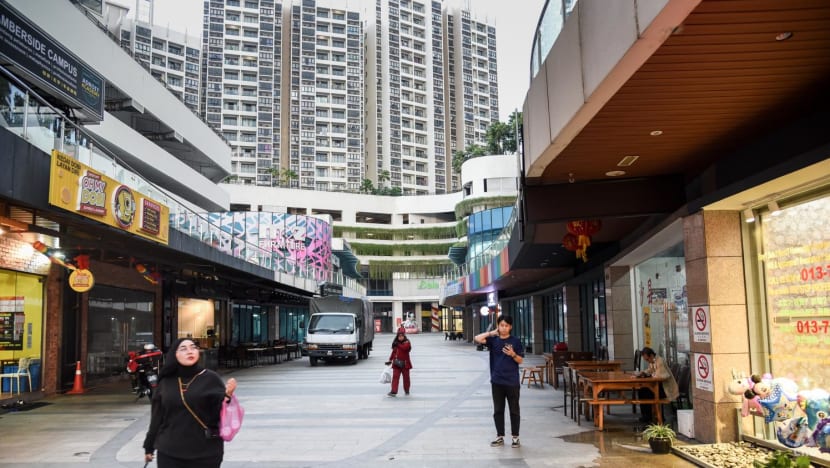 Over at Country Garden Danga Bay, occupants have begun to stream in while coastal eateries and restaurants are in business. "Many foreigners from Singapore and China have come. The difference is apparent," according to Mr Johari. 
Similar scenes can be seen in various parts of Iskandar Malaysia - the main southern development corridor in Johor.
It spans four major districts in the southern state - Johor Bahru, Iskandar Puteri, Pasir Gudang and Kulai.
The region, slated to be one of Malaysia's main economic engines, saw its progress halted during the pandemic as border curbs curtailed investment and the property market was left in an overhang. Longstanding issues on connectivity have also hamstrung the region's development. 
Yet, there is renewed optimism from the state government, businesses as well as ordinary Johoreans that Iskandar Malaysia, with the support of the new federal government, could now realise its potential. 
WHY THE PROJECT IS IMPORTANT 
The Iskandar Malaysia project was conceptualised in 2006 under the Malaysian government led by then-prime minister Abdullah Ahmad Badawi. It was supposed to grow by tapping on synergies with neighbouring Singapore.
The country's sovereign wealth fund Khazanah Nasional was tasked to spearhead the project, with an aim to transform the region into a special economic zone - an international metropolis. 
There was a lofty vision of what Iskandar Malaysia would become. Media reports referred to the region as potentially the next Shenzhen of Malaysia and former prime minister Najib Razak once touted it as a possible New Jersey to Singapore's Manhattan.
The government had set a target for Iskandar Malaysia to reach maturity by 2025, by which it would have cumulative committed investments worth RM383 billion (US$116.9 billion). The region would also have reached a gross domestic product per capita of US$31,100 with a population of around 3 million. 
The government outlined last year that as of June 2022, Iskandar Malaysia had recorded RM368 billion in total cumulative committed investments, out of which RM219 billion has been realised.
To give a boost to the development corridor, a Malaysia-Singapore Joint Ministerial Committee for Iskandar Malaysia (JMCIM) was set up in 2007. 
After co-chairing the last JMCIM face-to-face meeting in August 2022, then-Malaysian economic affairs minister Mustapa Mohamed was quoted by local media as saying that the committee was an important bridge that connects Malaysia and Singapore through Iskandar Malaysia.
He reportedly said that Singapore remained the second-largest foreign investor in Iskandar Malaysia with total committed investments of RM25.3 billion across a range of sectors such as manufacturing, healthcare, education, business services and industrial estate development.
In a Facebook post following the meeting, Singapore's Minister for National Development Desmond Lee said that both countries will jointly undertake more investment promotion activities to facilitate investments in Iskandar Malaysia. 
He said both sides were looking at collaborating on an electric vehicle ecosystem, incorporating sustainability issues and working together on the management of hazardous chemicals.
Mr Lee added that the committee also discussed potential new areas to enhance cross-border connectivity for pedestrians and cyclists.
The JMCIM is scheduled to reconvene in early 2023 in Singapore. Responding to CNA's queries, a Singapore Ministry of National Development spokesperson said that the date for the next JMCIM has not been set yet.
Earlier this month, Malaysian Minister of International Trade and Industry Tengku Zafrul Aziz reportedly said that there are plans by the new federal government to re-energise the development of Iskandar Malaysia.
In an interview with the Business Times, he added that there are plans to draw more high-value investments from Singapore and improve connectivity. "It is key that Singapore is part of the Iskandar Malaysia plan," he was quoted as saying.
CNA has reached out to the Iskandar Regional Development Authority (IRDA), a statutory body set up by the federal government to oversee the development of the area, on how the pandemic has affected overall progress.
PANDEMIC WEAKENS PROPERTY SECTOR
COVID-19 has greatly weakened the residential property sector in Iskandar Malaysia, with property overhang being a particularly acute problem. 
Last September, then deputy finance minister Shahar Abdullah told parliament that Johor was the state with the highest number of unsold homes with 6,000 empty units valued at RM4.7 billion. The number represented 17 per cent of the national property overhang.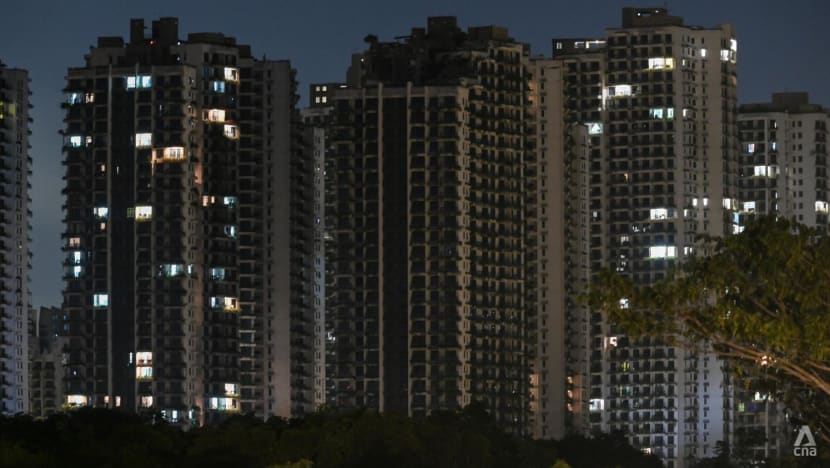 Sixty per cent of the unsold homes in Johor were apartments and many of these properties are in condominium complexes in the Iskandar region, which were built by foreign developers. 
Chinese real estate developer Country Garden has two main projects in the area - the Danga Bay project as well as Forest City, a 30 sq km town worth US$100 billion built on reclaimed land. 
Mr Johari, who owns the cafe at Country Garden Danga Bay, said that the development was deserted during the COVID-19 pandemic but he noted that there has been an uptick in occupancy and foot traffic in the area in recent months. 
"I have purchased two apartments, one for my family and another to rent out. I think it will be a good investment," he said. 
Forest City, which has been criticised by media reports as a US$100 billion ghost town, has also shown some signs of increased activity recently. 
When CNA visited the development last week, there were notable differences compared to a year ago.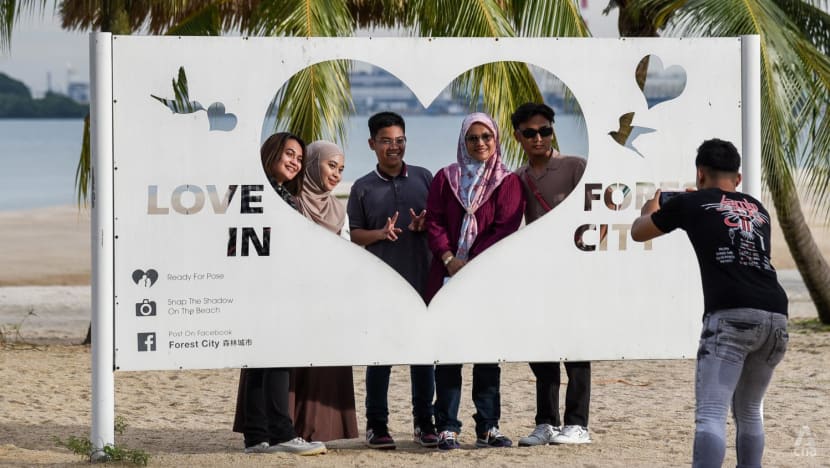 The beach was crowded with visitors, many of whom were either homeowners or tenants in the development. Facilities like swimming pools were in operation and most of the retail shops were open for business.
Some homeowners told CNA that the new occupants in the residential development were mainly locals who worked at the nearby Tanjung Pelepas Port as well as migrant workers. 
Singaporean Isabel Tan, who owns a 3-room apartment in the development, told CNA the property price in Forest City had dropped significantly since the project was launched. 
"I think that this project was (initially) targeted at foreign buyers, mainly from Singapore and China.
"The prices of apartments have fallen by around 30 to 50 per cent so this has made it more affordable for a larger demographic," she said. 
Country Garden did not respond to queries from CNA on occupancy figures as well as measures it has taken to attract buyers. 
Mr Tan Wee Tiam, a property expert from consultancy firm KGV International, noted that many property developments along the southern Johor coast were targeted at foreigners. 
However, he said that many have also pivoted to the local market because of the oversupply situation as well as the lack of demand from overseas buyers due to the border closures. 
"Gradually I think the developers started to change their focus because they noticed that if they were to just target only foreigners in the long term - this was probably not sustainable," said Mr Tan. 
Sulaiman Saheh, director of research at property consultancy firm Rahim & Co, told CNA that based on his company's research, there has been a "recent positive trend" in Johor's property market.
"Comparing the first nine months of 2021 and the first nine months of 2022, the number of all sector property transactions grew by 39.8 per cent," said Mr Sulaiman. 
He attributed this to the pent-up demand and increased confidence from buyers after the borders had reopened. 
However, he noted that the market was still cautious, especially with regard to developments by Chinese companies like Country Garden. 
Mr Sulaiman said that such foreign developers, unlike Malaysian developers, tend to launch their developments by putting a large number of units up for sale - around 10,000 units a year, and this exacerbates the ongoing oversupply issue. 
"You cannot have a development which is occupied totally by foreigners unless all of them apply for residency status under the MM2H regulations," he added.
The Malaysia My Second Home (MM2H) programme is an initiative by the government for foreigners interested in purchasing homes in the country. 
In August 2021, Putrajaya imposed stricter MM2H conditions, which included needing to show RM1.5 million in liquid assets and having a minimum RM40,000 monthly income. The state government has asked the federal government to review its decision, given that there are implications for the property sector.
In response to queries from CNA, the office of Johor's housing and local government committee chairman Mohd Jafni Md Shukor said that the state government was in the process of holding talks with the Home Ministry to review the conditions for the MM2H programme. 
"We are finalising the details, and together with the chief minister will raise the matter to the Ministry of Home Affairs," it added. 
LONGSTANDING CONNECTIVITY PROBLEMS
In order for Iskandar Malaysia to really take off, it is important to make headway in tackling longstanding connectivity problems, especially in terms of traffic congestion at the Woodlands Causeway and Tuas Second Link. 
Mr Mark Soh, a Singaporean who owns an industrial hardware workshop in Pasir Gudang, told CNA that crossing the Causeway during peak periods can be "agonising". 
"A 30-minute journey can become 3 hours. In business, time is money," the 43-year-old told CNA.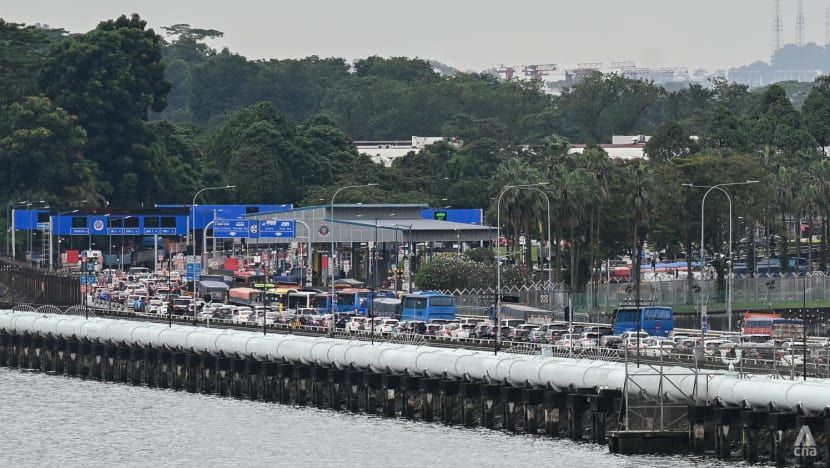 Last weekend, Johor chief minister Onn Hafiz Ghazi led a delegation to Singapore and during the visit, he raised some key points on connectivity at a meeting with Singapore's Transport Minister S Iswaran. 
He said that the Johor Bahru-Singapore Rapid Transit System (RTS) Link was a priority for both countries, and was willing to set short-term and medium-term goals so that the project continues to be on track.
The cross-border rail project aims to connect Bukit Chagar in Johor Bahru city to Woodlands in Singapore, serving about 10,000 passengers per hour each way to help ease traffic congestion on the Causeway. It is scheduled to be operational by end-2026. 
Johor's works, transportation and infrastructure committee chairman Mohamad Fazli Mohamad Salleh told CNA that a "key priority" for the state government is to reduce congestion in the short term, and not merely wait for the RTS Link project to be completed.
He explained that reducing congestion would have a "multiplier effect" on investment, jobs and the economy. 
Mr Mohamad Fazli is leading a multi-agency task force that looks into easing congestion at the Causeway and Second Link in Tuas. 
He said that the task force has mooted a few proposals including a "single clearance system" where Singapore immigration officers will be stationed at Malaysia checkpoints in Johor to clear people entering Singapore, while Malaysian immigration personnel will be deployed in Singapore to clear those entering Malaysia.
He added that the task force has also drafted proposals to install an additional 25 motorcycle lanes, two lorry lanes and two more pedestrian security scanners at the Causeway to ease the gridlock.  
The Bukit Pasir state assemblyman added that these proposals have been forwarded to the federal government for approval. 
"It is Prime Minister Anwar Ibrahim's directive that action should be taken to overcome the congestion at the immigration complexes at the land borders," he said.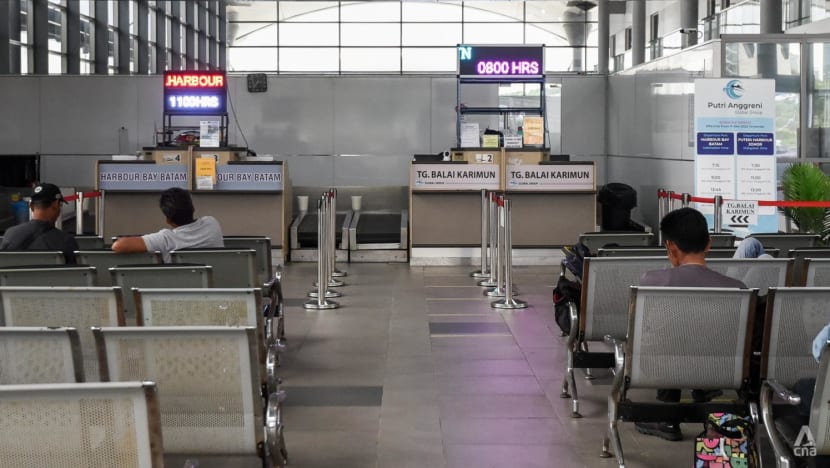 During his recent visit to Singapore, Mr Onn Hafiz also proposed to launch ferry services between Puteri Harbour and Tuas to ease traffic congestion at the Second Link. There are currently no ferry services operating between the terminal and Singapore. 
Puteri Harbour, an upscale area comprising eateries, luxury apartments and a quay in southwest Johor, is still reeling from the impact of COVID-19. 
When CNA visited the area recently, there were hardly any customers to be seen. 
One eatery that was shut had a sign at the entrance saying that the outlet was "temporarily closed" due to the Movement Control Order (MCO) imposed by the Malaysia Government to curb the spread of COVID-19. It has been more than a year since MCO curbs were eased to allow for dining out.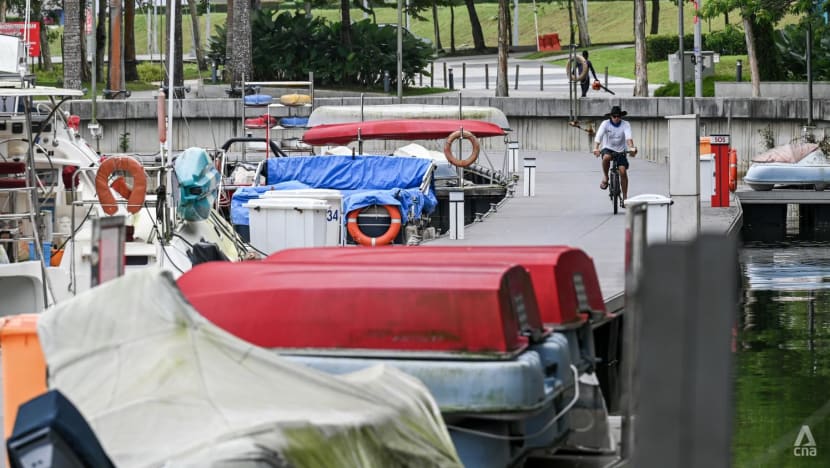 Mr Muhammad Rizki, who operates a burger stall in the area, told CNA that although foot traffic has picked up slightly in the last few months, COVID-19 had "decimated many businesses in the area". 
"This place was meant to be a hub for foreigners to live in and businesses to thrive but I'm afraid that it has become a bit of a white elephant," said Mr Rizki. 
"I hope that the ferry services with Singapore do happen and that might bring in more tourists and property investors," he said.
Will reviving the Kuala Lumpur-Singapore High-Speed Rail (HSR) project be another game changer for Iskandar Malaysia? 
The HSR project, which aimed to reduce travel time between Singapore and Kuala Lumpur to about 90 minutes, was discontinued after multiple postponements at Malaysia's request and an eventual lapsing of an agreement in December 2020.
Malaysia paid more than S$102 million in compensation to Singapore for the terminated project.
The proposed line was supposed to have a stop at Iskandar Puteri, linking the Nusajaya region within Iskandar Malaysia to Singapore, Melaka, Seremban and Kuala Lumpur. 
At end-2021, then prime minister Ismail Sabri Yaakob suggested reviving discussions on the HSR, even saying in August last year that he would like to see the HSR revived at the earliest opportunity - albeit with some route changes and the possibility of extending it northwards to Thailand and China.
Singapore Deputy Prime Minister Lawrence Wong said then that Singapore was open to fresh proposals from Malaysia on the HSR. 
In January 2021, while he was the opposition leader, Prime Minister Anwar Ibrahim called the HSR cancellation a mistake "both from a current economic standpoint and in terms of future benefits". Mr Anwar said that the project could have drawn in tourists, businesses as well as foreign direct investments. 
However, it is not yet clear if the new federal government under Mr Anwar would bring back the HSR project.
After a four-day visit to Malaysia in January, Singapore Minister for Foreign Affairs Vivian Balakrishnan said that while there were discussions on how to improve connectivity between the two countries, nothing was raised on the HSR. 
President of Johor Bahru Chinese Chamber of Commerce and Industry Low Kueck Shin told CNA that he hopes the authorities would consider implementing the project again. 
"I think if Iskandar Malaysia wants to fulfill its potential, it needs to be accessible to the major cities of Singapore and Kuala Lumpur, and the HSR helps in this regard," he said. 
However, transport expert Associate Professor Muhammad Zaly Shah opined that the development of Iskandar Malaysia does not hinge on whether the HSR project is brought back into the fold. 
He told CNA that the upcoming RTS project and express buses are more price-competitive options for business travellers and tourists coming to Johor. 
"I don't have high hopes that the HSR will be reinstated again because the new government now has other pressing priorities," said Assoc Prof Muhammad Zaly, who is director of Universiti Teknologi Malaysia's Centre for Innovative Planning and Development.
INJECTING IMPETUS FOR ECONOMIC RECOVERY
At the state level, the impact of COVID-19 on Johor's investment landscape was apparent. 
In terms of investment inflows, then chief minister Hasni Mohammad outlined in January 2022 that Johor was at that point ranked eighth among all states due to the border closures. 
However, the recovery appears to have been swift. Malaysia's international borders reopened in April last year and statistics published by the Malaysian Investment Development Authority (Mida) showed that among the states, Johor recorded the highest investment figures in the first nine months of 2022. 
Meanwhile, the state government is stepping up efforts to woo even more investments, including into the Iskandar economic zone. 
During chief minister Mr Onn Hafiz's visit to Singapore last weekend, his team met with foreign corporations based in Singapore including data analytical company AirTrunk and global standard maritime group Wilhemsen.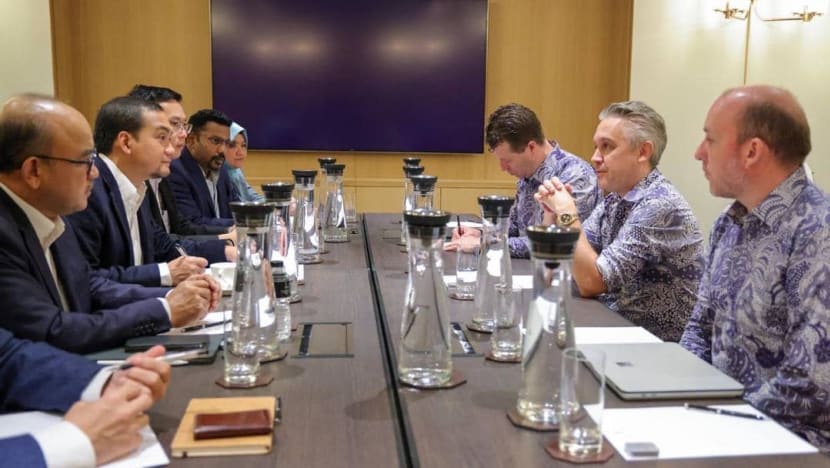 The chief minister said in a statement on Sunday that these companies were potential investors that could rake in between RM10 and RM15 billion for the southern state and offer high-paying jobs for Johoreans. 
"The state government, with the help of the federal government, is committed to being facilitators and preparing utilities and infrastructure, to ensure a friendly business environment for investors across the world," he added. 
The efforts were lauded by stakeholders, including Mr Low of the Johor Bahru Chinese chamber of commerce. 
Mr Low told CNA that the initiatives to woo investors taken by the state government were key to helping realise the objectives set out by Iskandar Malaysia by 2025. 
"I think it's clear that many of these huge corporations are based in Singapore and it might be cost-effective for them, especially those in the manufacturing sector, to spillover some of their operations to southern Johor," said Mr Low. 
"Johor has land and labour to offer. Johor businesses would also benefit from the transfer of technological know-how from these firms," he added. 
While the federal government has sent out encouraging signals about Iskandar Malaysia's progress, researcher Serina Rahman posited that the current focus of the federal government will be on reducing debt and ensuring political stability. 
"I think with Anwar in charge, Johor won't be totally neglected. But whether the current focus now is for the federal government to attract investments - this seems unlikely," said Dr Serina, who is also a lecturer in the Department of South-east Asian Studies at the National University of Singapore. 
"Bigger issues such as inflation, systemic institutional problems as well as balancing the demands of this unity government need to be resolved," she added.