Johor chief minister proposes Tuas-Puteri Harbour ferry services to ease Second Link congestion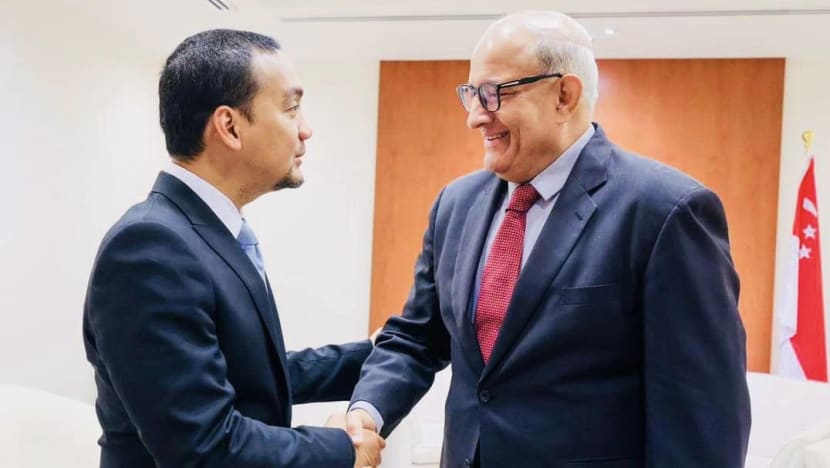 SINGAPORE: Johor chief minister Onn Hafiz Ghazi has proposed to launch ferry services between Puteri Harbour and Tuas to ease traffic congestion at the Second Link between Malaysia and Singapore. 
The proposal was made during a meeting with Singapore's Minister of Transport S Iswaran on Tuesday (Feb 14), Mr Onn Hafiz said in a Facebook post. 
"(I made) the proposal for a new ferry service from Puteri Harbour to Tuas, aimed at providing a solution to reduce congestion on the Malaysia-Singapore Second Link," said Mr Onn Hafiz. 
Last month, the chief minister said that the Johor state government was exploring the possibility of ferry services between Puteri Harbour international terminal and Singapore.
He said at that time that the terminal is a key international entry point that increases access for tourists to come to Johor. Mr Onn Hafiz said that last year, more than 141,000 tourists came from Batam and Tanjung Balai in Indonesia to Puteri terminal via ferry services owned and operated by Malaysia property developer UEM Sunrise. 
Mr Onn Hafiz on Tuesday also shared other points of discussions between him and Mr Iswaran. 
He said both of them agreed that the Johor Bahru-Singapore Rapid Transit System (RTS) Link was a priority for both countries. 
"I agree with his suggestion to closely monitor the project's development, and to set short term and medium term goals so that the project continues to be on track," said Mr Onn Hafiz. 
The cross-border rail project aims to connect Bukit Chagar in Johor Bahru city to Woodlands in Singapore, serving about 10,000 passengers per hour each way to help ease traffic congestion on the Causeway. It is scheduled to be operational by end-2026. 
Mr Onn Hafiz also reiterated a commitment he said was made recently by Malaysian Prime Minister Anwar Ibrahim to increase motorcycle lanes at the immigration complex in Bangunan Sultan Iskandar, which is linked to the Woodlands Causeway. 
"It is generally known that the Johor-Singapore Causeway is one of the busiest land crossings in the world, with more than 300,000 Malaysians commuting daily from Johor Bahru to work in Singapore," said Mr Onn Hafiz. 
The Machap state assemblyman added that he shared Mr Anwar's willingness to see through a proposal to widen the lanes of the Johor portion of the North-South Highway. 
"If this proposal is implemented, for sure it will benefit the business community in Singapore who wish to invest in Malaysia," said Mr Onn Hafiz. 
"I once again express the willingness of the Johor State Government to foster future collaborations between Johor-Singapore. This close ties is significant for both parties," he added. 
Tuesday was the last day of Mr Onn Hafiz's three-day working visit to Singapore. Besides Mr Iswaran, he also met with other Singapore leaders like Minister for Sustainability and the Environment Grace Fu, Minister for Foreign Affairs Vivian Balakrishnan as well as Second Minister for Education and Foreign Affairs Maliki Osman. 
The chief minister also held meetings with business leaders as well as foreign corporations based in Singapore. 
He said in a statement on Sunday that these companies were potential investors that could rake in between RM10 to RM15 billion (US$2.3 to US$3.45 billion) for the southern state and bring high paying jobs for Johoreans. 
"The state government, with the help of the federal government, is committed to be facilitators and prepare utilities and infrastructure, to ensure a friendly business environment for investors across the world," he added.