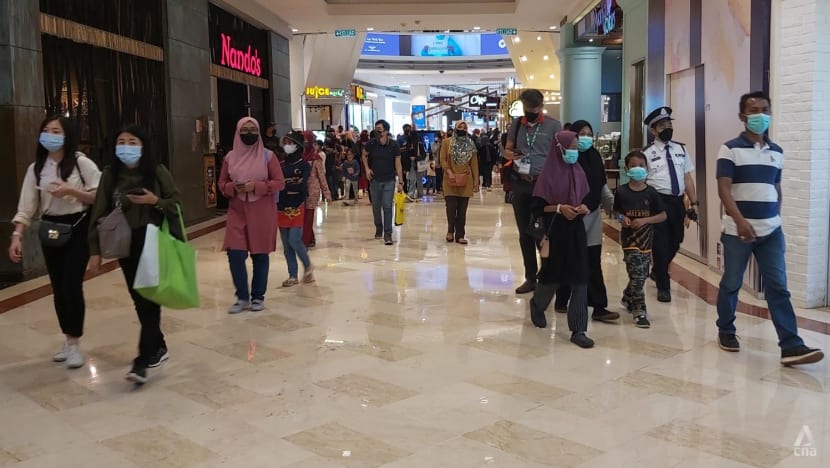 KUALA LUMPUR: As Malaysia experiences a rise in COVID-19 cases, mask-wearing is now "highly encouraged" in crowded areas, said caretaker health minister Khairy Jamaluddin on Monday (Oct 31).
This is more important especially since Malaysia's 15th General Election (GE15) is just around the corner, he said during a press conference.  
"The Ministry would like to remind the public that we are still in transition to the endemic phase. The waves will come and go, and the number of cases will increase and decrease.
"In the past week, the number of cases has increased. Unfortunately, this is during a time when we will be having general elections. I would like to advise the public to be careful.
"Wearing a mask is still voluntary but now highly encouraged especially in closed and crowded areas," he said.
Malaysia will hold GE15 on Nov 19, with nomination day set on Nov 5. 
Mr Khairy said that there was a 16.5 per cent increase in the number of cases between Oct 23 and Oct 29, compared to the corresponding period a week before. He said that the XBB Omicron subvariant is believed to be responsible for the rise in cases.  
He added that there was an increase of 14 per cent in the number of patients who were admitted to public hospitals, although most of them had mild symptoms.
"This variant spreads more easily compared to other Omicron subvariants and is expected to be the dominant subvariant replacing BA5 after this. However, there is no evidence that it causes more severe infections," he said, adding that the situation is still under control.   
Mr Khairy also said that the Election Commission (EC) is expected to announce the standard operating procedures for the elections soon, including voting procedures for those who are positive for COVID-19.
Earlier, the health ministry had proposed two ways for the EC to allow COVID-19-positive individuals to vote in the elections. 
Its director-general Dr Noor Hisham Abdullah said one method was to provide a special lane and room for those infected with COVID-19 at each polling centre. The other option is for individuals to wear the necessary protective equipment before going to the polling station. 
Malaysia recorded 3,129 COVID-19 cases on Sunday, taking the cumulative national tally to more than 4.9 million since the pandemic began.
Malaysia has reported 36,466 deaths due to the virus since the beginning of the pandemic.
Last week, the Department of Statistics Malaysia (DOSM) revealed that COVID-19 infections were the main cause of death in Malaysia in 2021.
It said that 30,063 deaths or 19.8 per cent of all deaths in Malaysia last year were caused by the virus.
You may also be interested in: