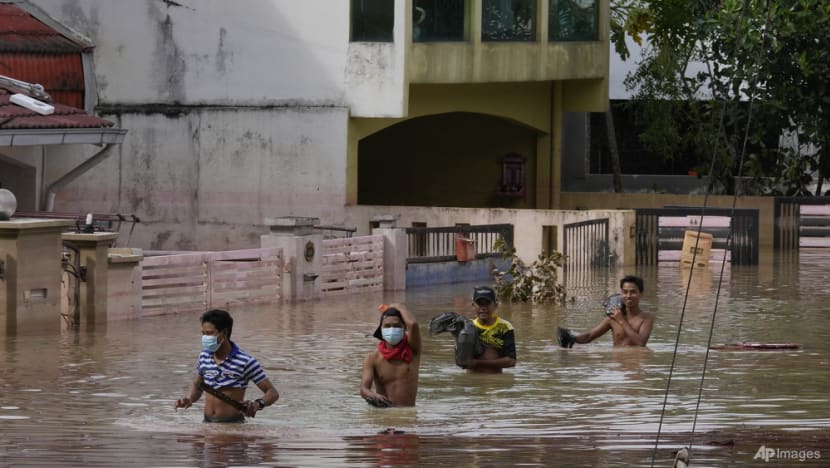 KUALA LUMPUR: Close to 77,000 staff members of various agencies are fully prepared to face the possibility of floods all over Malaysia at the end of this year, a deputy minister said. 
Madam Mastura Mohd Yazid, Deputy Minister in the Prime Minister's Department, told the Lower House on Monday (Oct 3) that a preparedness task force will be meeting ahead of the north-east monsoon season.
"A total of 76,336 officers and personnel of response agencies at all levels including the district level are in a state of full readiness," she said.
The Department of Irrigation and Drainage (JPS) has also prepared equipment such as flood warning sirens and mobile pumps, according to the minister.  
Mdm Mastura added that RM50,000 (US$10,755) was allocated to each district in the country while RM1.08 million has been channelled to eight response agencies.
She said that the National Disaster Management Agency (NADMA) has allocated RM30,000 to each district for the purchase of two motorised fiberglass boats while the Department of Social Welfare has prepared 6,010 temporary relief centres that could house more than 1.6 million victims.
"The state disaster management committees and the district disaster management committees have also been instructed to prepare in advance to ensure that aid and supplies reach all involved locations," she said, adding that this is to avoid the situation where delivery of aid is hampered by road closures. 
Hang Tuah Jaya MP Shamsul Iskandar Mohd Akin asked the deputy minister about the disaster management committee's preparedness if the 15th general election were held during the floods, but it was dismissed by speaker Azhar Azizan Harun. 
"That question is speculative, so it cannot be allowed as per standing orders," he said. 
The United Malays National Organisation (UMNO) has been calling for snap polls, but this was criticised by opposition politicians who said that emphasis should be placed on flood mitigation measures instead.
Last Friday, UMNO's supreme council decided that parliament must be dissolved soon for GE15 to be held this year.
US EMBASSY WARNS OF CONTINUOUS RAINSTORMS AND FLOODING
In a weather alert on Sep 27, the United States Embassy in Malaysia warned its citizens that the tropical cyclone season in the South Pacific Ocean will begin on Nov 1 and end on Apr 30 of next year. 
"In Malaysia, tropical cyclones are often accompanied by continuous rainstorms and flooding in some parts of the country, including Kuala Lumpur. 
"These torrential rains and severe thunderstorms can lead to widespread electricity disruptions and water shortages. US citizens in Malaysia are advised to prepare in advance for potential utility disruptions, as outages can last several days," the US embassy said on its website.
In response, the Malaysian Meteorological Department said in a statement on Monday that the public do not have to be overly worried about the advisory. 
It said that the annual northeast monsoon is expected to begin in mid-November and end in March next year, and that it monitors the weather and will issue bad weather warnings if continuous thunderstorms are expected.
In January this year, the Department of Statistics said flooding that affected several Malaysian states in late December 2021 and early January 2022 resulted in overall losses of RM6.1 billion.
The department said that the floods had hit 10 states and one federal territory, affecting 60 districts in the country.
A total of 55 people were reported to have died during the period.