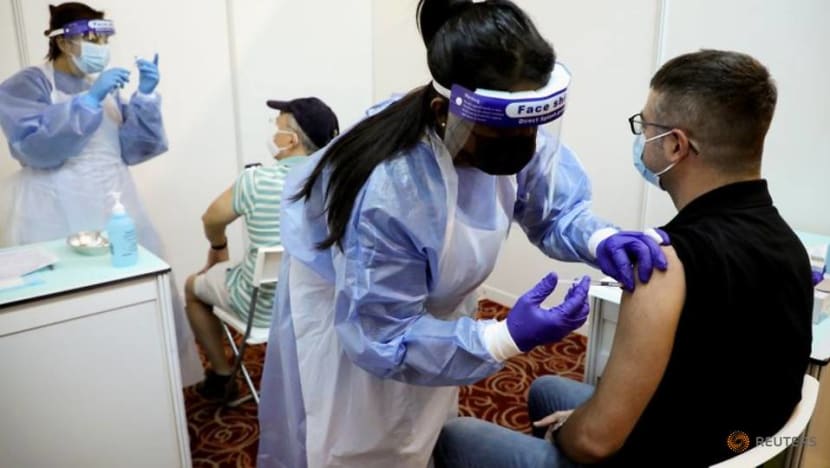 KUALA LUMPUR: Fully vaccinated Malaysians and permanent residents (PR) returning from overseas will be able to serve their quarantine at home beginning Aug 10, said Prime Minister Muhyiddin Yassin. 
"Citizens and non-citizens with homes in Malaysia, including PRs and those staying here under the Malaysia My Second Home (MM2H) programme, can undergo home quarantine under digital home surveillance order," Mr Muhyiddin said in a televised address on Sunday (Aug 8).
Other privileges extended to fully vaccinated individuals included allowing long-distance married couples to cross district or state borders to meet up, while fully vaccinated parents are also allowed to travel within the country to meet their children who are under 18 years old.
Fully vaccinated individuals may also enter mosques and other non-Muslim houses of worship for prayers in the country. 
According to the government, a person is considered fully vaccinated 14 days after being administered the second dose of two-dose COVID-19 vaccines, such as Pfizer-BioNTech, AstraZeneca or Sinovac. 
Those who receive one-dose vaccines such as the Johnson & Johnson or CanSino vaccines must wait 28 days after the shot to be qualified as fully vaccinated. 
The privileges would be in force from Aug 10 onwards, Mr Muhyiddin said, and further details on the privileges would be issued by the National Security Council (NSC) in the near future.
The prime minister also announced that privileges for the economic sector were being considered at the National Security Council and would also be announced soon by him. 
"These privileges do not mean we can neglect the standard operating procedures (SOPs) already in place," he stressed.  
"I have ordered the Home Affairs Minister, as chairman of the committee on COVID-19 SOPs enforcement and adherence coordination, to ensure that the ministries and agencies responsible will carry out enforcement and adherence activities on these privileges given," Mr Muhyiddin said.
He added that the government would not hesitate to revoke all the privileges extended if there was any non-adherence to the guidelines and SOPs. 
The prime minister said the decision to extend these privileges would definitely run the risk of an increase in daily cases. 
"But the government also cannot take lightly the benefits of being fully vaccinated and the role these privileges play towards the people's mental and physical health and the country's economic activities," Mr Muhyiddin said. 
Malaysia, which started its vaccination drive in February, has administered more than 23 million doses of COVID-19 vaccines. More than 8.2 million people - or 35.3 per cent of the country's adult population - are fully vaccinated. 
As of Sunday, the country has recorded more than 1.26 million infections and 10,000 deaths.
DINE-IN, INTER-DISTRICT TRAVEL ALLOWED FOR STATES IN PHASE 2 AND BEYOND
Meanwhile, the government has also lifted certain COVID-19 curbs for states and federal territories which have already transitioned into the second and third phase of the National Recovery Plan (NPR).
Dine-in, cross-district travel and domestic tourism activities, for instance, would be allowed for fully vaccinated people. 
Residents in these areas would also be able to enjoy a wider range of non-contact and individual sports and recreational activities, including fishing, equestrian sports, hiking, archery and golf. 
Currently, Perlis, Sarawak and the federal territory of Labuan have transitioned into the NPR's third phase. 
Six other states, including Kelantan, Terengganu, Pahang, Perak, Penang and Sabah, are in the second phase, while the rest are still in phase one.