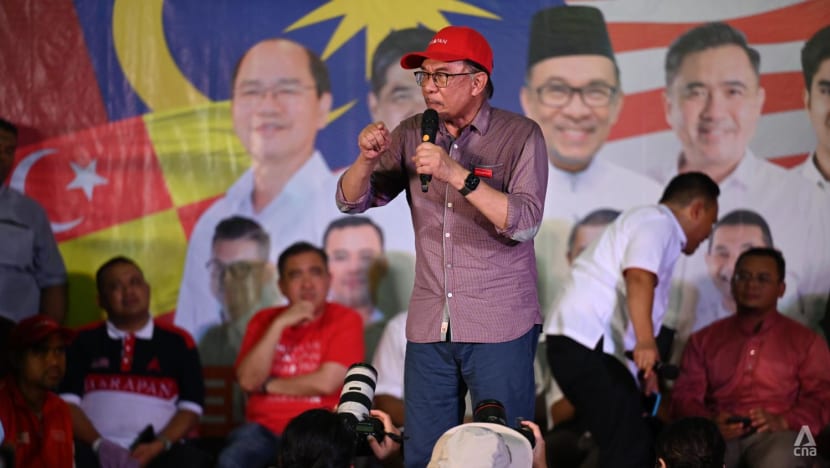 GOMBAK, Selangor: Pakatan Harapan (PH) chairman Anwar Ibrahim on Wednesday night (Nov 16) warned against insults aimed at the Democratic Action Party (DAP) by its critics.
Over the course of the election campaign, there have been attacks by PH's rivals against the Chinese-dominated party for allegedly pursuing a communist agenda as well as being anti-royalty and anti-Islam.
In a campaign event, Mr Anwar said: "It is okay if you do not want to support them. Please don't resort to slander and insults."
"They are saying that I am a puppet of DAP and that if we are in power, same-sex marriage will be allowed.
"I am not anti-PAS (Parti Islam Se-Malaysia), I have worked with them in the past and I won't forget some of their leaders such as Nik Aziz Nik Mat, Fadzil Noor and Yusof Rawa.
"But (Abdul) Hadi Awang is saying all sorts of things. That we are anti-Malay and anti-Islam," said Mr Anwar, referring to the PAS president.
He added: "What kind of people say these sorts of things? This is not politics. Fanaticism will spoil the country.
"I don't care what people say about DAP. Their leaders have humanity. Don't resort to slander. This is not in line with our culture and religion."
PH component parties - Parti Keadilan Rakyat (PKR), DAP and Parti Amanah Negara (Amanah) are contesting 214 seats in the election.
PH is also working with the Malaysian United Democratic Alliance (MUDA) which is contesting six seats.
In GE14, PH won 113 seats. At that time, its component parties were PKR, DAP, Amanah and Parti Pribumi Bersatu Malaysia (Bersatu).
Barisan Nasional (BN) won 79 seats while Parti Islam Se-Malaysia (PAS) won 18 seats. Twelve seats were won by other parties and independent candidates.
The PH administration lasted for 22 months before it fell apart due to infighting, with Bersatu leaving the coalition under the stewardship of Mr Muhyiddin Yassin who became prime minister in a new coalition called Perikatan Nasional (PN). PAS is a component party of PN. 
PN was subsequently replaced in August 2021 by the BN-led administration under the leadership of current caretaker prime minister Ismail Sabri Yaakob.
There will only be nine straight fights in GE15, with the other 213 constituencies seeing multi-cornered fights.
Altogether, 945 candidates will be contesting the elections which were called following political instability in the country that followed since PH's historic win in 2018. 
More than 21 million eligible voters will cast their ballots this Saturday to elect 222 new members of the Lower House of parliament. Early voting took place on Tuesday.