Gerakan Tanah Air not anti-Chinese, set up to fight corrupt Malay-based parties: Mahathir
Dr Mahathir also said that GTA will never bribe civil servants.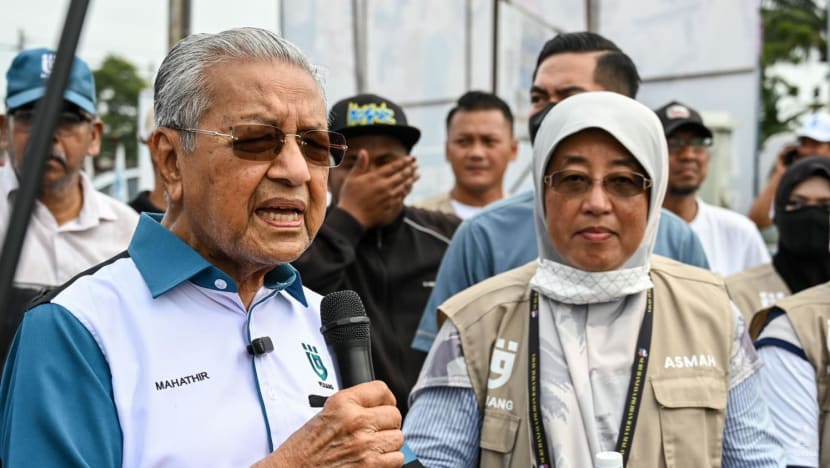 KUALA LUMPUR: Former Malaysian prime minister Mahathir Mohamad said on Saturday (Nov 12) said that the Gerakan Tanah Air (GTA) coalition is not against the ethnic Chinese community.
Rather, the coalition's main mandate is to fight against corrupt Malay-based parties, he was quoted as saying by The Star.
"We have to have a good Malay-based party like GTA to fight UMNO (United Malays National Organisation) because UMNO has turned bad.
"We are 100 per cent Malay but we are not anti-Chinese. We are anti-bad Malay (parties)," he said.
He added that once the bad Malay parties have been removed from power, GTA would be able to form a good and credible federal government comprising leaders with integrity.
He urged the Chinese community to back GTA during the Nov 19 polls.
"If we defeat these bad people, we will form a good government that will adhere to the rule of law and treat everyone, regardless of ethnicity, in accordance with the Federal Constitution," said Dr Mahathir. 
He said he is confident that with a good government leading the country, Malaysia will once again become an Asian Tiger instead of being known for kleptocracy, according to The Star report.
 
Dr Mahathir, who is the former leader of UMNO, worked with Mr Anwar Ibrahim and Mr Muhyiddin Yassin during the 2018 polls to capture Putrajaya under the Pakatan Harapan (PH) umbrella. At that time, Dr Mahathir had promised to hand over power to Mr Anwar. 
However, the PH administration collapsed 22 months later, due to infighting.
Dr Mahathir then founded Parti Pejuang Tanah Air (Pejuang).
GTA, which was launched only in August, comprises four political parties including the National Indian Muslim Alliance Party (Iman), Parti Bumiputera Perkasa Malaysia (Putra), Parti Barisan Jemaah Islamiah Se-Malaysia (Berjasa) and Pejuang. It also includes NGOs, academicians and individuals.
As the Malay movement has yet to be registered, all candidates are running under the Pejuang banner except for Kelantan where its candidates will stand on a Putra ticket.
Dr Mahathir is defending his Langkawi seat in Kedah for the 15th General Election (GE15).
On Sunday, he was also quoted as saying by New Straits Times that Pejuang will never offer bribes to civil servants in exchange for their support.
"Pejuang wants to establish a clean government because GTA candidates are not involved in court cases, unlike BN (Barisan Nasional), who since it formed the government, its leaders have been occupied with stealing government funds," he reportedly said.
On Aug 30, prior to the dissolution of the parliament, the BN-led government announced that Putrajaya will be forking out RM1.5 billion (US$324 million) to give civil servants a special additional pay rise of RM100. The pay raise will be paid from January next year.
"It is well-known to civil servants that GTA adheres to the law and doesn't forego rules on a whim," Dr Mahathir said on Sunday, according to New Straits Times.
"The caretaker prime minister cannot actually give money to civil servants because that is against the law."