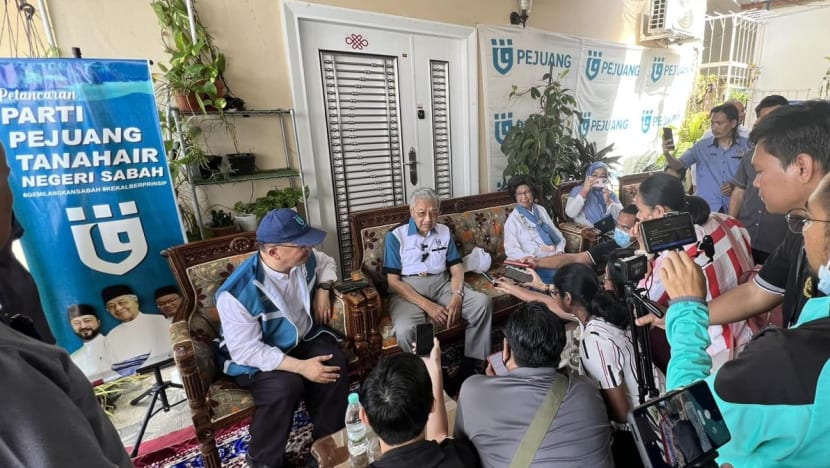 KOTA KINABALU, Sabah: Gerakan Tanah Air (GTA) chairman Dr Mahathir Mohamad said that GTA is the only coalition capable of forming a good government while all the other rival coalitions have problems of their own. 
He said GTA's rival coalitions, including Pakatan Harapan (PH) which he used to lead, are having political baggage as well as facing allegations of corruption or bribery. 
"The three coalitions - Barisan Nasional (BN), Perikatan Nasional (PN) and PH - cannot form a good government, only GTA has the ideas and capabilities to repair the damages they did," said Dr Mahathir, who is also Parti Pejuang Tanah Air (Pejuang) chairman. 
He was speaking to the media after launching Pejuang's Sabah chapter in Kota Kinabalu on Sunday (Nov 6).  
Dr Mahathir said that GTA has many plans for how to rebuild Malaysia. 
"We are offering something clean. No court cases among us, and leaders have got experience. We are offering to turn Malaysia around," said Dr Mahathir as quoted as saying by the Star. 
He added that GTA placed high importance on working with parties that have quality leaders and members.
"We want people who are not facing any legal action, not corrupt and bankrupt. We reject anybody who has problems with the authorities," he said. 
Leaders from other coalition parties who are standing in Malaysia's 15th General Election (GE15) while facing ongoing court cases, include United Malays National Organisation's (UMNO) Ahmad Zahid Hamidi, Malaysian United Democratic Alliance's (MUDA) Syed Saddiq Syed Abdul Rahman, and Democratic Action Party's (DAP) Lim Guan Eng. 
The former prime minister said that other rival coalitions are having problems, including PH with its leader Anwar Ibrahim who is only keen on wanting to be prime minister. 
"He only wanted to become prime minister. He claimed to have a lot of support (in the Lower House of parliament) but where is that support when we did not have enough numbers then," said Dr Mahathir referring to Mr Anwar's previous bid to take over the post of prime minister in 2021. 
Dr Mahathir accused Mr Anwar, who is also Parti Keadilan Rakyat's (PKR) president, of being focused to be prime minister during the former's 22-month stint in the PH administration from 2018 to 2020. 
He blamed Mr Anwar for not being helpful to carry out PH's 14th General Election manifesto in 2018. 
"We didn't have the numbers and Anwar didn't help. He was focused on becoming prime minister but where were his numbers when we needed them?" he asked.
Dr Mahathir was asked to respond to Mr Anwar's remarks while campaigning in Bayan Lepas on Sunday that it was Dr Mahathir who should be blamed for the failure of the PH government during its 22 months in power. 
Mr Anwar said that Dr Mahathir failed to implement any changes during the 22 months and that this led to the people becoming unhappy with the election promises made by the coalition.
"Of course (Anwar will blame me), it's not like he's going to praise me isn't it?"  The Star quoted Dr Mahathir as responding to Mr Anwar's criticisms of him. 
Dr Mahathir hit back by saying that it was Mr Anwar who ruined the country, while the PH government achieved a lot of success during its short time.
Dr Mahathir, who is contesting the federal seat of Langkawi in GE15, added that there were many positive developments and ideas that did not come from a manifesto, such as making Langkawi duty-free.
On Sabah, Dr Mahathir said that the state is deserving a leader of its own and any leader from the state has a right to become a prime minister. 
However, he scoffed at the promises of a deputy prime minister from the state as mere lip service.
"If they are sincere, then we support that. But I'm afraid that it is only an election promise and if they do win, it will be different.
"For me, if there is something positive for Sabah, we will support it," said Dr Mahathir as quoted by the Malay Mail. 
In GE15, more than 21 million voters are eligible to cast their ballots to elect 222 new members of the Lower House of parliament on Nov 19.