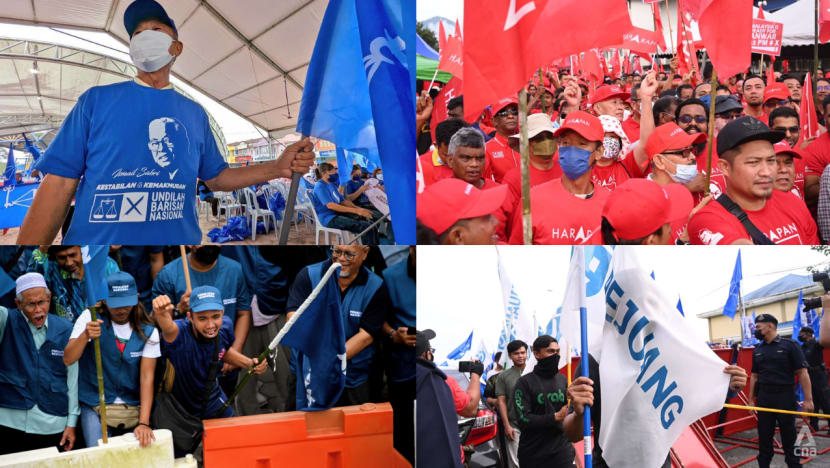 PUTRAJAYA: A total of 945 candidates have been accepted to contest the 222 parliamentary seats in Malaysia's 15th General Election (GE15), according to the Election Commission (EC) website.
The numbers were reported on the EC website as of 5.45pm on Saturday (Nov 5). 
EC chairman Abdul Ghani Salleh said during a press conference after nominations closed that all the seats in the parliament and the three state assemblies of Pahang, Perak and Perlis will be contested.
According to the EC website, Pakatan Harapan (PH) will be fielding 206 candidates, Barisan Nasional (BN) 178 candidates, Perikatan Nasional (PN) 149 candidates and Parti Pejuang Tanah Air (Pejuang) 116 candidates.
As for the parties based in East Malaysia, Parti Warisan Sabah (Warisan) will be fielding 52 candidates and Gabungan Parti Sarawak (GPS) will contest in 31 seats. 
Parti Islam Se-Malaysia (PAS), which is part of PN, will contest 22 seats using its own logo.  
There are 108 independent candidates contesting the election.
Mr Abdul Ghani said that the Batu seat in Kuala Lumpur will have the most number of candidates, with 10 people vying for the seat.   
He also said that four nomination papers for the parliamentary seats were rejected. Mr Abdul Ghani, however, did not give any other details. He said that more information would be provided later.
More than 21 million eligible voters will cast their ballots in GE15 to elect 222 new members of the Lower House.
Polling Day has been fixed on Nov 19 with early voting on Nov 15.
On Oct 10, caretaker prime minister Ismail Sabri Yaakob announced that parliament has been dissolved, paving the way for the elections.
Perak, Pahang, and Perlis also dissolved their assemblies so that the state elections could be held simultaneously with the federal elections.
Six other states – three under PH and PAS – decided not to dissolve their assemblies for now.
The three states under PH are Selangor, Negeri Sembilan and Penang while the states under PAS rule are Kelantan, Terengganu and Kedah.
The state assemblies of Sabah, Sarawak, Johor and Melaka are out of the equation as polls were held recently.
TEAR GAS FIRED AT SABAH NOMINATION CENTRE
Earlier at the Tenom nomination centre in Sabah, Malaysian media reported that anti-riot personnel were forced to fire tear gas after commotion caused by a rowdy group of supporters.
Commissioner Hazani Ghazali of the police's Internal Security and Public Order Department said tear gas was fired to disperse the crowd.
He told The Star that the situation has been brought under control and no reports of injury were received so far.
The Star also reported that the EC had rejected the nomination papers of Parti Kesejahteraan Demokratik Masyarakat (KDM) president Peter Anthony.
The EC had rejected his nomination papers based on a forgery conviction and sentence in May this year.
The KDM leader was the former Sabah infrastructure development minister and former Parti Warisan vice president.
He left Warisan in Dec 2021, saying that he would be starting a new party that would be friendly to the Gabungan Rakyat Sabah-led state government.