Tight race expected at Malaysia's general election, with no likely clear winner: Observers
Observers are expecting an intense contest for the crucial Malay votes in rural and urban seats, as this is likely to be decisive in determining who forms the next government.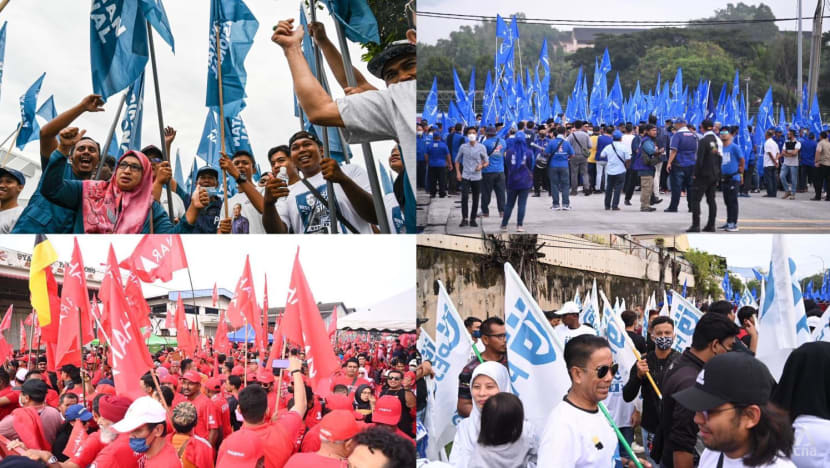 SINGAPORE: Malaysia's 15th General Election is expected to be a closely fought contest, with some observers saying that there will likely be no clear winner after the Nov 19 vote. 
The two-week campaigning period for GE15 kicked off on Saturday (Nov 5). 
Three main coalitions – Barisan Nasional (BN), Pakatan Harapan (PH) and Perikatan Nasional (PN) – are looking to take the biggest share of the federal seats available to form the next government. The Gerakan Tanah Air (GTA) coalition led by former Prime Minister Mahathir Mohamad is also in the race.
Dr Johan Saravanamuttu, adjunct senior fellow at the S Rajaratnam School of International Studies, said it is going to be interesting from the perspective of multi-cornered fights in a fragmented political landscape. 
"This is probably the first election where we see such an array of contestants coming from three main coalitions and, on top of that, you also have independent groups," he added. 
"So, it is a very interesting political scene, which is unprecedented in Malaysia. We are waiting to see the fireworks."
THE ALL-IMPORTANT MALAY VOTE
Parties had to scramble to prepare for the general election, which was not due until September 2023, but was called when caretaker Prime Minister Ismail Sabri Yaakob dissolved Parliament on Oct 10.  
Malaysia has a total of 222 parliamentary seats up for grabs. A minimum of 112 seats is needed to clinch a simple majority and form a new government.
Observers are expecting an intense contest for the crucial Malay votes in rural and urban seats, as this is likely to be decisive in determining who forms the next government.
Nearly 60 per cent of the 222 parliamentary seats have Malay-Muslims as their majority demographic.
Dr Saravanamuttu said the battles in some areas will be more intense and there are concerns that the ethic Malay vote will be split with the multi-cornered contests. 
For the urban areas, PH will have an upper hand compared to PN and BN, said Dr Lau Zhe Wei, assistant professor at the International Islamic University Malaysia's Department of Political Science. 
But for the rural areas, "it is the reverse", he added, with BN having stronger support there. 
WILL ISMAIL SABRI CONTINUE AS PRIME MINISTER IF BN WINS? 
Prime Minister and UMNO vice-president Ismail Sabri will be challenged by PN's Asmawi Harun and PH's Abas Awang in a three-cornered battle for the Bera parliamentary seat in Pahang. 
UMNO has picked Mr Ismail Sabri as its candidate for prime minister in GE15, but some analysts are not sure if he will continue in that role should the ruling BN coalition win. 
UMNO emphasises "a lot on party hierarchy", said Dr Lau, adding that Umno president Ahmad Zahid Hamidi and deputy president Mohamad Hasan are ahead of Mr Ismail Sabri in the party. 
"According to UMNO's convention and practice, I do not see how the number three can continue to be the prime minister," he added. "So in this coming election, although they promised (Mr Ismail Sabri) to be the prime minister candidate, I do not think this will be the way. 
"Who is going to be the prime minister, in my opinion, depends on how many seats BN manages to win."
Dr Saravanamuttu agreed that a major issue within the BN is who will actually lead when the dust settles. 
If Mr Ismail Sabri performs well and wins big in Bera, which he won only by a mere 2,300 or so votes at GE14, "I think it will show that he has that support," he said. 
"And there is Ahmad Zahid, who has actually not stated that he wants to be the PM and is suggesting that Ismail Sabri will be the one leading … and therefore will be PM should BN win."
Former Deputy Prime Minister Ahmad Zahid, who is up against massive corruption charges, will defend his parliamentary seat in Bagan Datuk in Perak.
"If he doesn't do well, even if he is not defeated, it could be seen as a sign that Ismail Sabri will be the one leading the Barisan Nasional," said Dr Saravanamuttu.
STIFF COMPETITION FROM RIVAL CAMPS
Meanwhile, Malaysia's opposition leader Anwar Ibrahim, the PH's prime minister candidate, will face three rivals in the hot seat of Tambun in Perak. 
The PH chairman and Parti Keadilan Rakyat (PKR) president is up against Parti Pribumi Bersatu Malaysia (Bersatu) deputy president Ahmad Faizal Azumu, Tambun's UMNO division chief Aminuddin Hanafiah and Abdul Rahim Tahir of GTA.
Mr Anwar reportedly had said that he would pick areas held by "traitors" to send a message that treachery in politics is not acceptable.
In 2020, the PH administration collapsed after Bersatu withdrew from PH and a handful of PKR lawmakers quit the party in the "Sheraton Move".
Dr Saravanamuttu believes it should be easy for Mr Anwar to win the Tambun seat in the four-cornered fight, said to be an important contest in PH's plans to retake Perak. 
Former Prime Minister and long-time Pagoh MP Muhyiddin Yassin, who is the PN chairman and Bersatu president, will face a fierce three-cornered fight to retain that seat in Johor. He will be up against Umno Supreme Council member Razali Ibrahim and PH's Iskandar Shah.
In Johor alone, 26 parliamentary seats are up for grabs, with BN looking to win big in the frontline state. But analysts are unsure if Johoreans would turn up to vote at the Nov 19 polls.
At the earlier Johor state election in March, about 50 per cent of eligible voters came out to vote, one of the lowest voter turnouts in history. This led to a two-thirds majority win by BN.
But PN could pull a surprise there at the federal election. 
"They were second in terms of the popular votes that they managed together (at the state election), but they didn't reach that critical mass that was necessary for them to win a large number of seats," said Dr Saravanamuttu.
Elsewhere, Dr Mahathir is in a five-cornered contest to defend his Langkawi parliamentary seat. 
But his GTA coalition has no clear strategy going into this election, said Dr Lau. "They are not confident they will win to form the federal government at all. 
"Even to win seats for this general election, it is quite problematic for them. So it is not surprising at all if they do not have any prime minister candidate."