'I'm here to serve': Malaysia's Anwar Ibrahim seeks voters' support in Perak after GE15 nomination
IPOH, Perak: The leader of Malaysia's Pakatan Harapan (PH) coalition Anwar Ibrahim responded on Saturday (Nov 5) to a claim that he is an outsider being parachuted into Perak for the upcoming general election.
"I'm Malaysian. I'm a Perakian for 9 years. I'm here to serve," said the 75-year-old politician and prime ministerial candidate from PH.
Mr Anwar spoke to the media at the nomination centre for the Tambun parliamentary constituency after his candidacy was approved by the election commission. 
Three other contenders from different coalitions have also thrown their hats in the ring for the Tambun seat – the incumbent Ahmad Faizal Azumu from Perikatan Nasional, Aminuddin Hanafiah from Barisan Nasional and Abdul Rahim from Pejuang.
After the nomination, Mr Anwar said he was confident of a win in the Nov 19 polls and that local feedback has been promising so far. 
"People were friendly. They were supportive. They were prepared to listen," he said, referring to his Friday visits to various communities in Perak. 
"Things seem to be quite orderly and I am quite optimistic with the outcome."
BORN IN PENANG
Born in Penang, Mr Anwar's candidacy in neighbouring Perak has been criticised. But the veteran politician argued he is also a Malaysian and has spent nine years in the state.
As the prime ministerial candidate for Pakatan Harapan, he said he could attract more support from voters in Perak.
"That has been my appeal," Mr Anwar said on Saturday. 
"I am here to lead the Pakatan Harapan campaign and we are here to offer an alternative because of the failure of the present policies - particularly the economic policies - and of course, the social tension within communities. So, I think, I believe - God willing, inshallah - that may give an added advantage to us."
Before leaving the nomination centre, the PH chairman vowed his coalition would offer voters new alternatives to existing policies and that its government will be different from previous ones.
"Unlike Perikatan Nasional or Barisan Nasional, it's not about doing the same sort of activities, programmes or policies. Ours is a departure and I think it is important for people to then digest and give us the support," Mr Anwar said.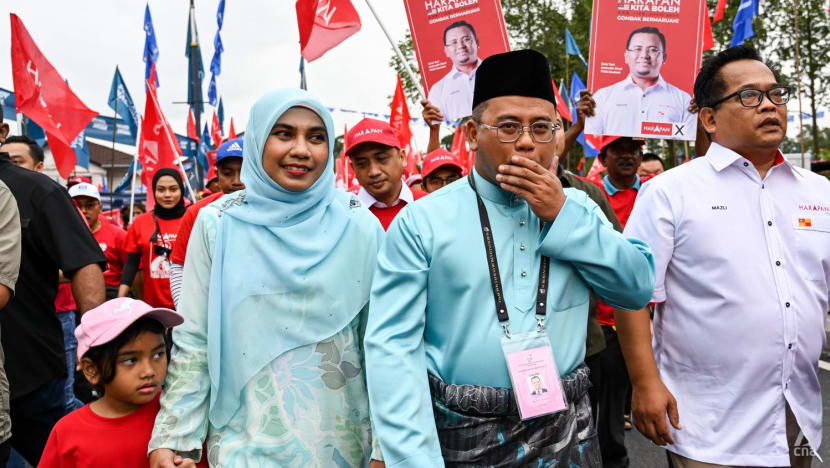 SELANGOR CHIEF MINISTER SAYS HE IS NOT IN AZMIN ALI'S SHADOW
Over in Gombak, Selangor, PH's candidate Amirudin Shari said that he hoped to defend the coalition's mandate previously given by the people.
"There is a different challenge now compared to the years before. We will ensure that all our strategies are implemented," the state's chief minister told reporters.
Gombak has previously been regarded as a PH stronghold. In GE14, caretaker senior minister Azmin Ali won the seat under the PH banner but this time, he is contesting under Perikatan Nasional. 
Mr Amirudin said that PKR has a good chance of winning the five-cornered fight. 
Mr Amirudin pointed out that he was not new to the area and that after Mr Azmin left PH two years ago, he handled the constituency on behalf of the party.
"There is definitely a challenge. Our opponents are part of the federal government. But I believe in the core supporters and the people of Gombak," he said.
When asked if he was in the shadow of Mr Azmin as a protégé, he replied that it was just an opinion."If I was in his shadow, I would have followed him (out of PKR)," he said.