Perikatan Nasional ready to offer clean, stable government: Muhyiddin as Malaysia GE15 campaigning begins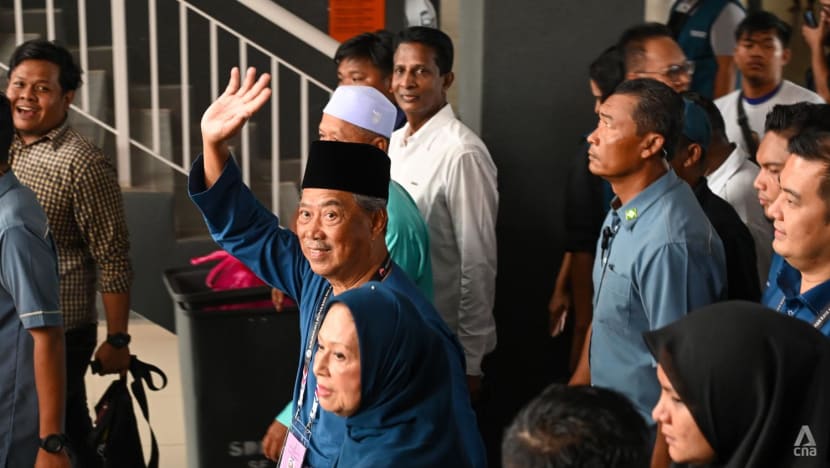 PAGOH, Johor: Perikatan Nasional (PN) is ready to offer Malaysians a clean and stable government if elected by the people, said coalition chairman and former prime minister Muhyiddin Yassin. 
Speaking to reporters after his nomination as candidate for the Pagoh parliamentary seat was confirmed on Saturday (Nov 5), Mr Muhyiddin said: "Pagoh has been synonymous with me for almost 40 years. Hopefully on Nov 19, I will be given a mandate to be MP for Pagoh.
"What's important is that PN candidates across the country will also be successful in submitting their nominations. We are ready to offer the people a government that is good, attentive, clean and stable," added the 75-year-old politician. 
Mr Muhyiddin's call for a government that is corruption-free with a proven track record is in line with PN's slogan for the 15th General Election (GE15): "clean and stable".
He also called on the coalition's grassroots across the country to urge the people to come out in droves to vote on Polling Day. 
"Whatever the situation is, we hope that the voter turnout is high, and the people cast their ballots," said Mr Muhyiddin. 
"Hopefully they will make a considered decision and pick a party that is responsible and understands the issues faced by the people. This is what PN promises to do," he added. 
In 2018, Mr Muhyiddin contested as Parti Pribumi Bersatu Malaysia (Bersatu) candidate under the Pakatan Harapan (PH) banner. 
He clinched the seat with around 7,000 vote majority. 
Mr Muhyiddin has held the Pagoh seat since 1995, winning in all 6 of the last General Election contests. 
For the upcoming polls, Mr Muhyiddin will be defending his seat against Barisan Nasional veteran politician Razali Ibrahim and PH's Iskandar Shah Abd Rahman. 
Mr Razali, who is an United Malays National Organisation (UMNO) supreme council member, was previously a three-term member of parliament for Muar, Johor. 
He served as deputy minister for youth and sports and deputy minister in the Prime Minister's Department. 
He lost his seat in 2018 to Syed Saddiq Abdul Rahman by around 7,000 votes. Syed Saddiq, who was Bersatu's youth chief then, was contesting as PH candidate. 
During a PN event last Tuesday, Mr Muhyiddin confirmed that the coalition's candidates will be fielded in 169 out of the total 222 federal seats available.
PN will also be launching its manifesto for GE15 on Sunday. 
Commenting on this after his nomination, Mr Muhyiddin said: "I will outline what the manifesto entails tomorrow. For us, it's not just promises, but also how we implement them. 
The manifesto encompasses the economy, social policies, education, youth, women. Hopefully it will be a good manifesto for all Malaysians," he added. 
FIVE-CORNER FIGHT IN GOMBAK 
Over in Gombak, Selangor, caretaker senior minister and PN information chief Azmin Ali will be defending his seat for the fourth time in a row in a five cornered fight, which includes the state's chief minister Amirudin Shari of PH. 
Also contesting are BN's Megat Zulkarnain Omardin, Gerakan Tanah Air's Aziz Jamaludin Tahir and independent candidate Zulkifli Ahmad.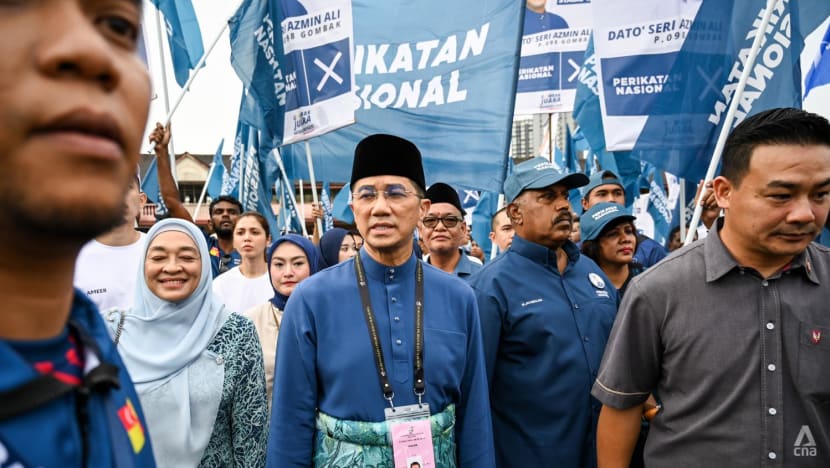 Speaking to reporters after filing his nomination, Mr Azmin said that he was confident of beating his opponents. 
"The voters are very mature. They want to see whether the candidate or incumbent has served the constituency and its people," he said. 
He believes that he has done his best for the development of the constituency and that the people of Gombak would vote for him.
"I have to continue working hard and can't take it easy because the voters are very mature," he said.
In 2018, Mr Azmin, who contesting as PH candidate, won the Gombak seat with a more than 48,000 vote majority against a Parti Islam Se-Malaysia (PAS) candidate. 
He has been contesting in Gombak for the last three terms under the PH banner. 
More than 21 million people will cast their ballots in Malaysia's GE15 to elect 222 new members of the Lower House of Parliament. 
Polling Day will be on Nov 19 with early voting on Nov 15.