Malaysia election: Anwar's Parti Keadilan Rakyat unveils 72 candidates
Among the high profile candidates include former deputy prime minister Wan Azizah Wan Ismail who will switch base to contest in Bandar Tun Razak, and Selangor chief minister Amirudin Shari who will stand in Gombak.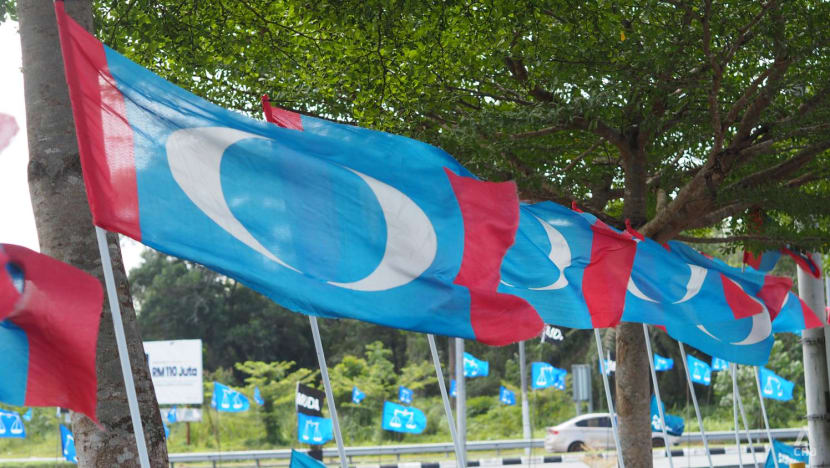 KUALA LUMPUR: Parti Keadilan Rakyat (PKR) on Friday (Oct 28) officially announced a total of 72 candidates for the upcoming 15th General Election (GE15).
At a PKR event in Ampang, the party's deputy president Rafizi Ramli said Mr Anwar Ibrahim has taken a big risk by contesting in Tambun, Perak as the seat was "not safe".
"Before we make a decision, we check first, we look at voter support and we only announce after we get confirmation. 
"After gauging all voter data and after we confirmed that he will be contesting, and even if we went to vote today, Anwar is leading in Tambun, against candidates from PN (Perikatan Nasional) and BN (Barisan Nasional)," he said. 
Meanwhile, Mr Anwar said that many good leaders who contributed to PKR had to be left out this time round. "We can't maintain the same people because we want reforms," said the party president. 
Mr Rafizi will stand in Pandan, Selangor. He was the former member of parliament for Pandan from 2013 to 2018. 
Former deputy prime minister Wan Azizah Wan Ismail, who is Mr Anwar's wife, will switch base from Pandan to contest in Bandar Tun Razak in Kuala Lumpur.
Selangor chief minister Amirudin Shari will stand in Gombak. This means that he will campaign against Mr Azmin Ali, the former PKR vice president who is now with Parti Pribumi Bersatu Malaysia. Mr Azmin is said to be one of the key architects of the "Sheraton Move" which led to the collapse of the Pakatan Harapan administration in 2020.
Negeri Sembilan chief minister Aminuddin Harun will be fielded in Port Dickson. The seat in Negeri Sembilan state was held by Mr Anwar before parliament was dissolved.  
PKR secretary-general Saifuddin Nasution Ismail will defend his seat in Kulim Bandar Baharu, Kedah, while party vice president Nurul Izzah Anwar will also defend her seat in Permatang Pauh, Penang. The latter is Mr Anwar's daughter.
PKR's information chief Fahmi Fadzil will defend his seat in the federal constituency of Lembah Pantai, Kuala Lumpur. 
Former deputy minister Shamsul Iskandar will switch base from Hang Tuah Jaya, Melaka to contest in Bagan Datuk, Perak. He will be campaigning against United Malays National Organisation (UMNO) president Ahmad Zahid Hamidi. 
On Wednesday, PKR unveiled the first batch of seven candidates who will be fielded by the party. 
Several candidates are professionals who are making their political debut in the federal polls. 
They included religious educator Nik Omar who is the son of the late Parti Islam Se-Malaysia's (PAS) spiritual leader Nik Abdul Aziz Nik Mat (contesting in Pasir Salak, Perak) and spinal medical expert Noraishah Mydin Haji Abdul Aziz who is with Universiti Malaya (contesting in Putrajaya).
When explaining how PKR selected the candidates, Mr Rafizi said on Wednesday that the party wanted to address the wishes of the electorate to see fresh faces as well as professionals, rather than "full-time politicians". 
"Over the last two years, it was very obvious that the issue that will determine the outcome of this election is the public's cynicism towards politicians and political parties. That's why increasingly you see more voters feel that they will no longer be relying exclusively on political parties but will also put more weightage on the ability and the freshness of the candidates," said Mr Rafizi.
Last Thursday, the Election Commission (EC) announced that Malaysia would hold GE15 on Nov 19. Nomination Day will be on Nov 5, while early voting is set to be held on Nov 15.
There are 222 seats in the Lower House.
More than 21 million people will be eligible to cast their votes during the elections which are estimated to cost RM1.01 billion (US$213 million).