'Rebuilding not going to be easy': Malaysia's recent floods caused extensive damage and economic losses
KUALA LUMPUR: When Muhamed Khairi Ismail tried to start one of his sewing machines after they were submerged in flood waters for five days, it caught fire. 
His small tailor shop in Taman Sri Muda, Shah Alam, was devastated by the floods which happened in December. Four other machines had also malfunctioned, and he was hoping that the two remaining ones could be salvaged. 
For the moment, the only thing he, his wife and workers could do was to disassemble the parts and use a hairdryer to dry them thoroughly.
"If I can't trade them in, I will have to throw them away," the 51-year-old tailor told CNA outside his shop where he has been operating for about 10 years, while oiling the machines. 
In the serious floods that ravaged many parts of Peninsular Malaysia last month as a result of the monsoon season, many businesses like Muhamed Khairi's suffered huge unprecedented losses and damage. 
Besides his machines, the threads and his customers' clothes were mostly destroyed as well. Most of his customers were factory workers who sent their uniforms to him to be altered.
While a majority of his customers understood his predicament, there were those who have asked him to pay for their damaged clothes.
Muhamed Khairi estimated the losses from his business to be about RM15,000 (US$3,570), which is not a small amount for him.
To make matters worse, his house, which is just across the road from his shop, was also flooded. One of his cars was fully submerged in flood waters. 
Despite the losses, Muhamed Khairi is thankful that he is still alive. When the floods hit, he was away at his hometown in Bagan Datuk, Perak. 
His next-door neighbour, an elderly man, was found dead after the flood waters subsided.
"This is a test from God and I have to accept it," said Muhamed Khairi, who has two adult children. 
In Taman Sri Muda, located about 25km from Kuala Lumpur, most shops were still closed on Jan 7, with some cleaning up and under renovation to start anew.
Supermarkets, grocery shops, pharmacies, clinics, dentists, salons, bakeries and telecommunications shops were all affected, and only a few had started operating again, after disposing of the damaged goods and bringing in new stock for sale.
Some estimated that the losses caused by the "once in 100 years" floods could run into billions of ringgit.
Malaysia's Minister in the Prime Minister's Department (Economy) Mustapa Mohamed told CNA that they were hopeful of getting a ballpark number on the losses sometime this week. 
DOUBLE WHAMMY OF COVID-19 AND FLOODS
The Malaysian Employers Federation (MEF) said that most businesses were still trying to recover from the long lockdown due to COVID-19, and the floods had caused further losses. 
"The floods in the Klang Valley were seen to be more serious and would have greater implications to the economy," MEF president Syed Hussain Syed Husman told CNA.
Dr Syed Hussain said that losses sustained by businesses and industries included damage to shops and trading items, warehouses and goods stored, as well as factories, equipment and machines.
"Many businesses suffered severe damage to vehicles, machinery, equipment and stock. There are also health costs and loss of business due to loss of production time," he said.
He said that the planned 2022 growth rate will be impacted, and a quick recovery cannot be expected.
"Rebuilding and restarting will take time. It is not going to be easy as the movement control orders (MCO) and lockdowns have put many companies out of business. Those that survived the lockdowns due to COVID-19 would not be able to survive if hit by these floods," he said.
SME Association of Malaysia president Ding Hong Sing told CNA that many micro businesses are in trouble as their machines are unable to function.
He said many such businesses are located in Hulu Langat, Shah Alam and Klang.
"They are unable to run but still have to pay their overheads such as loans, salaries and utility bills. They don't have any cash flow and urgently need help from the government," he said, estimating that at least 10,000 such businesses could have been affected by the floods.
"For many, even RM100,000 wouldn't be of much help," said Mr Ding, adding that he foresaw many businesses to only restart operations in a few months.  
Mohamed Khairi, the tailor, for one said that he would have to start from zero but was not sure when he would be able to reopen.
He hoped that his supplier would accept staggered payments for new machines but said that the supplier's shop - also located in Taman Muda - was damaged as well. 
"I might have to use up all my savings to buy new machines, but there is no choice. I have to carry on," said Mohamed Khairi.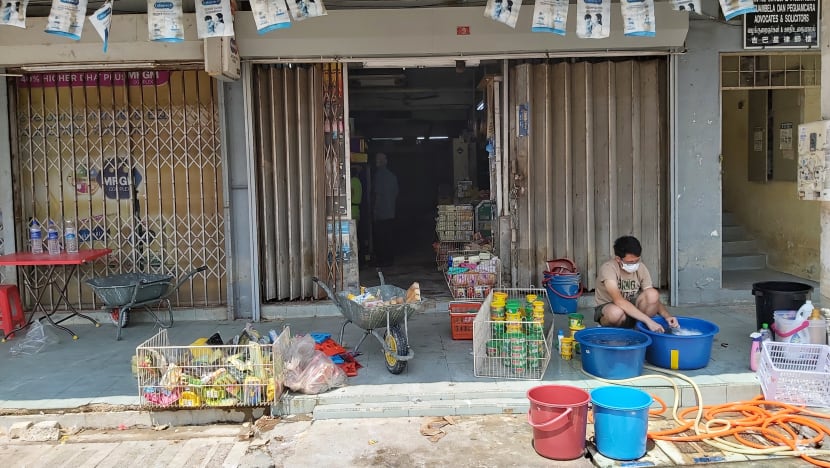 Tommy Ng, the owner of a store in Taman Sri Muda selling groceries and Chinese medicines, among other things, estimated his losses to be at least RM400,000. He has not factored in the cost to renovate his shop. 
Most of his goods have been destroyed, and he was selling salvageable items such as dishwashing liquid for half the price.
His store was also the scene of looting, with people seen carting away branded liquor. Ng said he lost RM20,000 in cash to looters.
His shop was operating minimally while cleaning was underway, the exterior strewn with rubbish. Just across the road next to the Taman Sri Muda Mosque, used cars with open bonnets, doors and boots were left under the afternoon sun, while some cars were being towed away. 
"It took more than 20 years to build up the business, but within a few hours everything was gone. It will take time to recover," said Ng, who was unsure when he would fully reopen his shop.  
MANUFACTURERS NOT SPARED
Federation of Malaysian Manufacturers (FMM) president Soh Thian Lai said the floods have a very big impact given the concentration of industries in areas such as Shah Alam and Klang in Selangor as well as in Pahang and Perak. 
He said that based on a quick survey conducted by them from Dec 22 to 24, a total of 100 companies responded that they were badly affected by the floods, with estimated damages amounting to RM195 million.
"The floods have led to substantial damages to property, other assets and products as well as disruption to production and supply chain operations. In addition, there were significant productivity losses as many workers were not able to get to work given that many of the main highways had to be closed to traffic or their own homes were hit by the floods.
"We foresee those losses will be more as companies are still assessing their exact damages to assets as well as losses due to disruptions in operations to domestic and export sales," said Soh.
He said that besides the requirement to clean, disinfect and dry every flood-contaminated area, companies will need to repair or replace damaged machinery and equipment that cannot be salvaged.
He also called for the government to extend loan repayment moratoriums for another three months, and provide some form of one-to-one grants or double tax deduction on expenditure for the repair or replacement of machinery as well as the repair of property.
One of the affected manufacturers in Shah Alam, Dutch company BE Semiconductor, said its assembly floor for die attach systems was flooded and that the final assembly line of approximately 60 die attach systems with a value of approximately €25 million (US$28.3 million) was halted temporarily.
It said in a press release on Dec 20 last year that delays because of the flooding could cause its anticipated revenue for the fourth quarter of 2021 to decline by approximately 15 to 20 per cent, compared to the third quarter of the year.
The company said that first estimates of one-time costs associated with materials and labour necessary to repair or reproduce any systems affected were in the range of €4 million and €6 million, while estimated costs to repair the affected building and production related equipment were not expected to exceed €2 million.
GDP COULD BE AFFECTED: ECONOMIST 
Deputy Agriculture and Food Industry Minister I Ahmad Hamzah said the national agrofood sector suffered losses of around RM67.72 million, as 5,000 livestock breeders and farmers were affected by the recent flooding.
He was quoted by Bernama as saying that the agrofood sector in Melaka, for instance, has over 275 livestock breeders and farmers and they suffered losses of around RM2.83 million.
President of Malaysia Food Farmers Association (Youth Chapter) Francis Hong Sun Ho appealed to the government to assist its affected members, especially those in Pahang, Selangor and Johor.  
"We can't estimate the amount lost now, but some have been hit really hard. We hope the government can help compensate them," he told CNA. 
Sunway University economics professor Yeah Kim Leng said there would be a short-term boost for economic purchases and spending for the replacement and repairs of damaged items, but this would come at the expense of savings or more borrowings.
He also said that the areas hit by floods would see their property values eroded in the long term.
Associate Professor Saidatulakmal Mohd of Universiti Sains Malaysia's School of Social Sciences said there would be a productivity loss as many people would be unable to go to work when businesses remained closed. 
"The disruption to the big value supply chain will cause losses to the GDP (gross domestic product) and labour market. It will have a big impact, if there is no correct intervention. 
"This is coupled with the impact from COVID-19. Just as they are about to recover, the floods hit," she said.
She added said that individual families hit by the floods would have to deal with multiple losses, including losing items such as laptops and tablets that are used for schooling.  
"I can't imagine their struggles. The B40 (bottom 40 per cent of households) and M40 (middle 40 per cent of households) were already struggling before the floods hit them," she said.