Malaysia's 'once in 100 years' flood exposes reality of climate change, better disaster planning needed: Experts
KUALA LUMPUR: Floods that resulted from torrential rain in many states of Peninsular Malaysia over the weekend exposed the reality of extreme weather patterns caused by climate change, according to environmental experts interviewed by CNA. 
With such events expected to happen more frequently in the future, experts also urged the authorities to do more in terms of disaster planning and promoting sustainable development.
Environmentalist Renard Siew said that the floods that hit several states, including Selangor, Negeri Sembilan, Kelantan, Pahang, Melaka and Terengganu last Friday (Dec 17) and Saturday is a clear example of an unpredictable weather event as a result of high carbon emissions. 
Dr Siew, who is the climate change advisor to the Centre for Governance and Political Studies (Cent-GPS), a Malaysia-based behavioral and social science research firm, explained: "When we pump out carbon dioxide to the atmosphere, what tends to happens is that this creates a global seeping effect where greenhouse gases trap heat and under warmer conditions, our atmosphere is able to hold more vapour and moisture."
"When you have an accumulation effect, the longer-term impact of this is that you have sudden downpour of rain in certain localised areas, and that is what you have seen in the floods over Malaysia in the last few days," he added.
Dr Siew said that the northeast monsoon, which happens in Malaysia between November and March, typically impacts the east coast of the peninsula. However, he noted that this year's floods also affected areas in the centre of the peninsula as well as the west coast. 
"It's becoming harder for climatologists to predict the weather with a higher level of accuracy due to the climate change phenomenon," said Dr Siew. 
"The (Malaysian) government has said that the flood is a once in a hundred years event. But to be honest, over the years we've seen so many of these extreme weather events happening across China, Germany and New York," he added. 
This sentiment was echoed by environment lecturer at Universiti Putra Malaysia Haliza Abdul Rahman, who noted that there had been an increase in flood events recently. 
She noted how in August, sudden flash floods at the foothills of Gunung Jerai in Yan, Kedah claimed six lives.
She added that In July and August, excessive rainfall recorded in other countries, among them being Henan province in China, Germany and Turkey led to massive floods and landslides, costing hundreds of lives and extensive damage to properties. 
"Climate change brings about extreme changes in weather patterns, in temperature and rainfall," said Assoc Prof Haliza.
"I'd say climate change is a major factor leading to the high rainfall over Friday and Saturday, resulting in the flood situation. The flood has been termed a once in a hundred years event. But perhaps, more such incidents will be recurring over the coming years."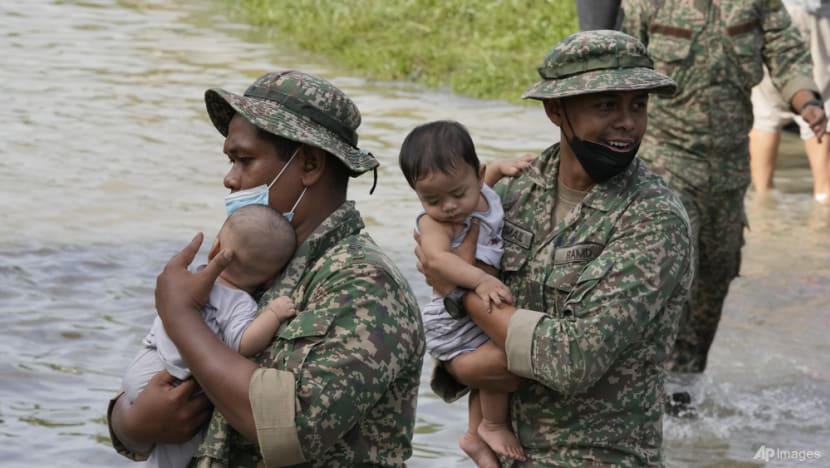 In a media conference on Sunday, Malaysia's Environment and Water Ministry (KASA) secretary-general Dr Zaini Ujang said that the torrential downpour which began on Friday and lasted more than 24 hours, was equivalent to the average rainfall for a month and is a "once in a hundred years" weather event. 
"The annual rainfall in Kuala Lumpur is 2,400mm and this means yesterday's rainfall has exceeded the average rainfall for a month, it is something beyond our expectations and only occurs once every hundred years," he said.
He also stressed that the direct cause of the event was monsoon flow factors and a low pressure weather system that reached the level of a tropical depression that formed in the South China Sea. 
He added that the phenomenon was initially detected by Malaysia's Meteorological Department on Dec 12. On Saturday, the weather system entered Pahang and hit the rest of the peninsula.
As of Monday evening, at least 10 people have been reportedly killed. 
GOVERNMENT URGED TO IMPROVE DISASTER PLANNING, SUSTAINABLE DEVELOPMENT
Meteorologist Dr Azizan Abu Samah of Universiti Malaya told CNA that the cause of the floods in Malaysia was the interaction between the low pressure weather system, the seasonal northeast monsoon and typhoon Rai which has ravaged the Philippines. 
"The three factors led to massive rainfall to initially hit the east coast, before moving inland to other areas of Peninsular Malaysia on Saturday," Dr Azizan added. 
He urged the government to improve its early warning systems so that major flood events in the future can be better handled. 
He noted that the authorities could have predicted the flood event from happening and should have done more. 
For instance, on Nov 17, the Selangor State Secretariat issued a warning notice that the state would face high rainfall in November and December, and urged relevant state agencies to prepare for this. 
"We need to improve our warning systems. You can't stop the weather but we have enough information to make good predictions, and with a good warning system, we can have a good response to such incidents," said Dr Azizan. 
"Disaster happens when you don't plan for it," he added.
On Sunday, Prime Minister Ismail Sabri Yaakob was quoted as saying by Malaysian media that the unexpected downpour in Selangor had caught federal and state authorities off guard. He also pledged to quickly resolve outstanding issues in food and aid delivery to those who were stranded. 
In terms of mitigating the effects of such major flood events due to climate change, Assoc Prof Haliza of Universiti Putra Malaysia stressed that Malaysia cannot do it alone. 
"Mitigating the effect of climate change is a global effort but Malaysia must step up its sustainable development efforts," she said.
She noted that the populous state of Selangor was badly hit by floods, and that the incident is a "good lesson" for state authorities to now focus on efforts to maintain forests, build sustainable buildings and nurture the public to adopt environmental ethics. 
"Perhaps encourage car-pooling, encourage locals to take public transport, all of this can reduce the amount of greenhouse gases in the atmosphere," said Assoc Prof Haliza.
Meanwhile, Dr Siew of Cent-GPS said Malaysia should use this incident as motivation to focus on cutting down emissions, stopping deforestation and creating a dialogue with the masses. 
"The government must enact a climate change act which will give an integrated approach, from the policy-level to our disaster response. It's also a way to integrate the role of society and NGOs in organising support for disaster response," he added. 
He said that the authorities should ensure that there is enough food and shelter for people who are displaced. 
"There needs to be a much more coordinated effort and we have to start reviewing our adaptation plan," said Dr Siew, who added that this would also reduce the impact to properties when flooding happens. 
"Such erratic weather patterns are more likely to happen and we have to start preparing ourselves for such events or events that are even worse," said Dr Siew. 
"More often than not, it's the marginalised communities - rural population, children, disabled, elderly, they are the ones suffering the most," he added.