'Relieved that we are all safe': Shah Alam residents tell of harrowing rescue after flood devastates Selangor
SHAH ALAM: As Mr Azwadi Awang, 35, and his neighbour placed four children from their families onto a small boat manned by a volunteer on Sunday (Dec 19) evening, they could only watch in horror as it capsized in front of their eyes.
Without thinking twice, they quickly jumped into the floodwaters of Taman Sri Muda, Shah Alam to save all the children, including a one-year-old baby.  
"My heart was in my mouth and I didn't know what to think except to jump in the water," he recounted to CNA when met at the township on Monday morning.
Fortunately, the children were safe. After a while, they managed to put the one-year-old baby and her aunt as well as another child back on the boat.
Altogether, 15 people from three families who were all neighbours were trying to seek refuge from the floodwaters in a house which was slightly higher than others in the neighbourhood.
On Monday, they were eventually rescued by the Fire and Rescue Department (Bomba) personnel who had been mobilised from Penang.  
"I am relieved that we are all safe, but I can't think of what lies ahead for us when we get home. Everything is lost," said Mr Azwadi.
The water engulfed the first floor and almost reached the second floor of his home. His three cars and three motorcycles were submerged in water.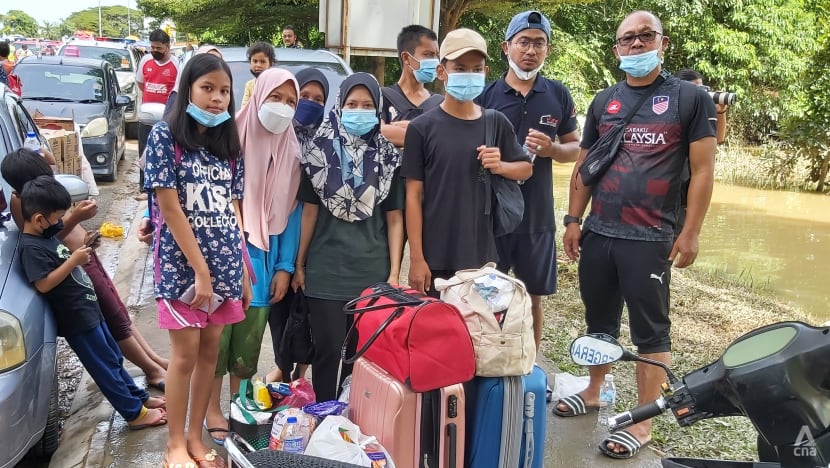 The township of Taman Sri Muda is among the worst affected areas following heavy downpours that pounded Peninsular Malaysia from last Friday until Saturday. The flooding has been described as a "once in a hundred years" event.
Many stranded residents had to wait until Monday before being rescued. Shah Alam police reportedly said on Monday that seven people have been found dead in Selangor state, including four in Taman Sri Muda.
As the water level slowly receded to waist level on Monday, some Taman Sri Muda residents opted to try to get out of the flood zone by themselves, as they could not wait any longer for help.
Some people were even seen holding on to tyres and other plastic items while evacuating from the flooded area.
On Monday, the authorities could be seen stepping up efforts to evacuate those stuck in their homes by boats.
Housing and Local Government Minister Reezal Merican Naina Merican said that a total of 321 personnel, including those from Bomba, police, army and related agencies had been mobilised to immediately evacuate flood victims in Taman Sri Muda.
He said the area, which has about 4,400 houses, was the main focus of rescue efforts and evacuation of flood victims.
"Rescue efforts are quite difficult and there are also homes where water is stagnant. However, efforts to distribute food are ongoing," Bernama quoted him as saying during a media conference.
Reporters were brought on a Malaysian Civil Defence Force truck to inspect the flooded area but the truck had to turn back after around 100m, as the waters were too high for it to pass through.
The bonnets of several vehicles were barely visible, after they were submerged by floodwaters that burst from the Klang River located next to the housing area.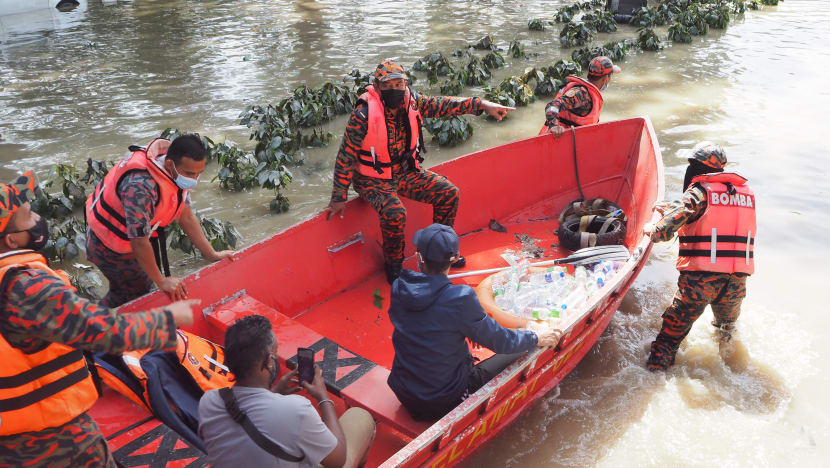 Another Taman Sri Muda resident who was rescued on Monday was Ms B Jayamani, 45.
Together with her mother, sister-in-law and a pet dog, the group was evacuated using a boat. Her brother, Mr B Tiyagu waded through the waters, holding another pet dog. 
Ms Jayamani said one of her pet dogs was left behind as it was afraid of water. 
Recounting the ordeal, she said the group did not have their own food for two days. However, their immediate neighbours cooked for them and gave them food through the windows on the first floor.
She said that besides the loss of their vehicles and electrical appliances, her younger brother's wedding clothes and invitation cards worth about RM5,000 (US$1,183) had been lost in the flood. He was supposed to get married in two months. 
"Everything is gone. I don't know how to build back," she said.
She said that there is an elderly lady living across from her who is believed to be still trapped at home.
SOME TRY TO RETURN
On Monday, some of those who were evacuated earlier tried to return to Taman Sri Muda, either to check on the damage or seek news about their loved ones.
Ms Irniyusnita Mat Deris, 39, was among those who returned to the neighbourhood after being evacuated. She was hoping to get news of her sister and the latter's child who is asthmatic. 
She and her husband had walked out of their home on Saturday evening when floodwaters were at their waist level.
Her 10-year-old son had just undergone circumcision a few days back. Her husband had carried him for four hours so that they could get to a safer place. 
Her sister and her child are currently at an evacuation centre in the area but she has lost contact with them.
"I don't care about my belongings, I am only worried about them," Ms Irniyusnita said, sobbing heavily.
A supervisor of a motorcycle shop Hasrena Aidil, 39, was hoping to check on the damage from the flooding. Her car at the workshop as well as about 87 motorbikes were submerged in water. 
Earlier, she and her colleagues had evacuated and sought refuge with another colleague who was living in a flat about 2km from their workplace.
She remembered having to tiptoe and raise her hands, so that her mobile phone would not get submerged.
She was rescued by volunteers on Sunday and tried to return to her workplace on Monday but was unable to do so.
"I'm just frustrated and disappointed that the authorities have been slow to act," she said.