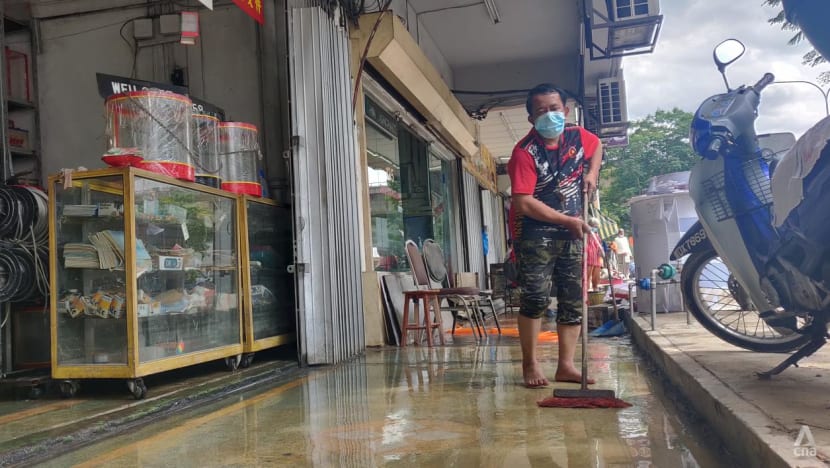 KUALA LUMPUR: Malaysian health authorities expect an increase in COVID-19 cases at various relief centres following the country's worst flooding in years, said Health Minister Khairy Jamaludin on Monday (Dec 20).
In a press conference in the parliament, Mr Khairy warned of the imminent rise in COVID-19 infections as the relief centres were considered high-risk areas when public health measures could not be implemented and complied with fully.
"During floods, priority is to save the flood victims and sometimes it cannot be helped, where  some things that should be done, like public health measures, cannot be implemented or complied with," said Mr Khairy as quoted by Bernama.
As of 11am on Monday, a total of 181 COVID-19 cases had been detected during screening by health authorities at various relief centres, the minister said.
Two states reported the highest cases – 117 in Selangor and 52 in Pahang.
Centres in Kelantan and Kuala Lumpur saw positive cases of between four and six, while one case each was reported in Negeri Sembilan and Melaka.
Mr Khairy said most of those affected were mostly asymptomatic or with mild symptoms, and all of them had been transferred to hospitals, quarantine and treatment centres or other designated facilities for COVID-19 cases.
A total of 206 flood victims had also been identified as close contacts of the COVID-19 positive cases and they had also been transferred to the designated relief centres and hospitals.
Mr Khairy said the health authorities should prepare for the possibility of an increase in COVID-19 cases.
He gave the assurance that the public health system had been set up to receive more patients due to the floods.
Health ministry officials deployed to the field would continue to screen the victims and isolate those found positive with COVID-19, said Mr Khairy, adding that medical supplies such as face masks and sanitisers would be also delivered to all relief centres.
Heavy downpours had pounded the west coast of Peninsular Malaysia beginning late Friday, resulting in floods in several states that displaced tens of thousands of people. 
At least ten people have been reportedly killed.
The number of flood victims in Selangor and Pahang continued to increase, with more than 61,000 people evacuated to relief centres, according to Bernama. 
In Selangor, over 32,000 evacuees have been placed in 162 relief centres as of 10am. 
The Social Welfare Department's InfoBencana application reported that 9,181 people were currently seeking shelter at 242 relief centres across Pahang, Bernama reported.
Other affected states were Perak, Negeri Sembilan, Kelantan, Terengganu and Melaka.
CLEAN-UP ONGOING IN DOWNTOWN KL
In Kuala Lumpur, massive clean-up was underway in the aftermath of the heavy floods. 
The pedestrian walkway along Jalan Sultan Azlan Shah was brown with dried mud, where furniture, equipment and various items had been left to dry in the sun.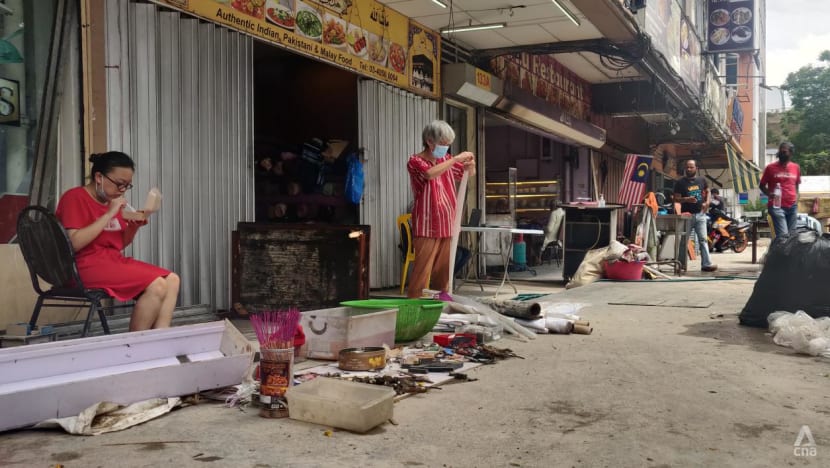 Shop proprietors were busy cleaning up and sweeping out brownish water from their premises onto the pavement.  
Further down the road, sanitisation workers hosed down the mud-caked pavement and shoved the mud into a pile. 
Mdm Tan Siak Neo, who runs a printing business, said her family had rushed to the shop on Sunday evening once the flood waters had receded to see what could be saved. 
"I think we have lost about RM30,000 (US$7,100) in terms of damage to the machinery and whatever printing stock we have," said Mdm Tan.
"But at least the water did not go higher, otherwise it would have caused more damage. That would really be a disaster," she added.
On its Facebook page, the  Kuala Lumpur City Hall (DBKL) stated it had dispatched teams to clean up the roads since Sunday. 
In a phone interview with Astro Awani on Sunday evening, Federal Territories Minister Shahidan Kassim said 18 locations in Kuala Lumpur were flooded, and many of these areas had reopened after flood waters receded. 
For areas hit by landslides and fallen trees, workers were moving to clear and remove the obstacles so as not to impede traffic, he said. 
Additional reporting by Vincent Tan.