'This has been the worst flood': Melaka flood victims spend first three days of 2022 at relief centre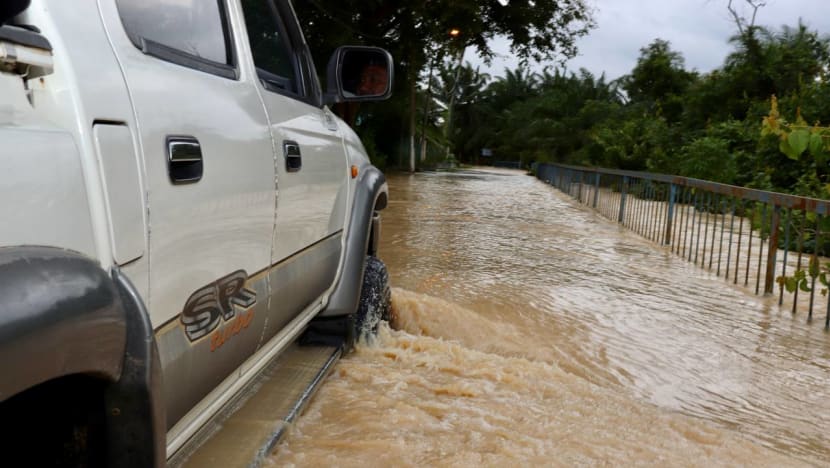 ALOR GAJAH, Melaka: Mr Muhamad Aifaa Asyraf, a resident of Gadek Dalam in Melaka's Alor Gajah district, was rudely awakened from his sleep in the wee hours of New Year's Day. 
His friend had called to tell him to evacuate as floods had hit the area. 
"When I got home at 1am, the water levels outside my house had not risen yet, then suddenly I was woken up by a call at 2.30am telling me the water levels were rising fast and I got very worried," the civil servant said. 
The fast-rising water levels also meant he could not hitch a ride out of the neighbourhood on the volunteers' pick-up trucks. 
"We had to ride out on a Civil Defence boat. Luckily all our valuable and necessary personal items were already packed, so we just grabbed those and left quickly," Mr Muhamad Aifaa told CNA when met at a community hall in Gadek.
The hall has been turned into a temporary evacuation centre for Mr Muhamad Aifaa and 46 other villagers who have been affected by floods in the Alor Gajah district. 
Operated since Jan 1, the hall is filled with orange tents provided by the National Disaster Management Agency and Social Welfare Department. 
A Social Welfare Department officer could be seen jotting down the affected villagers' details for aid distribution.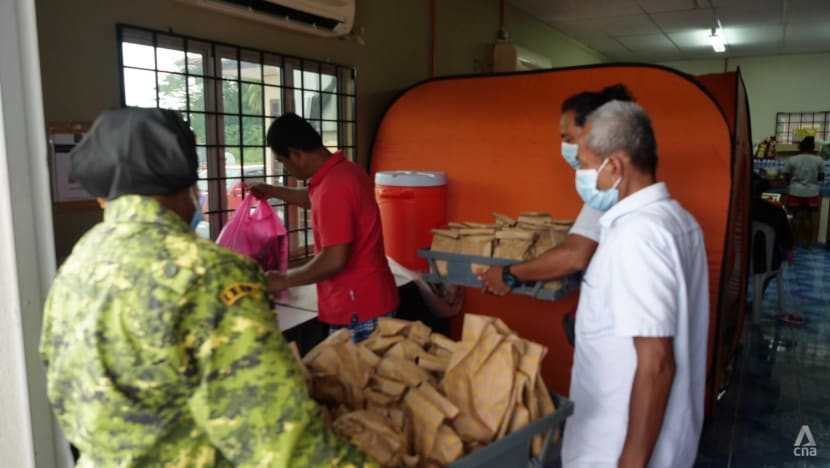 In Alor Gajah district alone, there are 10 such centres serving as temporary evacuation centres to house flood victims until the waters subside and it is safe for them to go home. 
Mr Hashim Budin, 82, said it had been raining since morning on Dec 31.
"Up until midnight, the water had not risen yet, and then at 1am, the flood waters suddenly started rushing in," he said.
"My wife and I had to wait for an hour until the Civil Defence Department personnel came to rescue us at 2am," he added.
Luckily, he added, they had packed their important documents and a few pieces of clothing beforehand.
As of Monday - three days after the neighbours were forced to leave home - they were still unable to return as waters had not subsided fully.  
Mr Hashim said he and his wife had no idea what had happened to their house, which is located right next to the river dam.
"This has been the worst flood so far, because usually we just stay at the temporary evacuation centre for a day, and then we go back. We have been staying here for three days now," he added.
Many parts of Peninsular Malaysia have been hit by floods caused by the monsoon season. Last month, more than 40 people lost their lives, with the majority of the fatalities happening in Selangor and Pahang. 
Prime Minister Ismail Sabri Yaajob announced on Dec 29 that the government would provide RM1.4 billion (US$335 million) in cash aid and other forms of relief for those affected by the severe floods. 
On Monday, the Department of Irrigation and Drainage advised residents in Melaka as well as four other states, namely Pahang, Selangor, Johor and Negeri Sembilan, to be on alert as the rivers in the states were still at danger levels, according to Bernama. 
The Meteorological Department (MetMalaysia) also issued a yellow level continuous rain warning for Melaka until Tuesday, along with Kemaman in Terengganu; Maran, Kuantan, Bera, Pekan in Pahang; and Kuala Pilah, Rembau, Jempol, Tampin in Negeri Sembilan. 
An orange alert for bad weather was issued for Rompin in Pahang and Mersing in Johor. 
The number of flood victims in Melaka increased to 2,555 people as of Monday afternoon, Bernama reported. 
Melaka Civil Defence Department director Cuthbert John Martin Quadra said all victims were from Alor Gajah, Melaka Tengah and Jasin.
FLOODS ARE REGULAR OCCURRENCE: VILLAGER
Mdm Suhaiti Ariffin, who has served as secretary for Kampung Gadek's village development and security committee for over 10 years, said floods were a regular occurrence.
"If the rain falls non-stop between two and four hours, it will definitely flood, more so because this place is a meeting point for the Melaka and Tampin rivers."
"There's a critical level indicator and if the waters hit that level, we get a siren alarm to warn everyone," she said. 
Mdm Suhaiti said the village's disaster sub-committee would start moving people out in vehicles before the floods cut off roads, and after that, they have to depend on boats from the Civil Defence Department and Fire and Rescue Department. 
Although villagers are used to this routine, she said, the village committee had been working on trying to eliminate or at least manage the flood problem, such as upgrading the river bunds and embankments.
"But this is also costly, so the government helps where it is able in raising the embankments. At least to slow down the flood waters."
Besides upgrading the embankments, the village community had also been working with the local government on raising the road levels, Mdm Suhaiti added.
Local volunteer Addy Zulkarnain Ismail, who has been living in Gadek for over 30 years, said it was now routine for him and his volunteer friends to drive their pick-up trucks to help evacuate flood victims every time the river water levels rise.
"It is pitiful, because once the waters go down, (the residents) have to come back and clean up. 
"We need to help repair or restore the river and drainage here, so that at least the river waters are more stable, and then we can eliminate or at least reduce the number of flood occurrences," he said.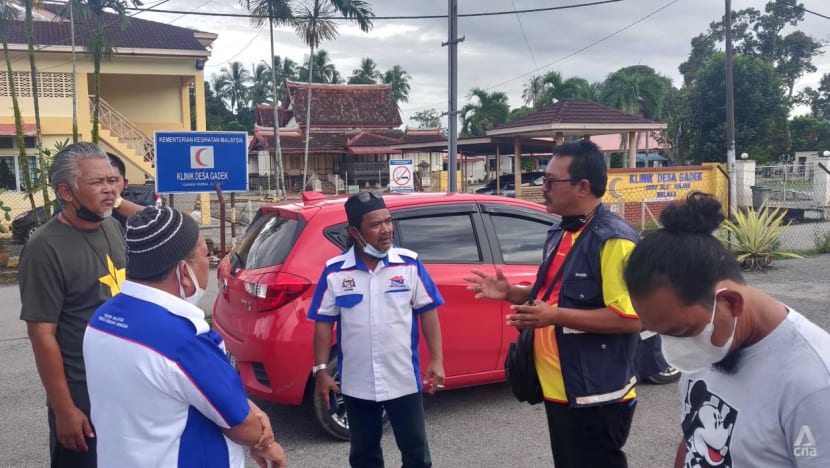 COMMITTEE TO DISCUSS FLOOD MANAGEMENT PLANS: PM ISMAIL SABRI
The Central Disaster Management Committee would convene as soon as the monsoon season is over to discuss short- and long-term flood management plans, said Mr Ismail Sabri. 
In a statement on Monday after chairing the post-flood management task force special meeting, the prime minister said the government planned to increase the number of sirens with voice warnings in risky locations to instruct residents to evacuate, among other suggestions. 
"Closed-circuit television cameras (will also be installed) in water level monitoring stations so that residents can get ready to relocate in case waters rise to dangerous levels," he said. 
Funds totalling RM50 million have been allocated to 32 local authorities to repair infrastructures, public amenities and others, Mr Ismail Sabri added. 
Thirty-two local authorities also received RM50 million to repair houses and build new houses.