Malaysia GE15: PH-BN alliance may be most representative, but don't expect stability, say analysts
A partnership between the PH and BN coalitions will be able to speak to the widest demographic in the country, but is unlikely to usher in the stability that voters are hoping for, said one analyst.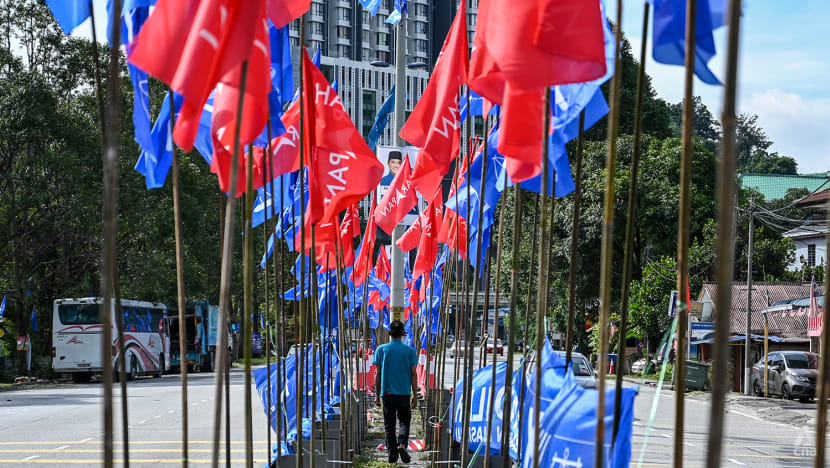 SINGAPORE: An alliance between the Pakatan Harapan (PH) and Barisan Nasional (BN) coalitions, alongside one or both of the Borneo states, may be the most representative outcome for Malaysia's 15th general election, said analysts.
However, whichever coalition takes the reins will likely not usher in the stability that Malaysians voters are hoping for, as "those days are behind us," said Mr Adib Zalkapli, director of consulting firm BowerGroupAsia.
PH is supported by many minority groups and urban areas in Malaysia, while BN, despite its dismal showing in this election, is traditionally supported by a significant swathe of the Malay rural heartlands.
A partnership between these two coalitions will be able to speak to the widest demographic in the country, Mr Adib told CNA's Asia Tonight on Monday (Nov 21).
"What could provide relative stability is PH plus BN, plus one or two east Malaysian coalitions – Sabah and Sarawak. I guess that would probably reflect most closely the demographic of the country," he said.
Both coalitions also have individuals seasoned in politics and governance, unlike the less experienced Perikatan Nasional (PN) coalition, which will help in the running of the country, Mr Ibrahim Suffian, programme director of independent pollster Merdeka Center, told CNA's Asia Now.
"Both parties share similar values in terms of a strong government with a continuous programme of social welfare. The differences, when you get down to it, are very minimal in terms of policies," he said, adding that politicians within both coalitions are generally pragmatic in their orientation.
BN HOLDS THE CARDS
BN, which has emerged as the unlikely kingmaker this election, appears to be in an advantageous position to choose who to helm Malaysian politics with for the next four to five years, with both PH and PN vying for its partnership.
Last Saturday's polls resulted in a hung parliament scenario, with PH in the lead with 81 seats and PN with 73 seats. Both coalitions are now scrambling for the support from other parties, including BN's 30 seats, to secure a simple majority to form the next government.
Analysts said BN will likely bargain for a bigger role in the cabinet despite its meager election winnings, as well as try to control the power dynamics in the coalition.
"BN may not just be demanding for cabinet positions, but they may also demand that some people are not given cabinet positions, such as the Democratic Action Party (DAP), " said Assistant Professor Walid Jumblatt Bin Abdullah from the Nanyang Technological University's school of social sciences.
Chinese-dominated DAP scored the second best results in the election as an individual party with 40 seats, making it the party with the most seats within PH.
Despite a PH-BN alliance being the optimal outcome, the partnership will not be stable as dominant parties within the coalitions differ on fundamental ideologies, said analysts. 
"(BN's biggest component party) UMNO (United Malays National Organisation) and DAP are against each other and enemies of each other for the longest time. The Malaysian Chinese Association has also expressed apprehension (about the potential partnership)," said Asst Prof Walid.
PH NEEDS BN FOR MALAY REPRESENTATION
Despite the potential issues, the bottom-line is that PH needs BN to "legitimise its administration", on the back of UMNO's influence and representation of the Malay community, said Mr Adib.
This alliance would create more stability, however shaky that may be, for the government to rule the entire term, he said.
PH will then less likely see a repeat of its previous stint in power that lasted just 22 months, which saw the party continuously fend off accusations and criticisms of undermining and under-representing the Malay-Muslim community, he added.
There are factors that sweeten the deal for BN if it chooses to work with PH as well – UMNO will be able to play the role of the main Malay representative of the new coalition.
In comparison, if BN forges an alliance with PN, UMNO will be the third and smallest in a coalition of three Malay parties.
"That would, in the long term, kill UMNO and not allow it to win back Malay constituencies that they lost to PN," said Mr Adib.
However, short-term gains for BN in a partnership with PN will likely be the potential of being offered senior cabinet positions due to a lack of talents in PN.
OUTLOOK BLEAK ON STABILITY
No matter which partnerships prevail, whichever coalition manages to clinch the numbers for a parliamentary majority and form the government will not give the Malaysian public the stability seen before the last election, observers said.
"We can forget about the stability that we saw before 2018, I think those days are behind us," said Mr Adib.
Even the anti-hopping law – where lawmakers who switch political parties will lose their seats – is unlikely to strengthen stability as it does not prevent an entire party from within a coalition to switch allegiance, said Asst Prof Walid.
Malaysia's politics is going through a transition starting with the demise of dominant political parties - namely BN and UMNO, which had presided over Malaysia for the past 60 years, said Mr Ibrahim.
"With the changing demographics and changing socio-economic (factors) in Malaysia, the outlook is no longer the same," he said.
"What we're approaching right now is fragmentation of political parties with so many people trying to represent the Malaysian public."
Mr Ibrahim said he foresees the political wrangling to continue for the next five to 10 years, until bickering parties merge, or polarising leaders retire, or when a popular figure emerges to capture the support of and unite the vast majority of the Malaysian public.
"Right now the country is still divided into different ethnic groups and different regional interests," he said.
"There needs to be a point in time in the future that emerges a political force that can cut across differences and represent people, then I think we might have stability."