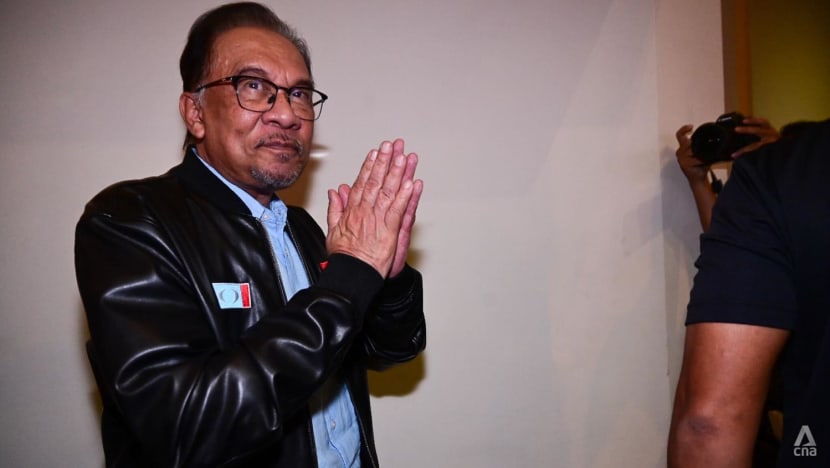 SINGAPORE: Anwar Ibrahim's Pakatan Harapan (PH) coalition will find it difficult to garner enough support to form the government, analysts said, after Malaysia's general election on Saturday (Nov 19) resulted in the country's first-ever hung parliament scenario.
The dealbreaker? Ideological differences between PH and other coalitions, with the Borneo bloc likely to back the rival Perikatan Nasional (PN) instead, said the observers on Sunday.
PH was the top performer in Saturday's electoral contest, clinching 81 seats with PN trailing with 73 seats. But neither coalition has the numbers for an outright majority of 112 seats in a 222-seat parliament.
This means both coalitions will now need to negotiate with potential partners to amass the numbers needed to form the next government.
One advantage PN has over PH is its experience in leading the government, said experts.
"PN of course has the advantage of forming and leading a similar coalition government in February 2020," said Adib Zalkapli, director of the BowerGroupAsia. "PN has the experience, and (coalition chairman) Muhyiddin Yassin was a prime minister for 18 months."
PH chairman Anwar Ibrahim said during a press conference early Sunday morning that his coalition has managed to secure a simple majority to form the government, and will submit documents to the king in the afternoon.
On Monday afternoon, the national palace announced that the deadline has been extended to 2pm on Tuesday.
However, analysts are doubtful of PH's claims.
"It will be very difficult for PH to find potential ruling coalition partners, because (these potential partners) have various objections against PH," Dr Oh Ei Sun, a senior fellow with the Singapore Institute of International Affairs, told CNA's Asia Now.
"We've been at this point before, where (Anwar's) almost gotten it, but he doesn't have it in the bag, and it is possible that it is not in the bag," said Dr Francis Hutchinson, senior fellow and coordinator from the ISEAS-Yusof Ishak Institute's Malaysia Studies Programme.
If both PH and PN form an alliance, they could achieve a super majority with more than two-thirds of the seats in parliament.
But the two have vowed not to work with each other.
This is likely due to a strong clash of ideologies and personalities between the two coalitions, said Dr Hutchinson.
PH is more open and multicultural, while PN is more conservative and religiously oriented, Dr Oh added.
This means both parties will be looking elsewhere to form that needed majority.
WHO WILL THE BORNEO BLOC BACK?
The Borneo-based coalitions of Gabungan Parti Sarawak (GPS) and Gabungan Rakyat Sabah (GRS) won 22 and six seats respectively. They are now regarded as potential kingmakers, and whichever coalition they support will likely form the majority.
"They (the Borneo coalitions) will be a very significant bloc in parliament. I think perhaps they are more willing to go with Mr Muhyiddin for PN," Dr Oh said, adding that it will be difficult for them to work with PH due to bickering between the camps.
Sabah and Sarawak want greater autonomy and a higher revenue share from their oil and gas resources.
Whichever coalition can promise the Borneo bloc political leverage in Putrajaya will stand a good chance of forging an alliance with them, said analysts.
Despite a sweeping defeat this election, analysts said the Barisan Nasional (BN) coalition remains important.
Since the leading coalitions refuse to work with each other, they will likely need BN's support to form a majority.
PN has secured 73 seats so far, and needs 39 more to form a simple majority. This means it needs to partner with BN's 30 seats while clinching another nine from other players.
"If PN is going to be saying no to UMNO (United Malays National Organisation) and no to PH, when you look at the numbers, without one of these two, they don't have a majority," said Dr Hutchinson.
For PH, it would need to either secure the Borneo bloc's 28 seats along with another three seats from other parties, or develop an alliance with BN and add one more seat to achieve the majority.
"These numbers can move, and if you offer something that is attractive enough, then ideology can sometimes take a backseat for practicality," said Dr Serina Abdul Rahman, a visiting fellow at ISEAS-Yusof Ishak Institute's Malaysia Programme and Regional Economic Studies.
WHAT WOULD DETERMINE THE ALLIANCES?
Dr Bridget Welsh, an honorary research associate from the University of Nottingham Asia Research Institute Malaysia, highlighted three factors that would shape the formation of the new government – personalities determined by grudges and trust; interests in terms of positions and policy promises; and shared outlooks on ideologies.
Both leading coalitions have allies and enemies, and it remains to be seen which secures the numbers first, analysts said.
"While the numbers show that PH has the stronger position, PN remains a strong contender as there might be reservations from other parties or coalitions regarding DAP's (Democratic Action Party) role in PH," said Ms Aira Nur Ariana Azhari, senior manager of the democracy and governance unit at the Institute for Democracy and Economic Affairs (IDEAS).
Despite Mr Anwar's weak ties with Borneo leaders threatening PH's chances, he has strong relations with UMNO, she said.
Former prime minister Muhyiddin of PN has better personal relations with Sarawak's big winners GPS, but not UMNO.
Yet some of Mr Muhyiddin's coalition's ultra-Malay nationalist ideologies clash with GPS.
Ms Aira said the coalitions vying for partners will need to show how their numbers add up and what they have to offer - often in terms of ministerial positions, government appointments, and especially in the case of the Borneo states, greater autonomy.