Deadline for Malaysia coalitions to present numbers, propose PM candidates extended to Tuesday: Palace
Pakatan Harapan and Perikatan Nasional are courting potential partners to amass the numbers needed to form government.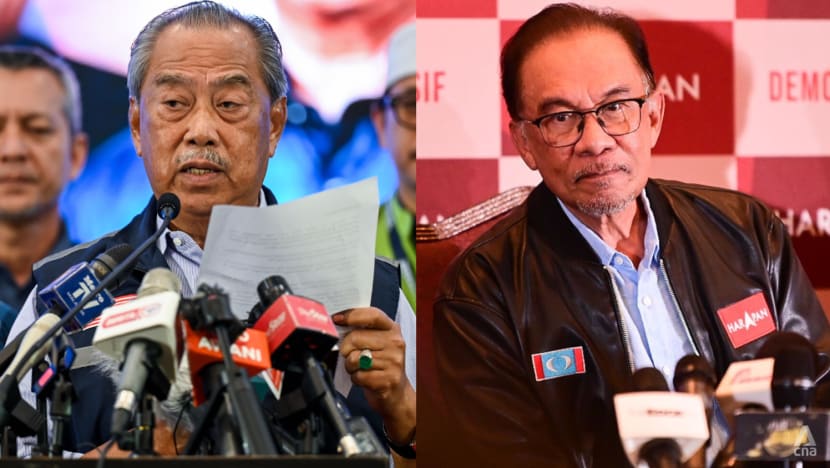 The deadline has been extended for Malaysia's political coalitions to present their numbers to form the government and propose their prime minister candidates to the national palace.
The coalitions will now have until 2pm on Tuesday (Nov 22) to do so. The 24-hour deadline extension was announced by the Comptroller of the Royal Household of Istana Negara, Ahmad Fadil Shamsuddin on Monday afternoon. 
He said that the deadline extension was due to requests by heads of parties and coalitions, who asked for more time to submit the required statutory declarations. 
The Malaysian king also called on members of the public to be patient until the formation of a new government and the appointment of the country's 10th prime minister was completed. 
"Be patient, it needs a little time. Stay calm. The caretaker government is still there, still running as usual," the king said during a surprise visit to reporters who were outside the national palace. 
When asked about the formation of the new federal government, King Al-Sultan Abdullah Ri'ayatuddin Al-Mustafa Billah Shah said he would not comment and told the media to refer to the statement issued by the palace. 
Earlier on Monday, Barisan Nasional (BN) chairman Ahmad Zahid Hamidi asked for an extension to submit the necessary statutory declarations. 
Ahmad Zahid and the BN members of parliament (MP) gathered on Monday morning to discuss their possible participation in the formation of the new government. 
"We are hoping that the speaker can give a more flexible time for us to submit the (statutory declarations) after our discussions with several parties," he told a press conference at the Seri Pacific Hotel, which was attended by 26 BN elected representatives. 
Meanwhile, Perikatan Nasional (PN) secretary-general Hamzah Zainudin said that the coalition has already submitted the statutory declarations of more than 112 MPs in support of chairman Muhyiddin Yassin as prime minister candidate. 
The majority needed to elect a prime minister is 112. 
Rival coalitions Pakatan Harapan (PH) and PN initially had until 2pm on Monday to put forward their candidates and numbers, after the general election on Saturday resulted in a hung parliament.
PH, led by long-time opposition leader Anwar Ibrahim, was the top performer in Saturday's electoral contest, clinching 81 seats. An additional seat won by Malaysian United Democratic Alliance's (MUDA) Syed Saddiq took this tally to 82. 
Former prime minister Muhyiddin Yassin's Perikatan Nasional trailed with 73 seats, which means neither coalition had the numbers for an outright majority of 112 seats in a 222-seat parliament.
Barisan Nasional (BN) finished a distant third behind PH and PN, winning 30 parliamentary seats.
Both leading coalitions sought to court potential partners to amass the numbers needed to form the government. 
Hours ahead of the deadline on Monday, PH and BN politicians gathered at the Seri Pacific Hotel in Kuala Lumpur for apparent talks. 
PH chairman Anwar previously said during a press conference early on Sunday morning that his coalition had secured the simple majority needed to form a government but did not elaborate further.
At the same time, Gabungan Parti Sarawak (GPS) on Sunday said that it was ready to enter a coalition with PN, BN and Gabungan Rakyat Sabah (GRS) to form the next federal government. 
This was refuted by BN's Ahmad Zahid in a statement on Sunday evening, who said that his coalition has not held any discussions with GPS.