A government formed by Muhyiddin's PN could be steered towards moderation, says expert
PN chairman Muhyiddin Yassin may have the "upper hand" at the moment, with commitment from GPS and GRS, said one expert.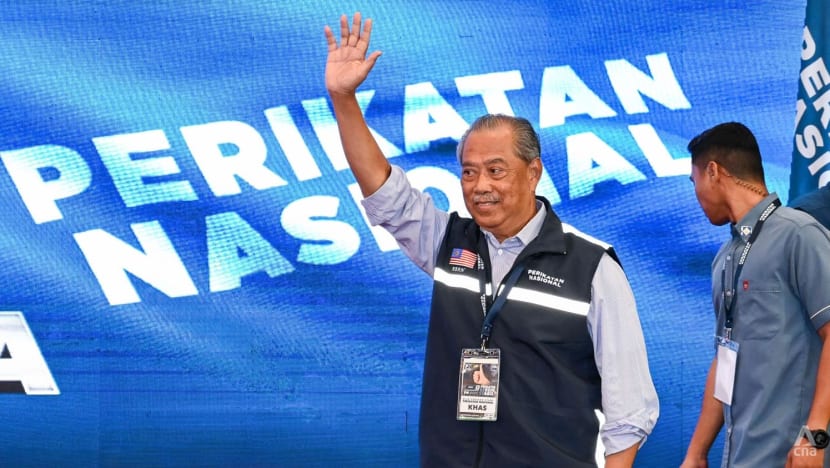 SINGAPORE: If Perikatan Nasional (PN) forms the next government, there are members within its component parties that could steer the coalition towards moderation, an expert said on Monday (Nov 21), two days after Malaysia's 15th general election.
This comes following a stunning showing by the Parti Islam Se-Malaysia (PAS), which won 49 of PN's 73 seats – making it the party with the most number of seats.
The unexpected strong support for PAS, which backs a hardline interpretation of Islamic law, prompted questions over how conservatively a government formed by PN will lead the country.
However, members within PAS itself, as well as PN chairman Muhyiddin Yassin's Parti Pribumi Bersatu Malaysia (Bersatu) party, could advise for moderation, said Dr Ahmad Fauzi Abdul Hamid, a political science professor at Universiti Sains Malaysia.
"They (Bersatu) have the UMNO (United Malays National Organisation) DNA and UMNO background, with secular education, with more exposure to global realities and so on, so we are hoping for the best,"  Dr Fauzi told CNA938's Asia First.
"There are also still professionals in PAS who would advise moderation."
This is even as there has been a "right-wing shift" in Malaysia politics, he said. Dr Fauzi noted that the "right-wing" shift mirrors the global political landscape, citing Israel and India.
The result of the election saw no coalition emerge with a simple majority in the lower house, with coalitions that won the most seats – PN and Pakatan Harapan (PH) – racing to form a parliamentary majority.
The two coalitions will have to secure alliances from other parties to clinch a majority of at least 112 seats before they inform the palace about their cooperation arrangements to form the next government.
This had to be done by 2pm on Monday, but the deadline was extended by 24 hours to 2pm on Tuesday, the national palace said.
Both coalitions have said that they have the support of Barisan Nasional (BN), which has about 30 seats to offer.
MUHYIDDIN AS POTENTIAL PM
While the generalisation that Malaysia is becoming a more conservative and an Islamic traditional society may be true, "one must also be quite circumspect and careful about the analysis", Dr Tricia Yeoh, chief executive of the independent think-tank Institute for Democracy and Economic Affairs, told CNA's Asia First.
"The large majority of Malaysia is still what we would call perhaps traditional rather than conservative, they do adhere to these traditional values," she said.
Dr Fauzi noted that there is "increasing uneasiness" with the idea of PAS president Abdul Hadi Awang becoming the next prime minister. However, he said he hoped "they will be prudent enough" to nominate PN chairman Muhyiddin Yassin as prime minister candidate.
While it is "anyone's prediction" who will form the next government, Dr Yeoh noted that Gabungan Parti Sarawak (GPS) in Sarawak and Gabungan Rakyat Sabah (GRS) in Sabah on Sunday had a press conference and have already talked about Mr Muhyiddin as their prime minister-elect.
"So that seems to indicate to me that Muhyiddin at the moment has the upper hand," she said.
"If Barisan Nasional decides to go with Pakatan Harappan it's still a little bit suspicious just because the numbers may not necessarily make up (enough to form a government)."
POTENTIAL ISSUES WITH PH FORMING GOVERNMENT
Dr Yeoh said that although Mr Anwar Ibrahim, Malaysia's perennial opposition leader, has been fighting to be prime minister for 30 years, whether he finally succeeds depends on GPS' position – if GPS are willing to work with him as a prime minister, and willing to work with PH as a coalition.
One possible issue is that PH's component parties, Democratic Action Party (DAP) and Parti Keadilan Rakyat (PKR), are parties that compete within East Malaysia.
"Come state elections, whether that's something that they can contend with … DAP especially is trying to gain more seats in Sarawak and GPS is very conscious and aware of that," she said.
She added that another factor on PN's side is that GPS has always been familiar with working with a coalition like BN, which "Perikatan Nasional is actually the closest to in form and structure nature".
"Essentially you do need GPS by your side to be able to have a secure majority, at least one that is not going to be as shaky and unstable as we've seen in the last four years," she said, noting that Malaysia has had three prime ministers in the last four years.
"What we also want to see is ideally a slightly more stable majority that can steer the country out of the various economic instabilities that we might also foresee in 2023."