Despite dismal Malaysia GE15 results, Barisan Nasional may prove to be kingmakers in forming new government
Pakatan Harapan and Perikatan Nasional must now look to an old foe to help form Malaysia's new government.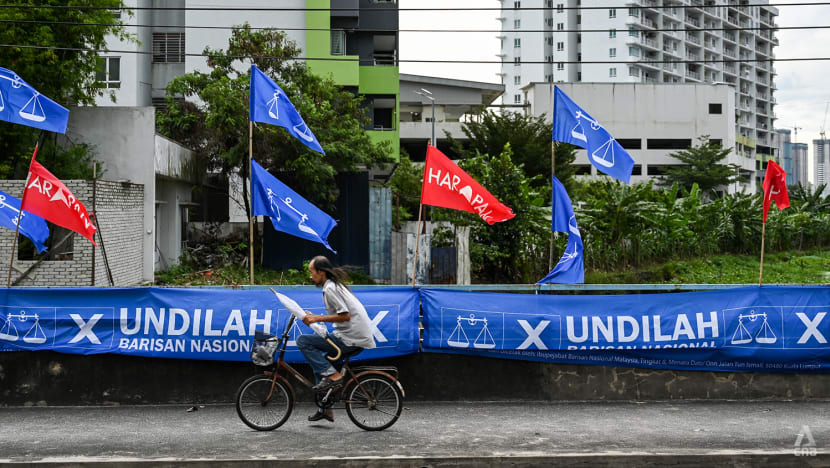 While Malaysia's 15th general election on Saturday (Nov 19) saw the incumbent Barisan Nasional (BN) coalition suffer its worst performance, it may still have a crucial role to play in deciding who forms the next government.
BN's stumble at the ballot box has left Pakatan Harapan (PH), led by long-time opposition politician Anwar Ibrahim, and former prime minister Muhyiddin Yassin's Perikatan Nasional (PN) in pole position to form the next government.
There are 222 seats in the Malaysian Lower House of Parliament and any governing coalition needs to control at least 112 seats to command a majority. 
A total of 220 seats were contested on Saturday after polling in a Kedah constituency was postponed following the death of a candidate. Voting was also suspended at several polling stations in Sarawak due to flooding. 
PH and its allies have secured a total of 82, putting it at the top of the table for now. This tally includes the Muar seat won by Malaysian United Democratic Alliance's (MUDA) Syed Saddiq.
PN has 73 seats under its belt while BN finished a distant third, winning just 30 parliamentary seats.
Despite BN's dismal performance, which saw big names such as caretaker finance minister Tengku Zafrul Aziz booted out, they may prove to be kingmakers in helping either coalition cross the finish line. 
While PH could theoretically form a simple majority without BN, if the seats won by the Borneo bloc are taken into account, that is not the case for PN. 
Gabungan Parti Sarawak (GPS) managed to win 23 seats while Gabungan Rakyat Sabah (GRS) won six seats. Five other seats went to east Malaysia-based parties - Parti Warisan took three while one seat each went to the Social Democratic Harmony Party and Parti Bangsa Malaysia. 
The remaining two out of 221 seats were taken by independent candidates in Sabah's Tenom and Kudat constituencies. 
This would mean that if PN wins the support of all those MPs, it would have a bloc of 109, just short of the 112 needed for a majority. The coalition needs the support of at least some BN members to get beyond that threshold. 
ALLIANCES UNCLEAR
The final numbers and where alliances lie were still unclear as of Monday afternoon. 
GPS chairman Abang Johari Openg on Sunday threw his support behind a PN government, saying that it is ready to partner PN, BN and GRS to form the next federal government. 
However, word of this alliance was refuted by BN's Ahmad Zahid in a statement on Sunday evening, who insisted that his coalition has not held any discussions with GPS.
Both coalitions actively courted potential partners over the weekend, with Malaysia's king initially setting a deadline of 2pm on Monday for them to settle their affairs and submit their numbers and prime minister candidates.
Hours before the Monday deadline, PH and BN politicians gathered at the Seri Pacific Hotel in Kuala Lumpur for apparent talks.
The king has since extended the deadline to 2pm on Tuesday. 
Getting BN on board will be key to PH's plans, although not all 30 candidates who won seats are keen on this move. 
BN veteran Hishammuddin Hussein is among several politicians who are rejecting the alliance with PH.
"I would be fired by the party but will never change this firm stance. No Anwar, no (Democratic Action Party)," he said in a Facebook post on Monday.