Malaysia GE15: 'I have to beat him', says Selangor chief minister Amirudin Shari facing off against ex-mentor
It will be a five-cornered fight for the Gombak parliamentary seat, which caretaker senior minister Azmin Ali has held for three terms.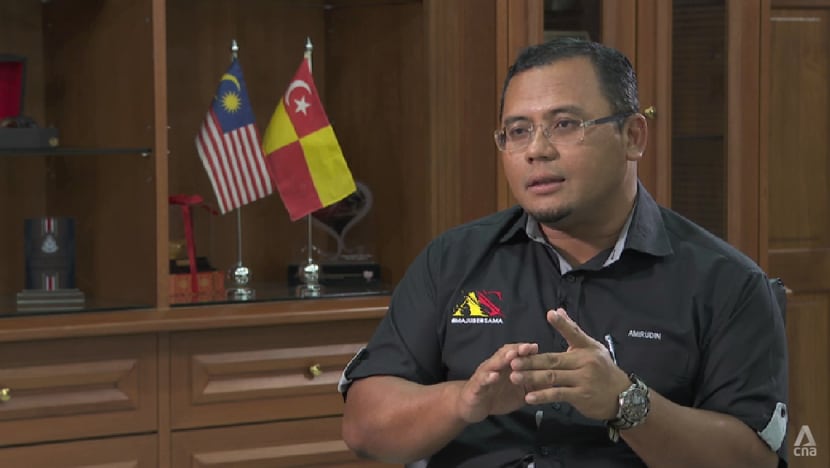 SELANGOR: Selangor chief minister Amirudin Shari is determined to reclaim the Gombak seat for Pakatan Harapan (PH), and is confident that voters will continue to support the coalition at the Nov 19 general election.
He is facing off with his former mentor, caretaker senior minister Azmin Ali, who will be defending the seat which he has held for three terms. 
 
Mr Azmin was a prime mover in the infamous Sheraton Move that triggered the fall of Malaysia's short-lived PH government in 2020, and was branded a "traitor" after leading a faction of lawmakers out of the coalition. He will now contest under the Perikatan Nasional (PN) banner. 
 
"I have to beat him in Gombak. I have to win," Mr Amirudin told CNA. "It's not an easy task. It's an uphill battle. But we have the machinery, we have the track record in the state of Selangor."
 
Mr Amirudin said the PH coalition aims to win 20 of the 22 parliamentary seats in Selangor, like it did back in 2018. But political manoeuvring left it with 16 seats at the time of parliament's dissolution on Oct 10. 
TOUGH FIGHT ON THE CARDS
Selangor is shaping up to be a hot battleground at the election. 
The ruling Barisan Nasional (BN) coalition, led by the United Malays National Organisation (UMNO), is confident it can win more seats than in the previous election. 
 
BN is eyeing several federal seats in the state and is fielding political heavyweights. Among them are Health Minister Khairy Jamaluddin in Sungai Buloh and Finance Minister Tengku Zafrul Abdul Aziz in Kuala Selangor.
 
But it will not be a walk in the park for BN.
Analysts said it will be a tough fight for any coalition to secure the lion's share of Selangor's parliamentary seats. 
But PH can draw a large amount of confidence from its past performance, and a tendency of being urban voters' choice. 
 
Merdeka Center programme director Ibrahim Suffian said: "Unlike other states, (Pakatan Harapan does)  have a much stronger base in Selangor, both in the non-Malay and Bumiputera voters. 
 
"Even if Barisan Nasional has some advantage, it won't be so smooth sailing."
LIVING COSTS, FLOODS ON THEIR MINDS
Besides a tough political fight, parties face other challenges like addressing voters' pressing concerns. 
 
The cost of living in Selangor, which is among the highest in Malaysia, is among issues on the minds of residents. 
 
Undergraduate Wan Elyas Ahmad Shah, who supports himself by working as a delivery rider in Selangor's capital of Shah Alam, is worried that he may never afford his own place. 
 
"In Shah Alam, it's very expensive, especially if you are starting out with a small family, without a high-paying job, it's very hard to buy a house here," said the 20-year-old. "Even getting an apartment is pretty expensive."
Despite high living costs, Selangor prides itself for being able to give the best welfare in different areas, including infrastructure, healthcare and social services such as free water for the needy. 
 
But the massive floods that gripped almost the entire state last December have been a rude wake-up call. Tens of thousands were stranded as flood waters inundated their homes for days.
 
With heavy rain and thunderstorms expected as the country heads to the polls, Mr Amirduin said Selangor is prepared for the worst.
 
"We have already trained more than 16,000 workers and officers throughout the state," he said. "We have readied more than 15,000 vehicles like boats, trucks and so on, just to make sure our preparedness is top-notch."