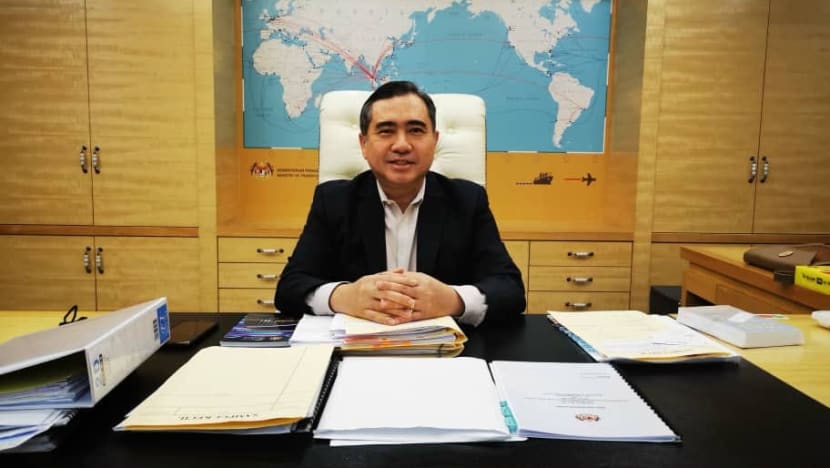 KUALA LUMPUR: The Malaysian government has not made any decision on reviving the Kuala Lumpur-Singapore High Speed Rail (HSR) project, Transport Minister Anthony Loke said on Wednesday (Mar 8).
He said, however, that the unity government is open to receiving proposals on the mega project from the private sector.
"There is no decision on reviving the HSR yet, we are not stopping it. The Prime Minister has given me the instructions that we can talk about it.
"We are open to proposals from the private sector ... as long as (the project) is not funded by the government," he told reporters after the Invest Malaysia programme on Wednesday.
The programme is the country's largest annual capital market gathering and involves major banks as well as investors.
Mr Loke said that while a lot of firms have talked about pursuing the project, the Malaysian government has yet to receive any proposals on it.
The government, Mr Loke added, has also not set any timeline for reviving the project.
"There is no timeline because as you know the bilateral agreement with Singapore has been cancelled and terminated by the previous government. 
"There is no urgency in terms of reaching any milestone. Right now, we are open to a complete new funding mechanism and implementation model," he said.
The HSR project, which aimed to reduce travel time between Singapore and Kuala Lumpur to about 90 minutes, was discontinued after multiple postponements at Malaysia's request and an eventual lapsing of an agreement in December 2020.
Malaysia paid more than S$102 million in compensation to Singapore for the terminated project.
The proposed line was supposed to have a stop at Iskandar Puteri, linking the Nusajaya region within Iskandar Malaysia to Singapore, Melaka, Seremban and Kuala Lumpur.
At end-2021, then prime minister Ismail Sabri Yaakob suggested reviving discussions on the HSR, even saying in August last year that he would like to see the HSR revived at the earliest opportunity - albeit with some route changes and the possibility of extending it northwards to Thailand and China.
Singapore Deputy Prime Minister Lawrence Wong said then that Singapore was open to fresh proposals from Malaysia on the HSR.
In January 2021, while he was the opposition leader, Prime Minister Anwar Ibrahim called the HSR cancellation a mistake "both from a current economic standpoint and in terms of future benefits". Mr Anwar said that the project could have drawn in tourists, businesses as well as foreign direct investments.
However, it is not yet clear if the new federal government under Mr Anwar would bring back the HSR project.
After a four-day visit to Malaysia in January, Singapore Minister for Foreign Affairs Vivian Balakrishnan said that while there were discussions on how to improve connectivity between the two countries, nothing was raised on the HSR.